A Party Divided? Republican US Senators Setting Record Lows in Primaries
GOP U.S. Senators continue to win renomination, but many state party records are falling with the worst ever showings by Republican incumbents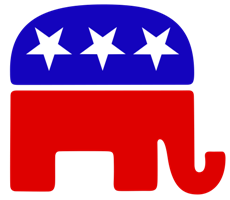 With just a few Northeastern states yet to hold their congressional primaries, another cycle is nearly in the books with all 22 Republican U.S. Senators running for reelection poised to have successfully navigated their renomination bids (pending Kelly Ayotte of New Hampshire on September 13th).
While there have been some close calls since the last GOPer fell in a primary for the office (Indiana's Dick Lugar in 2012), most incumbents are winning renomination by double-digits.
Even so, Republican lawmakers are frequently attracting a record number of challengers and winning by margins that may be 'comfortable' but are still historically low.
Most of these records are being set in the South, where the party did not have a rich history of electing Republicans to the office until the last few decades. However, low water marks have been seen in states located in three of the four regions of the country since 2014 (the South, Midwest, and West).
A Smart Politics analysis finds that 12 of the 34 Republican U.S. Senators seeking renomination over the last two election cycles set state party records for the worst performance in a primary by a sitting senator, or 35.3 percent.
The seeds for these historically competitive primaries were planted in the 2010 and 2012 election cycles when tea party candidates won the GOP nominations in Utah (Mike Lee, knocking out Bob Bennett), Alaska (Joe Miller, with Lisa Murkowski winning a write-in general election bid), and Indiana (Richard Mourdock beating Dick Lugar).
By 2014, incumbents from the nation's upper legislative chamber had gained enough political savvy to no longer take these challengers for granted, but six of the 12 Republican U.S. Senators running for reelection that cycle nonetheless set new party lows en route to their primary victories:
Mitch McConnell, Kentucky: The five-term incumbent and majority leader shattered the GOP state record for the lowest primary support by a sitting Republican U.S. Senator out of 16 renomination bids. McConnell won 60.2 percent in his 24.8-point win over future governor Matt Bevin. The previous worst showing was Jim Bunning's 83.9 percent in 2004 when he defeated Barry Metcalf by 67.8 points. McConnell also registered the lowest support by a sitting Kentucky U.S. Senator from either party since 1938 when Democrat Alben Barkley won 56.1 percent in a seven-candidate field.
John Cornyn, Texas: Cornyn won 59.4 percent which was the lowest mark ever for a Republican incumbent in his state across 10 GOP reelection bids, as was his 40.3 point victory margin over Congressman Steve Stockman. Cornyn was the first Texas U.S. Senator from his party who failed to win 80 percent in the primary (let alone 60 or 70 percent) as a record seven GOP candidates challenged him in his renomination bid.
Pat Roberts, Kansas: Roberts' 48.1 percent and 7.3-point win (over Milton Wolf) was the weakest primary victory for a popularly elected GOP U.S. Senator from the state across 26 such candidacies. Only legislatively-elected William Bristow in 1914 (losing to Charles Curtis with 37.6 percent) and appointed Senator Sheila Frahm in 1996 (losing to Sam Brownback with 41.7 percent) fared worse.
Lamar Alexander, Tennessee: Alexander's 9.1-point win over Joe Carr with 49.7 percent of the vote was easily the poorest showing by an incumbent GOP U.S. Senator in Tennessee across the eight such bids in state history. Prior to Alexander, no Republican senator from the Volunteer State had seen a primary challenger reach double-digits and these incumbents boasted an average victory margin of 91 points with Howard Baker's 74.8-point win the previous low.
Thad Cochran, Mississippi: It took a primary run-off for the six-term incumbent to make it to the general election ballot. Cochran's 49.0 percent in the primary (0.5 points behind Chris McDaniel) was 40.2 points worse than the previous low by a Republican incumbent (Roger Wicker's 89.2 percent in 2012) out of 10 candidacies in party history.
Lindsey Graham, South Carolina: Graham's 56.4 percent was the lowest support in a Republican primary by a sitting U.S. Senator across 11 candidacies. It was also the lowest support by any elected senator in the state since 1950 when Democrat Olin Johnston won 54.0 percent against Strom Thurmond. Graham also inspired more primary challengers (six) to run against him than any other GOPer in state history.
In 2016, six of the 22 GOP U.S. Senators seeking renomination have turned in record lows in their party's primary:
John McCain, Arizona: McCain's narrow majority of 51.7 percent and his 12.5-point victory against Kelli Ward broke previous party lows for an incumbent U.S. Senator in the Grand Canyon State. Nine out of 12 renomination bids by Arizona Republicans since statehood did not draw even a single primary opponent. Overall, McCain's 12.5-point win was the fourth weakest showing across the 29 U.S. Senate primaries with a Democratic or Republican incumbent seeking renomination in Arizona.
Richard Burr, North Carolina: Burr won 61.4 percent of the primary vote in a 36.2-point win over Greg Brannon in March – both new lows for Tar Heel GOP incumbents out of the eight to seek reelection in the primary era. The previous such marks were held by Burr himself in 2010 when he defeated Brad Jones by 70.0 points with 80.1 percent of the vote.
Marco Rubio, Florida: Most of Rubio's serious contenders dropped out of the race when the first-term senator reversed course in June and announced he would indeed seek another term. Rubio is just the third Florida Republican to seek renomination in the direct election era and his 53.5-point win with 72.0 percent of the vote were both new lows for the party. Connie Mack III ran unopposed in 1994 and Paula Hawkins won 88.7 percent in a 77.4-point primary rout in 1986.
Richard Shelby, Alabama: Shelby won 64.9 percent of the primary vote against Jonathan McConnell en route to a 37.3-point victory – both new state party lows among the eight Republican U.S. Senators to run for reelection in state history. Shelby broke his own records from 2010 when he defeated Clinton Moser by 68.7 points with 84.4 percent of the primary vote.
John Boozman, Arkansas: Arkansas has not had many Republican U.S. Senators in state history and Boozman was only the second to run for reelection in the direct election era. Boozman's 52.9-point win over Curtis Coleman with 76.5 percent of the vote was a tad weaker than Tim Hutchinson's 55.4-point primary win with 77.7 percent in 2002.
Johnny Isakson, Georgia: Among the five times Republican U.S. Senators from Georgia have run for reelection, Isakson recorded the lowest support in a primary last May with 77.5 percent in a 65.5-point victory over Derrick Grayson. Only once had a GOP senator from the Peach Tree State received a primary challenger: Mack Mattingley in 1986 (winning 95.0 percent of the vote in a 92.3-point win over Don Madey).
The electoral fate of Kelly Ayotte will be determined in one week when the first-term New Hampshire U.S. Senator faces four challengers in that state's GOP primary including former state senator Jim Rubens.
Follow Smart Politics on Twitter.