Is Rob Portman Still Underperforming vis-à-vis Trump in Ohio?
The first term U.S. Senator is enjoying a comfortable lead in the polls, but modern Ohio political history suggests he should be doing even better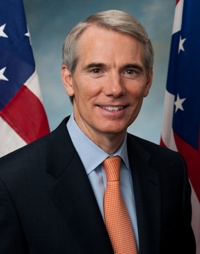 As Republicans attempt to minimize losses in U.S. Senate elections next month, one top Democratic target has seemingly emerged out of the danger zone over the last several weeks and appears headed for a comfortable GOP reelection victory.
First-term Senator Rob Portman has seen a large uptick in his lead over former Governor Ted Strickland according to public opinion polls released over the last month.
Portman has led Strickland by double-digits in nine of 11 surveys conducted since September – having trailed the Democrat in a majority of polls released in 2015 through the early summer of this year.
Portman's large lead may be due in part because the "Trump drag" has not exactly materialized in the Buckeye State. Donald Trump has been performing better in the Buckeye State relative to most 2016 battlegrounds across the country.
Senator Portman is currently running 5.4 points ahead of his party's presidential nominee according to polling averages via Real Clear Politics. Portman's support among likely Ohio voters is averaging 48.6 percent while Trump is at 43.2 percent.
While that sounds good for the incumbent, the margin between the two Republicans in Ohio is more compressed than most general election results over the last four decades. [Not to mention the fact that Trump's support (as well as Clinton's) is lowered by a few points owing to Gary Johnson's candidacy].
Over five of the last six election cycles in which Ohio cast its ballots for both president and U.S. Senate, voters have elected a nominee to the nation's upper legislative chamber who ran an average of 12.4 points ahead of his party's presidential nominee. All were incumbents like Portman:
1980: Democrat John Glenn (68.8 percent) ran 28.0 points ahead of Jimmy Carter (40.8 percent)
1988: Democrat Howard Metzenbaum (57.0 percent) ran 12.8 points ahead of Michael Dukakis (44.2 percent)
1992: Glenn (51.0 percent) ran 10.8 points ahead of Bill Clinton (40.2 percent)
2000: Republican Mike DeWine (59.9 percent) ran 9.9 points ahead of George W. Bush (50.0 percent)
2004: Republican George Voinovich (63.9 percent) ran 13.1 points ahead of Bush (50.8 percent)
2012: Democrat Sherrod Brown (50.70 percent) ran 0.03 points ahead of Barack Obama (50.67 percent)
Of course, support for Carter and Clinton was depressed in part due to the notable independent candidacies of John Anderson and Ross Perot respectively, though not enough to account for the entirety of the gaps in candidate support listed above.
Prior to 1980, it was unusual to see these large gaps between the winning Ohio U.S. Senator and his party's standard bearer at the top of the ticket.
During the 12 elections held for Ohio U.S. Senators during presidential election cycles between 1914 and 1978, the difference was just 4.4 points with the winning U.S. Senate candidate actually lagging behind his party's presidential nominee five times:
1916: Democrat Atlee Pomerene (49.3 percent) ran -2.6 points behind Woodrow Wilson (51.9 percent)
1928: Republican Simeon Fess (60.7 percent) ran -4.2 points behind Herbert Hoover (64.9 percent)
1928 (special): Republican Theodore Burton (62.4 percent) ran -2.5 points behind Hoover
1952: Republican John Bricker (54.6 percent) ran -2.2 points behind Dwight Eisenhower (56.8 percent)
1964: Democrat Stephen Young (50.2 percent) ran -12.7 points behind Lyndon Johnson (62.9 percent)
The only winning Ohio U.S. Senate candidate who ran at least 10 points ahead of their party's presidential nominee prior to 1980 was Democratic Governor Frank Lausche in 1956. Lausche won his senate race against incumbent George Bender with 52.9 percent – 14 points ahead of Adlai Stevenson's 38.9 percent in the state.
Given his large lead over Strickland, it seems Portman has enough play in his electoral rope to retain his seat even if Trump slides and ends up losing Ohio to Hillary Clinton. Such split-ticket voting would be unusual, though not unprecedented, in the state.
Since 1914, Ohio has split its vote for U.S. Senate and president just four of 18 times:
1940: Republican Harold Burton won an open U.S. Senate race while Franklin Roosevelt defeated Wendell Willkie by 4.4 points
1956: Democrat Frank Lausche unseated George Bender while Dwight Eisenhower rolled to a 22.2-point win over Adlai Stevenson
1980: Democrat John Glenn won his second term while Ronald Reagan beat President Jimmy Carter by 10.6 points
1988: Democrat Howard Metzenbaum won his third term while George H.W. Bush defeated Michael Dukakis by 10.9 points.
Only a dozen states have split their vote between these two offices at a lower rate than Ohio's 22.2 percent: Arizona, Connecticut, Illinois, Indiana, Kansas, Michigan, North Carolina, Oklahoma, Texas, Utah, Wisconsin, and Wyoming.
Follow Smart Politics on Twitter.