With Joe Heck Victory Nevada GOP Would Hold All Statewide Offices for 1st Time Since 1870
Retiring U.S. Senator Harry Reid is the only Democrat to currently hold one of Nevada's eight partisan statewide offices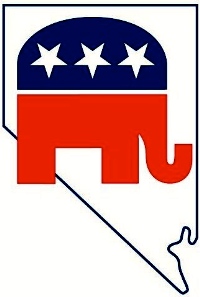 Democrats have been on the attack in 2016 – hoping to pry away four U.S. Senate seats as well as keep the presidency (or five seats without it) to reclaim control of the nation's upper legislative chamber.
The party largely landed top-tier candidates across the nation's 10+ key races and has well north of four seats in play: Florida, Illinois, Indiana, Missouri, New Hampshire, North Carolina, Pennsylvania, and Wisconsin.
But although Republican pick-up opportunities have been slim this cycle (owing to the Democratic Party's poor performance six years ago in 2010 and thus having to defend very few vulnerable seats), the GOP has a good chance to land a seat they haven't held in 30 years – Nevada's Class III seat held by retiring Harry Reid.
According to public polling, three-term GOP Congressman Joe Heck continues to hold a narrow advantage over former two-term state Attorney General Catherine Cortez Masto. Heck has led Cortez Masto in nearly every public survey released since the summer.
Nevada Republicans are coming off a heady 2014 cycle, when the GOP took back control of four constitutional offices – secretary of state, controller, treasurer, and attorney general, as well as picking up a U.S. House seat and winning control of both state legislative chambers.
But if Heck is victorious this November, Nevada Republicans will be able to celebrate a feat the party has not achieved in nearly 150 years.
A Smart Politics review of Nevada electoral history finds that if Joe Heck wins the Silver State's 2016 U.S. Senate race, Republicans will hold all partisan statewide offices for the first time since 1870.
Over the course of Nevada's 152-year history, there have been 14 statewide offices which at one point were filled at the ballot box in partisan elections.
In addition to the current offices of governor, lieutenant governor, secretary of state, treasurer, controller, and attorney general, former partisan constitutional offices include the Supreme Court (1864-1916, three justices), clerk of the Supreme Court (1864-1959), superintendent of state printing (1883-1969), inspector of mines (1909-1974), state printer (1864-1878), surveyor general (1864-1957), superintendent of public instruction (1864-1918), and mineralogist (1871-1878).
There have been three periods in Nevada history totaling a shade over 18.5 years in which one party controlled all partisan statewide offices as well as both U.S. Senate seats and that of U.S. Representative (which was a statewide, at-large position from 1864 through 1982).
The most recent instance was a five-month period in 1962 when Democrats held all 11 partisan statewide offices still in existence at that time (the current six constitutional offices, plus both U.S. Senate seats, the at-large U.S. House seat, superintendent of state printing, and inspector of mines).
Democrats had nearly swept the statewide elections of 1958, falling short in the race for lieutenant governor: incumbent Rex Bell defeated Las Vegas Democrat and political newcomer Phil Cummings by 12.6 points.
However, Bell died on July 4, 1962 and Assemblywoman Maude Frazier was appointed to the position completing the Democratic hold on all such offices. [Frazier's appointment marked the highest political office held by a woman in Nevada at that time].
Democrats held all statewide offices for a shade under a half a year until early January 1963, when Paul Laxalt took over the position of lieutenant governor for the GOP once again after defeating former Congressman Berkeley Bunker in the 1962 general election – the only statewide loss by Democrats that cycle.
The Democratic Party had a much longer stranglehold on the top elected positions in the state a few decades earlier during the Great Depression.
For a 12-year stretch from January 1935 through December 1946, Democrats held each of the 11 partisan statewide positions mentioned above plus that of Supreme Court clerk and surveyor general.
Democrats won 43 consecutive statewide elections during this span – a streak broken in 1946 when Republicans picked off one U.S. Senate seat (engineer George Malone beat Congressman Berkeley Bunker) and the state's at-large U.S. House seat (with State Senator Charles Russell defeating Secretary of State Malcolm McEachin).
The only other period in state history in which one political party had a lock on all partisan statewide offices began when Nevada achieved statehood in October 1864.
Republicans won all 13 partisan statewide elections: for governor (Henry Blasdel), lieutenant governor (J.S. Crossman), secretary of state (Chauncey Noteware), treasurer (Eben Rhodes), controller (Alanson Nightingill), attorney general (George Nourse), Supreme Court (James Lewis, Henry Beatty, Cornelius Brosnan), clerk of the Supreme Court (Alfred Helm), superintendent of public instruction (Asa White), surveyor general (Seneca Marlette), and U.S. Representative (Henry Worthington).
A Republican was also appointed by the legislature to the office of state printer (John Church; the office was subsequently put to a popular vote in 1866) and two Republicans were elected by the legislature to the U.S. Senate (William Stewart and James Nye).
That streak ended after the Election of 1870 when Democrats won seven statewide partisan offices: for U.S. House, governor, lieutenant governor, treasurer, attorney general, state printer and one Supreme Court seat.
Overall, Democrats have held a collective 882 years of partisan statewide office in Nevada compared to 747 years for Republicans, 62 years for Silver-Democrats, 58 years for Silverites, and 15 years for Silver-Republicans.
Follow Smart Politics on Twitter.