The Worst Statewide Performances by Winning Democratic Presidential Nominees
Even victorious Democratic nominees have a few rotten eggs on their electoral scorecards, with 10 failing to win even 30 percent of the vote across nearly three-dozen states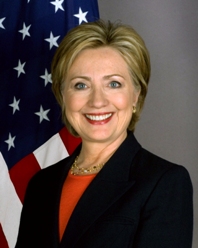 Most poll-driven electoral prognosticators currently put Hillary Clinton's chances of winning the White House at around 90 percent with just over three weeks until Election Day and a few days before Wednesday's final debate.
But while Clinton may have the inside track to win the Electoral College vote, the current geographic partisan divide that currently defines U.S. presidential politics makes a true landslide for the former Secretary of State (or Donald Trump) virtually impossible.
As a result, as well as due to the fact that there will be a much higher than normal vote cast for third party candidates this cycle, if Clinton is victorious she will undoubtedly struggle to win the support of even a third of voters in a handful of states.
For example, Clinton has polled in the 20s in each of the last half-dozen surveys conducted of likely Utah voters since late August.
Notable support for Libertarian nominee Gary Johnson could also keep the vote for Clinton in the 20s in other western states like Idaho and Wyoming.
However, it is not unusual for winning Democratic (or Republican) nominees to struggle mightily in a few states around the country even with a winning Election Day resume.
Since 1828, 10 of the 22 cycles in which a Democrat won the White House saw the nominee fail to earn the support of 30 percent of voters in at least one state: Andrew Jackson in 1828 and 1832, Franklin Pierce in 1852, James Buchanan in 1856, Grover Cleveland in 1884 and 1892, Woodrow Wilson in 1912, Harry Truman in 1948, Lyndon Johnson in 1964, Bill Clinton in 1992, and Barack Obama in 2012.
All told, Democratic candidates have fallen short of the 30 percent mark vote in 33 of the 923 popular vote statewide presidential elections in cycles during which they won the presidency, or 3.6 percent of all contests.
The profile of these states where Democrats suffered massive losses during otherwise successful campaigns can generally be characterized as located in the Northeast during the mid-1850s, the South during the mid-20th century, and the West during the last few decades.
Vermont is the most frequent state to appear on this list, doing so seven times – not surprising considering the Green Mountain State has the longest partisan winning streak in presidential election history at 27 in a row for the GOP from 1856 to 1960.
Massachusetts is next with three with six other states doing so twice (Alabama, Idaho, Mississippi, Nebraska, Utah, and Wyoming).
The Democratic president who had the most glaring holes on his Election Day scorecard was Grover Cleveland in 1892.
Due in part to the success in western and plains states by Populist nominee James Weaver, Cleveland did not win 30 percent of the vote in 10 states – and was not even on the ballot in five of these: Colorado, Idaho, Kansas, North Dakota, and Wyoming.
Cleveland, who still defeated President Benjamin Harrison by 132 Electoral College votes that November, also won only 6.6 percent of the vote in Nevada, 12.5 percent in Nebraska, 12.9 percent in South Dakota, 18.2 percent in Oregon, and 29.3 percent in Vermont.
Particularly poor performances by other (national) Democratic nominees in otherwise strong election cycles include:
Andrew Jackson in 1828: Massachusetts (15.4 percent), Connecticut (23.0 percent), Rhode Island (23.0 percent), Vermont (24.8 percent)
Andrew Jackson in 1832: Massachusetts (20.6 percent), Vermont (24.5 percent)
Franklin Pierce in 1852: Vermont (29.1 percent)
James Buchanan in 1856: Massachusetts (23.1 percent), Vermont (20.8 percent)
Grover Cleveland in 1884: Vermont (29.2 percent)
Woodrow Wilson in 1912: Vermont (24.4 percent), Washington (26.9 percent), Michigan (27.4 percent)
Harry Truman in 1948: Alabama (0.0 percent), Mississippi (10.1 percent), South Carolina (24.1 percent)
Lyndon Johnson in 1964: Alabama (0.0 percent), Mississippi (12.9 percent)
Bill Clinton in 1992: Utah (24.7 percent), Idaho (28.4 percent), Nebraska (29.4 percent)
Barack Obama in 2012: Utah (24.5 percent), Wyoming (27.8 percent)
Strong third party candidacies had a role in depressing the vote for the Democratic nominee (or his ability to even gain ballot access) in more than half of these contests.
Note: Due to the virtual one-party rule of the Deep South for decades after Reconstruction, the list of states in which Republican nominees fared this poorly is far more extensive and worthy of its own report.
Follow Smart Politics on Twitter.