Which State Is the Most Northeastern in Presidential Elections?
Connecticut has voted in concert with the region overall at a higher rate than any other Northeastern state since 1828; Maryland and Vermont have done so the least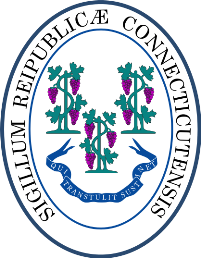 This is the fourth in a series of Smart Politics reports studying regional and interstate voting patterns in presidential elections. Previous reports examined Midwestern interstate voter cohesion, Midwestern sister states, and Western interstate voter cohesion in presidential vote choice.
A recent Smart Politics report documented how Hillary Clinton's likely sweep in the nation's 11 Northeastern states will mark just the fourth time all states in one of the four regions of the country have voted for the same presidential party in four consecutive elections.
[Note: Northeastern states are defined as Connecticut, Delaware, Maine, Maryland, Massachusetts, New Hampshire, New Jersey, New York, Pennsylvania, Rhode Island, and Vermont. While Delaware and Maryland are often included as part of the Northeast region today, the U.S. Census still classifies them as southern states.]
But while the region has voted as a single bloc in six of the last eight cycles since 1984, that was hardly the norm during the previous 150 years. From 1828 through 1980, the region cast their presidential vote with one voice in just nine of 39 cycles, or less than 25 percent of the time.
And which state has voted most consistently with the region overall over the last 180+ years? Which has been the biggest outlier?
Smart Politics examined the 517 elections for president conducted across the 11 Northeastern states since 1828 and found that Connecticut has voted in concert with the rest of the region 78.1 percent of the time – best in the Northeast – with Maryland (68.7 percent) and Vermont (68.9 percent) doing so the least.
This study examined which presidential nominee prevailed in each of the 11 Northeastern states dating back to 1828 – the dawn of the modern two-party system.
The voting preference of each state was coded and then a matchup comparison was conducted between a given state and each of the 10 others across these 47 cycles to generate a 'regional voting score' reflecting a state's interstate voting cohesion in presidential elections. In the analysis below, the numerator is the sum of state-on-state matchups in which both voted for the same presidential nominee and the denominator is the total number of such matchups in the region since 1848 (47).
Regional History
Overall, the nation's 11 Northeastern states have voted for the same presidential nominee in 3,744 of 5,170 state-by-state matchups, or 72.4 percent of the time.
That makes the region slightly more politically cohesive over the decades than the Midwest, where its dozen states voted in alignment 71.2 percent of the time across 4,970 state-by-state matchups, but less so than the 13 states comprising the West (74.1 percent across 3,916 matchups).
In general, the Northeast has voted with a decided Republican tilt over the decades with these states casting their Electoral College votes for such nominees (and its Whig and National Republican predecessors) in 301 of 517 races (58.2 percent) with Democratic nominees carrying Northeastern states 212 times (41.0 percent) and third party candidates claiming victory four times (0.8 percent).
The region as a whole has voted with one voice in 15 of 47 election cycles, or 31.9 percent of the time – less than the West (41.0 percent) but slightly more than the Midwest (29.8 percent).
Republican nominees have swept the Northeast nine times with the region backing William McKinley (1896, 1900), Teddy Roosevelt (1904), William Taft (1908), Warren Harding (1920), Calvin Coolidge (1924), Dwight Eisenhower (1952, 1956), and Ronald Reagan (1984).
Democratic nominees meanwhile have won every Northeastern state six times: Lyndon Johnson (1964), Bill Clinton (1992, 1996), John Kerry (2004), and Barack Obama (2008, 2012).
Connecticut: The Most Northeastern State?
The Northeastern state that has most consistently backed the presidential nominee of its regional neighbors is Connecticut.
The Nutmeg State has cast its Electoral College votes for the same presidential nominee as the other 10 Northeastern states 367 times while voting for a different nominee 103 times, for a 78.1 percent 'regional voting score.'
That high score is reflected in the fact that, over the decades, Connecticut voters have overwhelmingly chosen a presidential nominee who was the choice of the majority of the states in the region – doing so in 42 of 47 cycles since 1828 (89.4 percent).
Connecticut only voted for the nominee backed by a minority of Northeastern states five times, although  just once since the 1800s: in 1876 (Democrat Samuel Tilden by 2.4 points), 1884 (Democrat Grover Cleveland by 0.9 points), 1888 (Cleveland by 0.2 points), 1892 (Cleveland by 3.3 points), and 1976 (Republican Gerald Ford by 5.2 points).
The state was hardly an outlier in those cycles with Democrats carrying five of the region's 11 states in 1876, 1884, and 1892 plus four in 1888 and the GOP winning five in 1976.
Connecticut is the only Northeastern state to notch a regional voter cohesion score in presidential elections of at least 75 percent.
New York (74.9 percent) and Pennsylvania (74.9 percent) came close with six others north of 70 percent: Rhode Island (73.8 percent), Delaware (72.1 percent), Maine (71.7 percent), Massachusetts (71.7 percent), New Jersey (71.5 percent), and New Hampshire (70.2 percent).
That leaves two states at the bottom: Maryland and Vermont.
Maryland voted with its regional neighbors 68.7 percent of the time (323 of 517) with Vermont just ahead at 68.9 percent (324 of 517).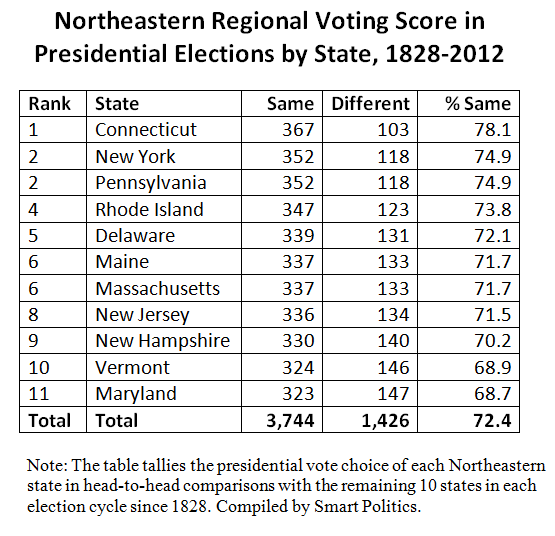 As a border state in the Civil War where slavery was legal until 1864, Maryland has at times been classified as part of the South and Northeast.
Its voting record during the second half of the 19th Century reflects its outlier status – backing a candidate that lost the region in nine out of 10 cycles from 1856 through 1892.
Maryland was the only state in the nation to cast its Electoral College votes for American Party nominee Millard Fillmore in 1856, one of two states in the region to back Southern Democratic nominee John Breckenridge in 1860, and the only Northeastern state to vote for Democrat Horace Greeley in 1872.
Since 1896, however, Maryland has voted with a majority of the states in the region in 28 of 30 cycles (all but 1932 and 1980 when the Old Line State voted Democratic).
Vermont's relatively low regional score is explained on the margins by its steadfast support for Republican nominees – for a record 27 consecutive cycles from 1856 through 1960.
As a result, Vermont did not vote with the region during the Elections of 1912, 1936, 1940, 1944, and 1960, cycles in which  Democrats won 80 percent of Northeastern statewide races collectively.
Sister States
Two pairs of Northeastern states have voted in concert more than 90 percent of the time across the last 47 election cycles.
Delaware and New Jersey have voted for the same presidential nominee in 43 of 47 contests, or 91.5 percent as have Massachusetts and Rhode Island.
The only four cycles in which Delaware and New Jersey did not vote as a bloc were 1832, 1860, 1932, and 1976.
The four elections in which Massachusetts and Rhode Island backed different nominees were 1836, 1852, 1972, and 1980.
By contrast, four pairs of states have voted together less than 60 percent of the time:
Delaware and Maine (59.6 percent)
Maine and Maryland (55.3 percent)
Maryland and New Hampshire (57.4 percent)
Maryland and Vermont (55.3 percent)
Clinton is currently poised to sweep all 11 Northeastern states in November – most by double-digits.
Follow Smart Politics on Twitter.