Record Number of GOP US Senate Nominees Could Get Elected in States Won by Clinton
Republicans would break a party record if eight U.S. Senate nominees are elected from states voting Democratic for president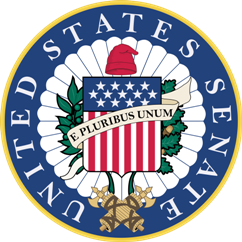 Smart Politics has written extensively over the years on split-ticket voting and the 2016 cycle is poised to see some firsts as states vote in races for president and U.S. Senate.
For example, Arkansas is one of two states – along with Hawaii – never to vote for a Republican for both offices in the same cycle.
That will change in November as Donald Trump will easily carry the second of Hillary Clinton's three home states and incumbent John Boozman should cruise to a double-digit victory over Democratic challenger Connor Eldridge down the ballot.
Meanwhile, the chance for voters to split their ticket by electing a Democratic U.S. Senator whilst casting their Electoral College votes for Trump only exists in a handful of states.
Indiana (Democrat Evan Bayh) and Missouri (Jason Kander) are perhaps the two states most likely to do so with Nevada (Catherine Cortez Masto) and North Carolina (Deborah Ross) also possibilities given the fact that each state's U.S. Senate and presidential races are toss-ups.
By comparison, 22 states split their vote for a Republican presidential nominee and a Democratic U.S. Senate candidate over the last four cycles since 2000:
2000 (6): Florida (Bill Nelson), Georgia (Zell Miller), Missouri (Mel Carnahan), Nebraska (Ben Nelson), North Dakota (Kent Conrad), and West Virginia (Robert Byrd)
2004 (5): Arkansas (Blanche Lincoln), Colorado (Ken Salazar), Indiana (Evan Bayh), Nevada (Harry Reid), and North Dakota (Byron Dorgan)
2008 (6): Alaska (Mark Begich), Arkansas (Mark Pryor), Louisiana (Mary Landrieu), Montana (Max Baucus), South Dakota (Tim Johnson), and West Virginia (Jay Rockefeller)
2012 (5): Indiana (Joe Donnelly), Missouri (Claire McCaskill), Montana (Jon Tester), North Dakota (Heidi Heitkamp), and West Virginia (Joe Manchin)
On the other side of the coin, Republican U.S. Senate candidates have been victorious in states carried by Democratic presidential nominees just eight times during this four-cycle stretch:
2000 (4): Maine (Olympia Snowe), Pennsylvania (Rick Santorum), Rhode Island (Lincoln Chafee), and Vermont (Jim Jeffords)
2004 (2): New Hampshire (Judd Gregg) and Pennsylvania (Arlen Specter)
2008 (1): Maine (Susan Collins)
2012 (1): Nevada (Dean Heller)
However, that trend may drastically change on November 8th.
Smart Politics reviewed the 25 presidential election cycles conducted since the start of direct election of U.S. Senators a century ago, and finds that Republicans have a chance this cycle to win the most U.S. Senate seats in party history in states won by a Democratic presidential nominee.
Eight states currently have at least a moderate chance of backing Clinton at the top of the ticket and the GOP nominee for senator: Arizona (John McCain), Iowa (Chuck Grassley), Ohio (Rob Portman), Florida (Marco Rubio), Nevada (Joe Heck), New Hampshire (Kelly Ayotte), North Carolina (Richard Burr), and Pennsylvania (Pat Toomey).
Senator Ron Johnson in Wisconsin also has an outside shot of keeping his seat in a state that is likely to vote for Clinton.
Additionally, Republican U.S. Senators in Alaska (Lisa Murkowski) and Georgia (Johnny Isakson) are heavily favored to keep their seats, even if Clinton is able to surge and overcome the single-digit deficit she currently faces to Trump in those states.
If eight of these 11 states split their tickets in this fashion it will set a Republican Party record, although four of these states have never split their vote along these partisan lines before: Alaska, Florida, North Carolina, and Wisconsin.
At the moment, 10 of these 11 Republican nominees currently have an advantage from one point to double-digits in their respective Real Clear Politics polling average (all but Johnson in Wisconsin).
Meanwhile, RealClearPolitics also finds Clinton currently leading Trump in seven of these states (all but Iowa, Ohio, Alaska, and Georgia).
The high-water mark for the GOP in winning seats to the nation's upper legislative chamber in states where Democrats won the presidential race is seven – a feat achieved in both 1992 and 1996.
In 1992, Republicans won seats in the following states carried by Bill Clinton: Georgia (Paul Coverdell), Iowa (Chuck Grassley), Missouri (Kit Bond), New Hampshire (Judd Gregg), Oregon (Bob Packwood), and Pennsylvania (Arlen Specter).
In 1996, GOPers won down ballot the Clinton states of Arkansas (Tim Hutchinson), Kentucky (Mitch McConnell), Maine (Susan Collins), New Hampshire (Bob Smith), New Mexico (Pete Domenici), Oregon (Gordon Smith), and Tennessee (Fred Thompson).
Republicans have managed to win six seats in this fashion four times (1936, 1940, 1944, 1964) and five seats in two other cycles (1932, 1976).
Overall, Republicans have won 79 senate seats since 1916 in states won by Democratic presidential nominees.
The reverse has been much more common with Democratic U.S. Senators getting elected in states won by Republican presidential nominees 157 times since 1916.
That number peaked during two GOP presidential landslide elections when Democrats still won 16 seats carried by Nixon in 1972 (Alabama, Arkansas, Colorado, Delaware, Georgia, Iowa, Kentucky, Louisiana, Maine, Minnesota, Mississippi, Montana, New Hampshire, Rhode Island, South Dakota, West Virginia) and 16 won by Reagan in 1984 (Alabama, Arkansas, Delaware, Georgia, Illinois, Iowa, Louisiana, Massachusetts, Michigan, Montana, Nebraska, New Jersey, Oklahoma, Rhode Island, Tennessee, West Virginia).
Split-ticket voting also saw Democrats win 14 seats carried by George H.W. Bush in 1988, 12 won by Richard Nixon in 1968 and Ronald Reagan in 1980, 11 carried by Herbert Hoover in 1928 and Dwight Eisenhower in 1956, 10 won by Eisenhower in 1952, and nine won by Gerald Ford in 1976.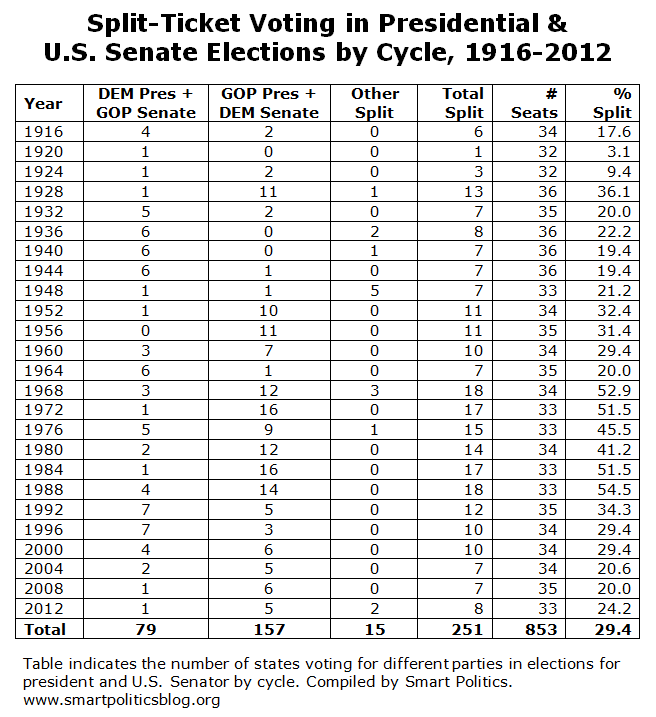 Since 1916, there has been a split in a state's vote for president and U.S. Senate 29.4 percent of the time (251 of 853 states).
Split-ticket voting has eclipsed the 50 percent mark in four of the 25 cycles during this span: 52.9 percent in 1968 (18 of 34 races), 51.5 percent in 1972 (17 of 33), 51.5 percent in 1984 (17 of 33), and 54.5 percent in 1988 (18 of 33).
The lowest rates of split-ticket voting came in the 1920s with just 3.1 percent doing so in 1920 (1 of 32 races), and 9.4 percent in 1924 (3 of 32).
Follow Smart Politics on Twitter.