Dow Jones Notches 3rd Largest Post-Presidential Election Gains in Over 100 Years
Donald Trump's victory has seen the Dow rise at a rate eclipsed just twice over the last 27 presidential election cycles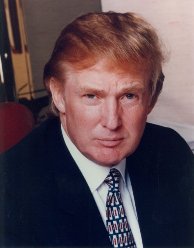 There was a bit of a panic in the futures market on Tuesday evening when election night prospects of a Donald Trump presidency shifted in media coverage from unlikely to even money to inevitable.
But, by the end of trading on Wednesday, the Dow Jones had recorded one of its best days of the year by closing up 256.95 points – a 1.40 percent increase from the previous day.
The Dow also saw gains of 218.19 points on Thursday and an additional 39.78 points on Friday for a post-election bounce of +514.92 points thus far.
While the Dow is of course only one variable in assessing the economic and financial health of the nation, there is a wealth of information to at least compare the market's short-term 'reaction' to the election of Trump to past presidential election victors.
Smart Politics examined the change in the Dow Jones Industrial Average at the close of Election Day and the following Friday during presidential election cycles and found that the market's percentage gain after the election of Donald Trump is the third largest  in over 100 years with 2016 becoming one of just six cycles to see gains on every day during that span.
[Note: The stock market was closed on Election Day in cycles prior to 1970. For those cycles the average at the close of Monday was used as the departure point].
From the close of Tuesday (18,332.74) through Friday (18,847.66), the 514.92-point bounce in the Dow last week marked an increase of 2.80 percent.
This increase lies in contrast to how the market fared directly following the election of Barack Obama in 2008 and 2012.
In 2008, the Dow dropped 7.08 percent from Election Day on November 4th (9,625.28) through that Friday, November 7th (8,943.81) after rising 17.7 percent during the previous seven trading days.
That marked the worst post-election week in the history of the Dow during presidential election cycles, with 1948 (-6.00 percent), 2012 (-3.25 percent), and 2000 (-3.19 percent) the only other cycles to see a decline of more than three percentage points from Election Day through Friday.
The largest gains experienced by the Dow after Election Day over the last century came after Franklin Roosevelt's victory in 1932, although the market was a bit topsy-turvy during the week.
The Dow closed at 64.58 on Monday and closed at the end of the next trading day (Wednesday) down 4.51 percent at 61.67.
However, the market rebounded with gains of 6.27 percent on Thursday and 3.79 percent on Friday to close the week at 68.03 for a 5.34 percent net gain after Election Day.
The Dow also saw healthy gains immediately after George W. Bush won reelection in 2004.
The Dow closed at 10,035.73 on Election Day (November 2nd) and ended the week up 342.81 points – for a 3.42 percentage gain.
With gains last week on Wednesday, Thursday, and Friday, the 2016 cycle became one of just six since 1912 to see the Dow increase on each day of trading through at least the end of election week:
1928: 257.58 (Monday), 260.68 (Wednesday), 261.11 (Thursday), 263.05 (Friday)
1952: 270.23 (Monday), 271.30 (Wednesday), 272.58 (Thursday), 273.47 (Friday)
1968: 956.23 (Monday), 949.47 (Wednesday), 950.65 (Thursday), 958.98 (Friday)
1996: 6,081.18 (Tuesday), 6,177.71 (Wednesday), 6,206.04 (Thursday), 6,219.82 (Friday)
2004: 10,035.73 (Tuesday), 10,137.05 (Wednesday), 10,314.76 (Thursday), 10,378.54 (Friday)
2016: 18,332.74 (Tuesday), 18,589.69 (Wednesday), 18,807.88 (Thursday), 18,847.66 (Friday)
The largest number of consecutive gains following a presidential election is eight days, set in 1996 after Bill Clinton won a second term.
After that cycle's November 5th election, the Dow rose in each of the next eight trading days through November 15th, totaling 266.85 points, or an increase of 4.39 percent.
The Dow has dropped for at least three consecutive days after the presidential election in five cycles:
1920 (six days): From 85.48 on November 1st to 79.94 on November 9th
1956 (three days): From 495.37 on November 5th to 485.35 on November 9th
1984 (three days): From 1,244.15 on November 6th to 1,218.97 on November 9th
1988 (four days): From 2,127.49 on November 8th to 2,065.08 on November 14th
2000 (four days): From 10,952.18 on November 7th to 10,391.31 on November 13th
Follow Smart Politics on Twitter.