Kentucky Democrats Suffer Worst Showing in Presidential Election Since 1860
The 32.7 percent won by Hillary Clinton is the second lowest level of support by a Democratic presidential nominee in the state since 1828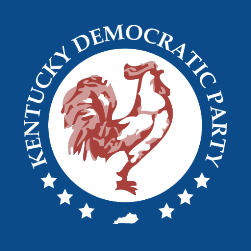 It has been a brutal 12 months for Kentucky Democrats.
After losing seats for governor, lieutenant governor, treasurer, and auditor in 2015, another GOP wave hit the Bluegrass State last week with Republicans picking up more than a dozen state house seats to seize control of the chamber for the first time in nearly a century.
That wave was due in part to the dominance of Donald Trump at the top of the ticket, with the political outsider notching the second strongest performance by a Republican presidential nominee in Kentucky history.
Trump won 62.5 percent of the vote – topped only by the 63.4 percent claimed by Richard Nixon during his landslide reelection victory over George McGovern in 1972 en route to a 49-state rout.
Hillary Clinton, meanwhile, won only 32.7 percent – a marked decline from Barack Obama's 41.2 percent in 2008 and 37.8 percent in 2012.
In fact, no Democratic presidential nominee has received less support than Clinton in Kentucky since before the Civil War.
The only Democrat to fare worse than Clinton across the 48 election cycles since the founding of the Democratic Party in 1828 was 1860 nominee Stephen Douglas who won 17.5 percent of the Kentucky presidential vote.
Of course, Douglas also had to run against Southern Democratic nominee and former Kentucky Congressman John Breckinridge that cycle. Breckinridge won 36.4 percent with both candidates losing to Constitutional Union nominee John Bell.
Democratic problems in parts of Appalachia and the South aren't limited to Kentucky, of course.
Last week, Smart Politics highlighted how Clinton's 26.5 percent performance in West Virginia was the worst in party history, while Trump's 68.7 percent bested Abraham Lincoln for a new Republican record in the Mountain State.
Overall, Democrats have now lost 22 presidential elections in Kentucky since 1828, with eight of these nominees failing to win 40 percent of the vote across these 48 cycles: in addition to Douglas, Obama (2012), and Clinton the remaining five are Martin Van Buren in 1840 (35.8 percent), Hubert Humphrey in 1968 (37.7 percent), George McGovern in 1972 (34.8 percent), Walter Mondale in 1984 (39.4 percent), and John Kerry in 2004 (39.7 percent).
Democratic nominees have averaged 48.6 percent in presidential elections in the state, but have only won the support of a majority of Kentuckians in one of the last 13 elections since 1968 (Jimmy Carter, 52.8 percent in 1976).
The current five-cycle GOP winning streak in Kentucky since 2000 is the longest in party history.
Follow Smart Politics on Twitter.