Minnesota Hosts 2 Photo-Finish US House Elections for 1st Time Since 1892
Only 15 Minnesota U.S. House races have been decided by less than a percentage point in state history with only two cycles yielding two such contests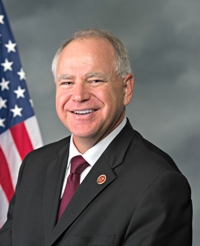 As expected, Minnesota's seven U.S. Representatives running for reelection in 2016 were all victorious last week, but some will return to D.C. having emerged from a much closer race at the ballot box than they anticipated.
Four Minnesota U.S. House elections were decided by five points or less with two incumbents winning by less than one point: DFLers Tim Walz in the 1st CD and Rick Nolan in the 8th.
Representative Walz escaped with a 0.76-point win over Republican Jim Hagedorn (2,549 votes) in a rematch of a 2014 race that saw the Democratic congressman win by 8.5 points.
In a rematch up north, Congressman Nolan defeated his 2014 challenger Stewart Mills by 0.56 points (2,021 votes) – two years after Nolan survived a 1.4-point win over the Republican political newcomer.
Such electoral nail-biters are not common occurrences in Minnesota U.S. House elections, let alone two taking place in the same cycle.
In fact, it has been 124 years since the last time the Gopher State hosted two elections that were decided this closely.
Prior to 2016, only 13 out of the more than 575 Minnesota U.S. House elections had been decided by less than one percentage point.
[Note: This study excludes statewide elections to at-large U.S. House seats in which multiple seats were awarded in the same race (e.g. elections prior to the drawing of congressional districts in 1862 and in 1932 when all nine seats were elected at-large in a single contest)].
In only one previous cycle have two races produced winners by less than one percentage point.
In 1892, Democrat Melvin Baldwin defeated judge Dolson Searle by 0.94 points in the state's 6th CD while justice of the peace and People's Party nominee Haldor Boen beat Republican State Representative Henry Feig by 0.24 points in the 7th CD.
Prior to 1892, only one race had been decided by less than a point: in 1874, freshman Republican Horace Strait edged Democrat E. St. Julien Cox by 0.81 points in the 2nd CD.
The closest U.S. House race in Minnesota history came 16 years ago: the 2000 2nd CD matchup between four-term DFLer David Minge and Republican Mark Kennedy.
Kennedy nipped Minge by 0.05 points (155 votes) in a five-candidate field with more than 288,000 ballots cast.
That race was slightly tighter than 1986's 7th CD matchup in which five-term Republican Arlan Stangeland defeated State Senator Collin Peterson by 0.06 points. [Peterson won that rematch in 1990].
Stangeland also won the eighth most narrowly decided U.S. House race in state history when he beat former State Representative Gene Wenstrom by 0.55 points in 1982.
Nolan's win over Mills this cycle goes down as the 9th most competitive race in state history with Walz's win over Hagedorn the 12th.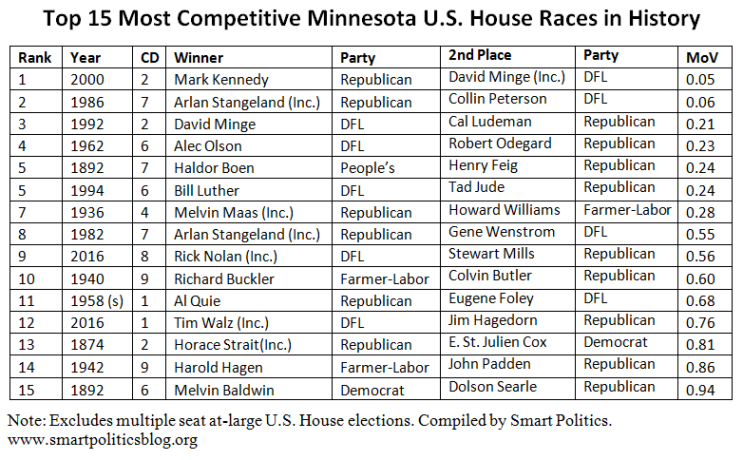 In addition to 2016's barnburners in the 1st and 8th Congressional Districts, Minnesotans were also treated to very competitive races in the 2nd and 7th CDs.
In the open 2nd CD race to replace the retiring John Kline, conservative radio host Jason Lewis defeated former health care executive Angie Craig by just 1.8 points.
In the 7th CD, 13-term Congressman Collin Peterson held off Republican Dave Hughes by 5.0 points.
[Note: Although eight-term DFLer Betty McCollum won by a comfortable 23.3-point margin over Greg Ryan in the 4th CD, it was the closest race across her eight reelection bids].
Overall, Minnesota's eight congressional races were decided by an average of 15.4 points – the lowest margin in more than half a century and the third most competitive cycle since the DFL merger in 1944.
The only other two cycles that produced tighter races across all districts during the DFL era were 1948 with its nine races yielding an average victory margin of 15.3 points (as the GOP shed three seats) and 1962 after the state lost its ninth district due to reapportionment (14.8 points).
The average margin of victory across the more than 300 Minnesota U.S. House elections conducted during these 37 cycles since the 1944 merger has been 24.3 points.
Follow Smart Politics on Twitter.