Wisconsin Becomes the Plurality King in Presidential Elections
The Badger State now has the highest rate in the nation of producing plurality-winning presidential candidates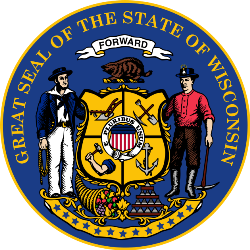 As expected, with a very competitive presidential race coupled with higher than normal support for third party candidates, the 2016 election produced a substantial number of states in which neither Donald Trump nor Hillary Clinton won a majority of the vote.
Fourteen states produced plurality winners this cycle, with Trump and Clinton each claiming seven.
Trump won with a plurality in Arizona (49.0 percent), Florida (48.6 percent), Michigan (47.6 percent), North Carolina (49.9 percent), Pennsylvania (48.4 percent), Utah (45.5 percent), and Wisconsin (47.3 percent).
Clinton eked out plurality wins in Colorado (48.2 percent), Maine (47.9 percent), Minnesota (46.5 percent), Nevada (47.9 percent), New Hampshire (46.8 percent), New Mexico (48.3 percent), and Virginia (49.8 percent).
As a result, the 2016 cycle has the seventh largest number of states won without a majority of the vote across the 48 elections conducted since 1828, and the eleventh highest rate of producing plurality winners (27.5 percent, 14 of 51 including the District of Columbia).
With Trump's plurality win in Wisconsin, the Badger State now holds the title as having the highest rate of plurality winners in the country since the dawn of the modern two-party era in 1828.
Wisconsin is the only state to cast its Electoral College votes for plurality winners in more than three out of 10 elections – doing so in 13 of 43 cycles since statehood (30.2 percent).
Wisconsinites have failed to produce a majority-winning nominee in five of the last seven cycles:  Bill Clinton in 1992 (41.1 percent) and 1996 (48.8 percent), Al Gore in 2000 (47.8 percent), John Kerry in 2004 (49.7 percent), and Trump in 2016 (47.3 percent).
Only two other states have produced as many plurality winners during this span 24-year span: Florida (1992, 1996, 2000, 2012, 2016) and New Mexico (1992, 1996, 2000, 2004, 2016).
A few months after statehood in 1848, Wisconsin became the first state in the modern two-party era to back a nominee with less than 40 percent of the vote.
Democrat Lewis Cass carried the Badger State that year with just 38.3 percent with Whig Zachary Taylor close behind at 35.1 percent and former president and Free Soiler Martin Van Buren at 26.6 percent.
Wisconsin also cast its Electoral College votes for plurality winners in 1888 (Benjamin Harrison, 49.8 percent), 1892 (Grover Cleveland, 47.7 percent), 1912 (Woodrow Wilson, 41.1 percent), 1916 (Charles Hughes, 49.4 percent), 1968 (Richard Nixon, 47.9 percent), 1976 (Jimmy Carter, 49.5 percent), and 1980 (Ronald Reagan, 47.9 percent).
Following the 2016 election, Wisconsin surpassed Ohio (29.2 percent) and California (28.6 percent) for the highest rate of hosting presidential elections resulting in a candidate winning its Electoral College votes without majority support from the voters.
Only seven other states have produced plurality winners at a rate of 25 percent or higher since 1828: Oregon at 27.5 percent, Indiana at 27.1 percent, Michigan at 26.1 percent, New Mexico at 25.9 percent, and Kentucky, New York, and Oklahoma at 25.0 percent.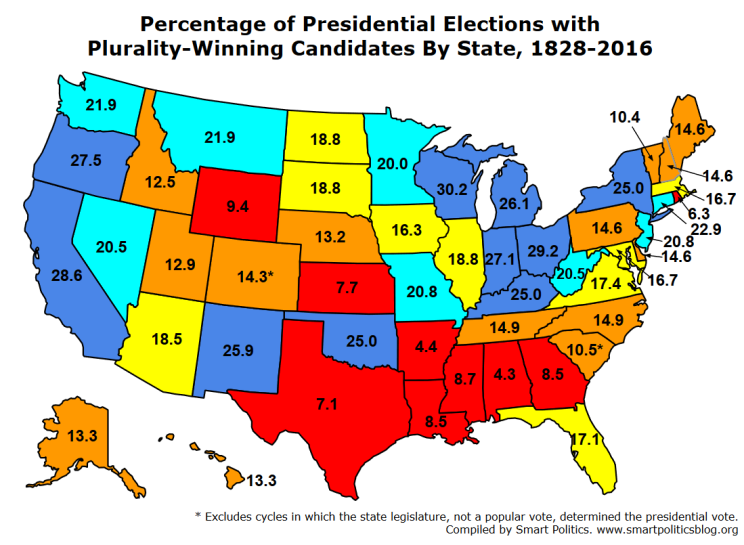 Indiana holds the record for the most consecutive cycles with a plurality winner, doing so five times in a row in 1876 (Samuel Tilden, 48.7 percent), 1880 (James Garfield, 49.3 percent), 1884 (Grover Cleveland, 49.5 percent), 1888 (Benjamin Harrison, 49.1 percent), and 1892 (Cleveland, 47.5 percent).
Ohio (1844-1856), New Mexico (1992-2004), and Wisconsin (1992-2004) have done so in four straight cycles.
Midwestern states have been the most likely to produce plurality-winning candidates in presidential races over the decades, doing so at a 21.0 percent rate across the region's dozen states (106 of 505 elections).
The West is next at 19.3 percent (77 of 399) followed by the Northeast at 16.1 percent (85 of 528) and the South at 13.0 percent (79 of 608).
The 10 cycles with a higher rate of plurality winners than 2016 are 1992 (96.1 percent), 1912 (75.0 percent), 1968 (54.9 percent), 1996 (51.0 percent), 1980 (47.1 percent), 1892 (43.2 percent), 1848 (34.5 percent), 1860 (31.3 percent), 1924 (29.2 percent), and 1888 (28.9 percent).
Wisconsin has now seen its presidential vote decided by less than a percentage point in three of the last five cycles – most in the nation since 2000. Al Gore defeated George W. Bush in the Badger State by 0.22 points with John Kerry beating Bush by 0.38 points in 2004. Pending a recount, Trump leads Clinton by 0.81 points.
Follow Smart Politics on Twitter.