Hassan and Shaheen and a Brief History of Ex-Gubernatorial US Senate Delegations
The New Hampshire duo becomes the seventh set of ex-governors from the same state to simultaneously serve in the U.S. Senate in the 21st Century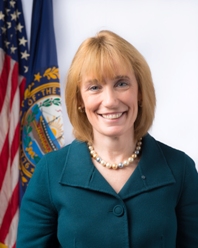 Maggie Hassan was sworn into office on Tuesday with the convening of the 115th Congress and in doing so joins fellow Granite State Democrat Jeanne Shaheen to form the second U.S. Senate delegation comprised of ex-governors now in office.
Shaheen governed the state for three terms from 1997 to 2003 while Hassan challenged Senator Kelly Ayotte after just two terms in Concord (2013-2017).
The New Hampshire lawmakers follow in the footsteps of Virginia Democrats Mark Warner and Tim Kaine – former governors who have served together in the chamber since 2013.
It is hardly a rarity for governors to later serve in the U.S. Senate during their political career.
In addition to the four members of the New Hampshire and Virginia delegations, former ex-governors currently in office include Tom Carper of Delaware, Jim Risch of Idaho, Angus King of Maine, John Hoeven of North Dakota, Mike Rounds of South Dakota, Lamar Alexander of Tennessee, and Joe Manchin of West Virginia.
But how common is it for ex-governors from the same state to serve alongside one another in the nation's upper legislative chamber?
Smart Politics examined the more than 900 U.S. Senators to serve in the direct election era and found that Maggie Hassan and Jeanne Shaheen are the 39th pair of former governors to serve together from the same state.
New Hampshire is one of three states to tally a nation-leading four pairs of ex-governor U.S. Senate delegations over the last century, along with Kansas and South Carolina.
In addition to Hassan and Shaheen, New Hampshire has also been represented in the chamber by:
1933 to 1937: Republican Henry Keyes (governor from 1917-1919) and Democrat Fred Brown (1923-1925)
1939 to 1953: Republican Charles Tobey (1929-1931) and Republican Styles Bridges (1935-1937)
2009 to 2011: Republican Judd Gregg (1989-1993) and Shaheen (1997-2003)
Kansas was simultaneously represented by Republicans Arthur Capper and Henry Allen (from 1929-1930), Capper and Clyde Reed (1939-1949), Reed and Andrew Schoeppel (1949), and Schoeppel and Frank Carlson (1950-1962).
Meanwhile, former South Carolina governors to serve simultaneously in the U.S. Senate are Democrats Olin Johnston and Burnet Maybank (1945-1954), Johnston and Democrat Strom Thurmond (1954-1956; 1956-1965), Thurmond (as a Republican) and Democrat Donald Russell (1965-1966), and Thurmond and Democrat Fritz Hollings (1966-2003).
At 36 years, 1 month, and 26 days, Thurmond and Hollings have the longest side-by-side tenure not only for ex-governors over the last century but for any pair of state delegation members in the chamber's history.
Other long-serving former gubernatorial pairs in the U.S. Senate from the same state include Arkansas Democrats Dale Bumpers and David Pryor at 18 years (1979-1997), Vermont Republicans William Dillingham and Carrol Page at 14+ years (1908-1923), New Hampshire Republicans Charles Tobey and Styles Bridges at 14+ years (1939-1953), and Georgia Democrats Richard Russell and Herman Talmadge at 14+ years (1957-1971).
Shaheen and Hassan are the seventh pair of ex-governors to serve in the chamber during the 21st Century along with Warner/Kaine, Gregg/Shaheen, Thurmond/Hollings, Missouri Republicans Kit Bond and John Ashcroft (1995-2001), Nebraska Democrat Ben Nelson and Republican Mike Johanns (2009-2013), and West Virginia Democrats John Rockefeller and Joe Manchin (2010-2015).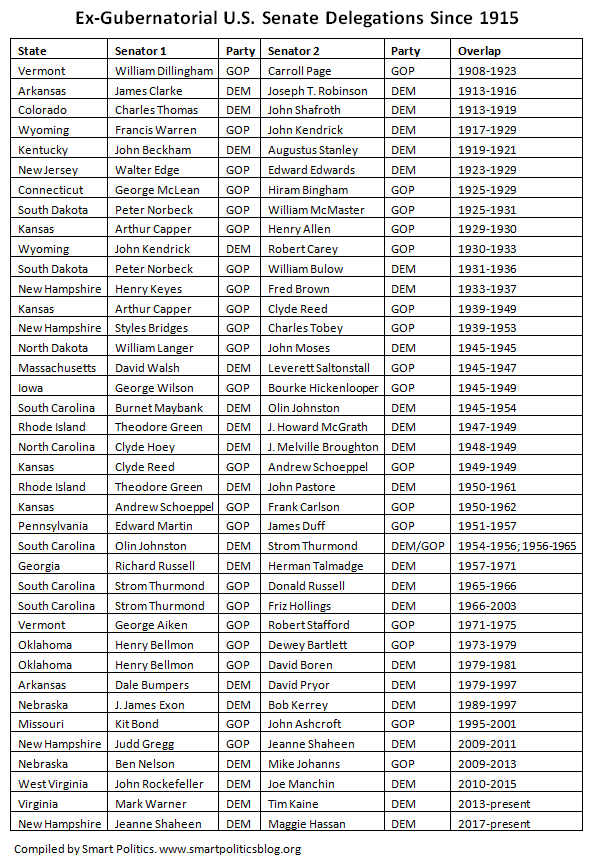 Overall, a dozen of the 39 pairs of ex-gubernatorial U.S. Senators were from different political parties:
Wyoming Republican Francis Warren and Democrat John Kendrick (serving together from 1917-1929)
New Jersey Republican Walter Edge and Democrat Edward Edwards (1923-1929)
Wyoming Democrat John Kendrick and Republican Robert Carey (1930-1933)
South Dakota Republican Peter Norbeck and Democrat William Bulow (1931-1936)
New Hampshire Republican Henry Keyes and Democrat Fred Brown (1933-1937)
North Dakota Republican Wild Bill Langer and Democrat John Moses (1945)
Massachusetts Democrat David Walsh and Republican Leverett Saltonstall (1945-1947)
South Carolina Republican Strom Thurmond and Democrat Donald Russell (1965-1966)
South Carolina Republican Strom Thurmond and Democrat Fritz Hollings (1966-2003)
Oklahoma Republican Henry Bellmon and Democrat David Boren (1979-1981)
New Hampshire Republican Judd Gregg and Democrat Jeanne Shaheen (2009-2011)
Nebraska Democrat Ben Nelson and Republican Mike Johanns (2009-2013)
Twenty–seven states have not had ex-governors serve together in the U.S. Senate in the direct election era: Alaska, Alabama, Arizona, California, Delaware, Florida, Hawaii, Idaho, Illinois, Indiana, Louisiana, Maine, Maryland, Michigan, Minnesota, Mississippi, Montana, Nevada, New Mexico, New York, Ohio, Oregon, Tennessee, Texas, Utah, Washington, and Wisconsin.
Follow Smart Politics on Twitter.