2018 Poised to Shatter Record for Female US Senators Seeking Reelection
Up to 11 women could run for reelection to the chamber in two years; the chamber's all-time record is just six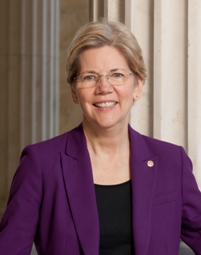 Massachusetts Democrat Elizabeth Warren's announcement last week that she will run for a second term in 2018 adds to the growing number of female U.S. Senators who have committed or are expected to run for reelection in two years.
After the 2016 cycle, which saw the election of four new women to the U.S. Senate (Democrats Kamala Harris of California, Tammy Duckworth of Illinois, Catherine Cortez-Masto of Nevada, and Maggie Hassan of New Hampshire), female legislators in the chamber reached an all-time high of 21 members in the 115th Congress.
Eleven of these women are up for reelection in 2018 and indications are that most will try to retain their seat.
Prior to Warren's decision, Democrats Claire McCaskill of Missouri, Amy Klobuchar of Minnesota, and Kirsten Gillibrand of New York all stated late last year that they would run again. Each of these will be seeking a third term.
As for the other seven women facing reelection, first-term North Dakota Democrat Heidi Heitkamp (age 61) passed on a chance to run for her state's open gubernatorial seat in 2016 so is expected to be on the ballot in 2018 in what will be one of many GOP targets.
Three women in their first term (Democrat Mazie Hirono of Hawaii (69), Republican Deb Fischer of Nebraska (65), and Democrat Tammy Baldwin of Wisconsin (54)) are not expected to retire nor is three-term Democrat Maria Cantwell of Washington (58).
That makes nine female incumbents committed or likely to run in 2018 – three more than in any other cycle in U.S. history.
[Democrats Dianne Feinstein of California (83) and Debbie Stabenow of Michigan (66) have also not yet announced their 2018 plans. Feinstein's long-time fellow delegation member Barbara Boxer retired last cycle at the age of 76].
The largest number of female U.S. Senators to run for reelection in any cycle to date is six – a mark reached three times:
2006: Dianne Feinstein (D-CA), Olympia Snowe (R-ME), Debbie Stabenow (D-MI), Hillary Clinton (D-NY), Maria Cantwell (D-WA), Kay Bailey Hutchison (R-TX)
2010: Lisa Murkowski (R-AK), Blanche Lincoln (D-AR), Barbara Boxer (D-CA), Barbara Mikulski (D-MD), Kirsten Gilibrand (D-NY), Patty Murray (D-WA)
2012: Dianne Feinstein (D-CA), Debbie Stabenow (D-MI), Amy Klobuchar (DFL-MN), Claire McCaskill (D-MO), Kirsten Gilibrand (D-NY), Maria Cantwell (D-WA)
Seventeen of these 18 women won their reelection bids (all but Lincoln).
Five female members ran for reelection in 2004 with four doing so in 1998 and 2014.
Overall, female U.S. Senators have won reelection at a slightly lower rate than their male counterparts over the last quarter-century.
Over the last 14 election cycles since 1990 – in which at least one female incumbent has sought reelection – women have won reelection at a rate of 83.3 percent (40 wins against eight losses).
Men have won reelection to the chamber 88.1 percent of the time during this span with 295 wins against 40 losses.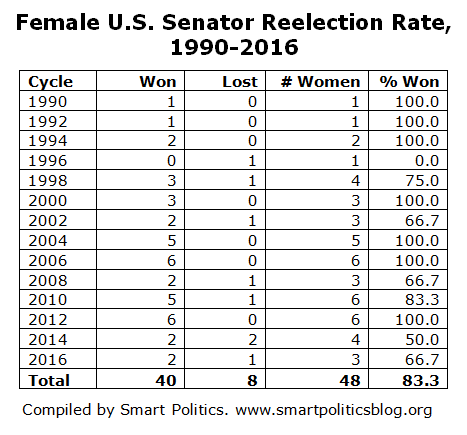 The eight female incumbents who lost their seats since 1990 are:
1996: Appointed Republican Sheila Frahm of Kansas (lost primary to Sam Brownback)
1998: One-term Democrat Carol Mosely Braun of Illinois (lost general to Peter Fitzgerald)
2002: Appionted Democrat Jean Carnahan of Missouri (lost special to Jim Talent)
2008: One-term Republican Elizabeth Dole of North Carolina (lost general to Kay Hagan)
2010: Two-term Democrat Blanche Lincoln of Arkansas (lost to John Boozman)
2014: One-term Democrat Kay Hagan of North Carolina (lost to Thom Tillis)
2014: Three-term Democrat Mary Landrieu of Louisiana (lost to Bill Cassidy)
2016: One-term Republican Kelly Ayotte of New Hampshire (lost to Maggie Hassan)
The losses by Hagan and Landrieu in 2014 were the first time in the chamber's history that two female U.S. Senators lost reelection bids.
Prior to 1990, women in the U.S. Senate tallied a record of six wins against four losses dating back to the first such run by an incumbent in 1932: Democrat Hattie Caraway of Arkansas.
Caraway won reelection that cycle and in 1938 but lost her party's nomination to William Fulbright in 1944.
Maine Republican Margaret Chase Smith was reelected in 1954, 1960, and 1966 before losing her bid for a fifth term to William Hathaway in 1972.
Six years later, appointed Alabama Democrat Maryon Allen lost her party's nomination to Donald Stewart.
In the 1980s, Republican Nancy Kassebaum of Kansas won her reelection bid (1984) while fellow GOPer Paula Hawkins of Florida was defeated by Bob Graham (1986).
Follow Smart Politics on Twitter.