Minnesota Sends Oldest US House Delegation in State History to 115th Congress
For the first time in Minnesota history, every member elected to the state delegation was 50+ years old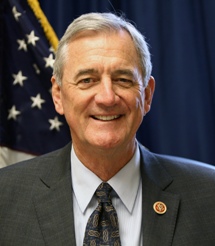 With septuagenarian U.S. Representatives Collin Peterson and Rick Nolan (pictured) able to fight off much younger Republican challengers in 2016, the DFL duo not only continues to climb the list of the all-time oldest Minnesota U.S. House members but also ensured their delegation to the 115th Congress would be the oldest in state history.
Nolan, who turned 73 last month, and Peterson, 72, are currently the fifth and seventh oldest Minnesota U.S. Representatives out of the more than 130 to be sworn into office since statehood.
Through Tuesday, Nolan is 73 years, 1 month, 1 day old and will pass turn of the 20th Century Republican Congressman Loren Fletcher (73 years, 10 months, 21 days) for fourth place on November 7th of this year.
Peterson (72 years, 6 months, 20 days), meanwhile, will eclipse DFLer Roy Weir (72 years, 10 months, 9 days) for 6th place on the list in less than four months on May 7th.
Holding the all-time record is Farmer-Laborite Richard Buckler who was 77 years, 2 months, 7 days when he retired from the chamber at the close of the 77th Congress in January 1943.
Buckler was nearly one year older than DFLer Jim Oberstar (76 years, 3 months, 24 days) when he completed his 18th term in January 2011 after losing his reelection bid.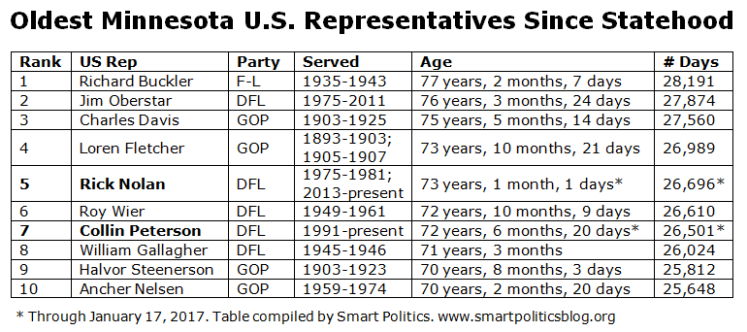 A total of 11 Minnesotans have served in the U.S. House into their 70s. [In addition to the 10 listed above is Democrat Edmund Rice, who reached the age of 70 years, 17 days at the end of his one and only term (1887-1889).
But Nolan and Peterson are simply the tip of the state delegation's graying spear.
Smart Politics tallied the average age of the 81 U.S. House delegations from Minnesota since statehood and found that the eight men and women elected to the 115th Congress in 2016 is the oldest since statehood by a full year.
All seven congressional incumbents on the ballot won reelection in 2016 (2nd CD GOPer John Kline, age 69, retired).
On Election Day, DFLers Nolan (age 72), Peterson (72), Betty McCollum (62), Keith Ellison (53), and Tim Walz (52), and Republicans Jason Lewis (61), Tom Emmer (55), and Erik Paulsen (51) were an average 59.8 years of age.
That breaks the record for the oldest delegation ever elected to the chamber set two years ago when Nolan (70), Peterson (70), Kline (67), McCollum (60), Emmer (53), Ellison (51), Walz (50), and Paulsen (49) were an average 58.8 years old.
The 2016 cycle also marks the first time in state history that every member elected to the U.S. House delegation was at least 50 years old.
Paulsen, the delegation's youngest member, turned 50 in  May 2015.
Since statehood, the average age of Minnesota's newly elected House delegation has been 48.1 years old. Longer life spans and low turnover in the state's U.S. House seats in recent decades have contributed to an increase in the average delegation age.
However, despite these older delegations, only one Minnesota U.S. Representative has died in office during the last 68 years – 16-term Republican August Andresen in 1958.
Prior to Andresen, the last Gopher State delegation members to die in office were one-term DFLer William Gallagher in 1946 and four-term Farmer-Laborite Ole Kvale in 1929.
The youngest delegation in Minnesota history was its first when at-large Democrats James Cavanaugh (34) and William Phelps (31) entered Congress in 1858, for an average of 32.5 years.
Rep. Lewis, who narrowly held John Kline's 2nd CD seat for the GOP in November at the age of 61, became one of just eight Minnesotans to win their first term in the chamber at 60+ years old and the first to do so since DFLer Roy Wier in 1948 (60).
Lewis also joins Democrat Edmund Rice in 1886 (67 years), Republican Andrew Kiefer in 1892 (60), Farmer-Laborite Magnus Johnson (61) in 1932, Democrat Einar Hoidale (62) in 1932, Farmer-Laborite Richard Buckler in 1934 (69), and DFLer William Gallagher (69).
As for Nolan and Peterson, septuagenarian U.S. Representatives from Minnesota have not always exited the House on their own terms.
Of the previous nine members to serve in their 70s in the state, only Fletcher (1906), Buckler (1942), and Ancher Nelsen (1974) opted not to run for reelection.
Of the remaining six:
Edmund Rice was defeated for reelection by Republican Samuel Snider by 12.1 points in 1888
Halvor Steenorson lost his reelection bid by 12.6 points to Farmer-Laborite Knud Wefald in 1922
Charles Davis lost his party's nomination to August Andresen in 1924
William Gallagher died in office after winning renomination in 1946
Roy Wier was defeated in the general election by 5.0 points to GOPer Clark MacGregor in 1960
Jim Oberstar was unseated by Republican Chip Cravaack by 1.6 points in 2010
Only one octogenerian from Minnesota has ever served on Capitol Hill in either chamber: Republican U.S. Senator Knute Nelson reached the age of 80 years, 2 months, 27 days when he died in office during the 68th Congress in 1923.
Follow Smart Politics on Twitter.