Kristi Noem's Multifaceted Historic Gubernatorial Bid
No sitting member of the U.S. House from South Dakota has ever appeared on a gubernatorial primary or general election ballot; just two ex-U.S. Representatives ever ran for the office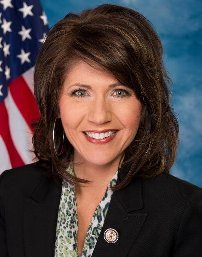 Less than a week after winning her fourth term as South Dakota's at-large member of the U.S. House last November, Republican Kristi Noem announced she would be running in 2018 for governor.
Noem's bid to succeed term-limited GOPer Dennis Daugaard is notable at first blush as she endeavors to become the first female governor of her state and just the fifth elected to the post in Midwestern history.
Only three of the 12 Midwestern states have ever elected a female governor, with none currently in office: Democrats Joan Finney and Kathleen Sebelius of Kansas, Democrat Jennifer Granholm of Michigan, and Republican Kay Orr of Nebraska.
Noem's candidacy also comes on the heels of Democrat Susan Wismer's 2014 campaign in the Mount Rushmore State, in which she became the first woman to receive a major party gubernatorial nomination in South Dakota history.
Noem is well-positioned to become the first female GOP nominee for the office in the state, although she is not the first Republican woman to seek the governorship in South Dakota.
Previous candidacies include those by Secretary of State Gladys Pyle in 1930, Secretary of State Alice Kundert in 1986, and Lora Hubbel in 2014. Note: Pyle had the most votes in the GOP primary that cycle, but failed to reach the 35 percent threshold in the five-candidate field. At the state convention, Pyle could not coalesce enough votes from those supporting her four male counterparts and was eventually defeated on the 12th ballot by farmer Warren Green.
But Noem has already made history in another way with her 2018 gubernatorial bid.
Smart Politics reviewed South Dakota's 54 gubernatorial elections since statehood and found that no sitting U.S. Representative has ever run for governor prior to Kristi Noem with only two ex-members later seeking the office.
[Note: One South Dakota politician took the reverse approach. Republican Bill Janklow served four nonconsecutive terms as governor (1979-1987; 1995-2003) and then ran for the U.S. House, resigning mid-way through his first term in 2004].
Noem is the first sitting U.S. Representative from South Dakota ever to launch a gubernatorial bid among the 36 men and women to serve in the office.
Prior to Noem, no U.S. House member in the state ever appeared on a primary or general election ballot for governor and just two former members of the chamber subsequently ran for the office.
The first to do so was Populist-turned-Socialist Freeman Knowles in 1904 and 1906.
Knowles served one term in the U.S. House – winning one of the state's two at-large seats as a Fusion (Democrat/Populist) candidate in 1896.
The Deadwood attorney and publisher also ran unsuccessfully to the House in 1894 (as a Populist), 1898 (as a Fusion nominee and incumbent), and 1902 (as a Socialist).
In 1904, Knowles was the Socialist nominee for governor and won 3.0 percent in an open seat contest won by Republican Samuel Elrod.
Knowles received his party's nomination again two years later and won 3.4 percent with Republican Coe Crawford easily claiming the governorship.
It would be another 80 years before the next former U.S. Representative from the Mount Rushmore State ran for governor.
Republican South Dakota Secretary of Agriculture Clint Roberts won his first and only term to the U.S. House in 1980 – winning the last contest conducted for the state's 2nd CD before reapportionment reduced the delegation to a single, at-large district two years later.
In 1982, Rep. Roberts and 1st CD U.S. Representative Tom Daschle squared off in a battle for the at-large seat with the Democrat victorious by 3.1 points.
In 1986, Roberts ran for governor and came close to winning the Republican nomination with former state house Speaker George S. Mickelson eking out a 3.2-point victory in a four-candidate field. [Roberts had previously run for governor in 1978 as a state senator, but finished a distant third in the GOP primary behind Bill Janklow].
In short, gubernatorial candidacies by South Dakota politicians with a U.S. House bullet point on their resume have been few and far between.
Put another way, sitting or former U.S. Representatives account for just three of the 235 primary or general election candidacies that have been launched for governor in South Dakota over the last 125+ years: one of the 108 by Republicans, none of the 77 by Democrats, and two of the 50 by third parties or independents.
Noem is currently a favorite to win the open gubernatorial seat in 2018, unless another big-name GOPer in the state enters the race to challenge her for the nomination. [Smart Politics has previously documented the historic decline experienced by South Dakota Democrats for elected office].
Follow Smart Politics on Twitter.