A Brief History of Kansas US House Special Elections
It has been 66 years since Kansas last held a special election to the U.S. House – fifth longest streak in the nation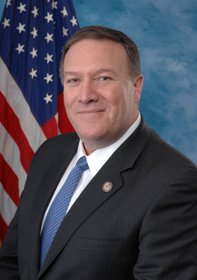 Kansas U.S. Representative Mike Pompeo was confirmed on Monday to be director of the CIA, and was sworn into his new position later that day.
The Sunflower State is now slated to hold its first special election to the U.S. House since a 3rd Congressional District contest held more than 66 years ago on November 7, 1950.
As mentioned last month at Smart Politics in a report on the prospects of a rare special election in Minnesota, Kansas currently has the fifth longest such streak in the nation trailing only Idaho (which has yet to hold one for the office since statehood in 1890), Delaware (1900), Utah (1930), and New Hampshire (1932).
Kansas also has the nation's fifth largest streak – having conducted 157 consecutive U.S. House elections since its last special in 1950, behind Texas (172 elections since 2006), Iowa (165 since 1959), Minnesota (160 since 1977), and California (159 since 2011).
The race to replace Pompeo in Kansas' 4th CD will likely be hard fought on the Republican side in a district where the GOP has won 12 consecutive elections since Todd Tiahrt ousted nine-term Democrat Dan Glickman during the Republican Revolution of 1994.
Democrats, however, will certainly field a candidate in the race (a feat the party has not always accomplished in the state's 1st and 3rd CDs over the last few decades) and the Libertarian Party is likely to as well – running a nominee in the 4th CD in nine of the last 13 cycles since 1992.
The 2017 special will be the 10th held in Kansas for the U.S. House since statehood, with six of the previous nine brought about by death.
The six congressmen who exited the chamber by passing away in office were four-term Republican Dudley Haskell in 1883 (2nd CD), freshman GOPer Alexander Mitchell in 1911 (2nd CD), three-term Republican Edmund Madison in 1911 (7th CD, special held in 1912), four-term GOPer Edward Little in 1924 (2nd CD), 10-term Republican Ulysses Guyer in 1943 (2nd CD), and two-term Republican Herbert Meyer in 1950 (3rd CD).
Meyer had already won his renomination bid that cycle, but died in early October about a month before Election Day.
In addition to Pompeo, the only other Kansas U.S. Representatives who resigned their seats to create special elections were seven-term Republican Thomas Ryan in 1889 (4th CD, appointed by President Benjamin Harrison to be Minister to Mexico), three-term GOPer Chester Long in 1903 (7th CD, elected to U.S. Senate), and seven-term Republican Charles Curtis in 1907 (1st CD, elected to U.S. Senate).
In only two of the nine special elections in Kansas did Democrats pick up the seat.
In 1911, prosecutor Joseph Taggart narrowly won his first of three terms in the 2nd CD with a 4.3-point win over former Kansas City mayor and future Congressman Ulysses Guyer.
One year later, Democrats captured the 7th CD with attorney George Neeley defeating judge Frank Martin by 4.9 points en route to his first of two terms.

Overall, Republicans have won 80.3 percent of U.S. House seats in Kansas electoral history (359 of 447), with Democrats winning just 69 contests (15.4 percent), and independents and third parties capturing 19 (4.3 percent).
There have been 442 elections for these 447 seats with multiple at-large seats on the ballot in 1872 (three) and 1882 (four).
Follow Smart Politics on Twitter.