Jeff Sessions, Richard Shelby and the Longest-Serving US Senate Delegation Pairs in History
The Alabama duo served alongside one another for the 27th longest stretch in the chamber's history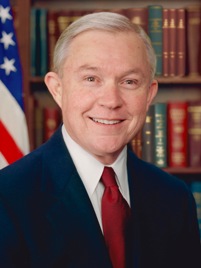 After the U.S. Senate confirmed Alabama Republican Jeff Sessions to be the nation's next Attorney General on Wednesday, it marked the end of one of the chamber's longest serving delegation pairs.
Sessions had served more than 20 years alongside his fellow Yellowhammer State GOPer Richard Shelby.
Alabama Governor Robert Bentley subsequently appointed state Attorney General Luther Strange on Thursday to fill Sessions' seat.
A few years ago, Smart Politics published a report detailing the longest serving delegation pairs in the history of the U.S. Senate.
Since that report, two of the Top 30 longest streaks came to an end while Shelby/Sessions climbed onto the list.
Sessions and Shelby served together in the U.S. Senate for 20 years, 1 month, 6 days – good for the 27th longest period in the chamber's history for two members from the same state.
During the early days of the 115th Congress, the Alabama duo passed up three other pairs of senators: Democrats Paul Sarbanes and Barbara Mikulski of Maryland (1987-2007; 20 years), Republican Clifford Case and Democrat Harrison Williams of New Jersey (1959-1979; 20 years), and Democrat Claiborne Pell and Republican John Chafee of Rhode Island (1976-1997; 20 years, 5 days).
Barbara Boxer's retirement at the end of the 114th Congress left her and fellow California Democrat Dianne Feinstein with 24 years of service together in the U.S. Senate.
Boxer and Feinstein finished their service as delegation colleagues together tied for #15 on the list with Missouri Democrats Francis Cockrell and George Vest (1879-1903) and Connecticut Republicans Orville Platt and Joseph Hawley (1881-1905).
Two years prior, at the end of the 113th Congress, long-serving Iowa U.S. Senators Chuck Grassley and Tom Harkin saw their run together end with the third longest period of consecutive service among senators from the same state at exactly 30 years.
That left the Iowans shy of only Republican Strom Thurmond and Democrat Fritz Hollings of South Carolina (1966-2003) at 36 years, 1 month, 26 days and Mississippi Democrats James Eastland and John Stennis (1947-1978) at 31 years, 1 month, 22 days.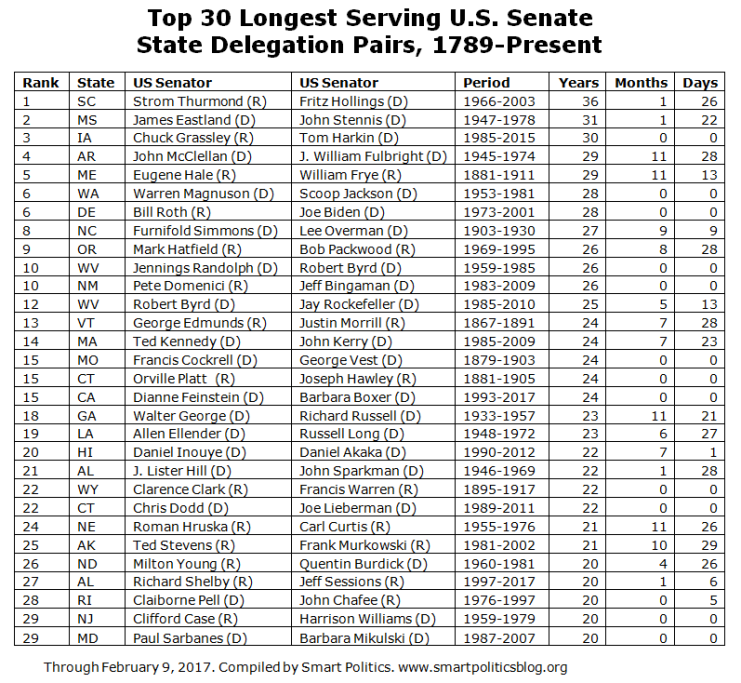 Patty Murray's 2016 reelection victory means she and fellow Washington Democrat Maria Cantwell have the current longest side-by-side service of any state delegation in the U.S. Senate at a shade over 16 years and 1 month.
Senator Cantwell is up for reelection in 2018.
Follow Smart Politics on Twitter.