Georgia Democrats Hope for Rare Pick-Up in 6th CD Special
It has been 145 years and 30 contests since the last time a party picked up a Georgia U.S. House seat in a special election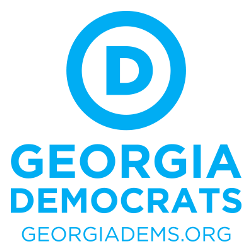 Three special elections to the U.S. House of Representatives will be conducted in April to fill vacancies caused by the resignations of members to become attorney general of California (Democrat Xavier Becerra of CA-34), Director of the C.I.A. (Mike Pompeo of KS-04), and Secretary of Health and Human Services (Tom Price of GA-06).
Particular attention has been paid to the race in Georgia due to the fact that Donald Trump carried Price's district by only 1.8 points last November – signaling the possibility of a Democratic pick-up in two months.
Eighteen candidates qualified for the April 18th ballot: 11 Republicans, five Democrats, and two independents.
That is not a Georgia record (e.g. 20 candidates were on the 1983 ballot subsequently won by Democrat Buddy Darden in a runoff against Kathryn McDonald).
With no candidate likely able to notch a majority in April, Democrats expect the highly fractured GOP vote will give their party a chance to land one of their candidates in the top two spots to make the runoff – in what they hope would then become a referendum against Donald Trump.
Leading Democratic contenders are ex-State Senator Ron Slotin and Jon Ossoff, a former aide to Congressman Hank Johnson. The high profile Republican candidates include former Georgia Secretary of State Karen Handel and State Senator Judson Hill.
But while the 6th CD special election may be the Democrat's best shot to pick up a seat before the 2018 midterms, it would be an unusual feat if they did so.
A Smart Politics review of Georgia historical election data finds that there has not been a change in partisan control across each of the last 30 seats filled by U.S. House special elections dating back nearly 145 years to late 1872.
Since statehood, there have been more than five-dozen special elections to the nation's lower legislative chamber from the Peach State.
For the first 18 specials conducted through 1835, all 18 resulted in no change in partisan control of the seat.
However, from 1836 through October 1872, 14 of 19 seats flipped in special elections held during this 36-year stretch: five from Whig to Democrat, three from Democrat to Whig, three from Republican to Democrat, one from Democrat to Republican, one from Jacksonian to Anti-Jacksonian, and one from Jacksonian to State Rights.
[Note: Georgia elected each of its U.S. Representatives on an at-large ticket during all but a few cycles through the 27th Congress ending in March 1845].
The last seat to flip came in the 4th CD special election held in October 1872 after the death of freshman Republican Thomas Speer. Democratic Attorney Erasmus Beck defeated Republican Joseph Green by 22.7 points and served the remaining four months of Speer's term.
Ever since, none of the 30 vacancies in Georgia U.S. House seats changed parties after the special elections were conducted.
This is due in part, of course, to the fact that Democrats had a virtual lock on all political offices in the state for more than three-quarters of a century.
For example, after Democrat-turned-Populist Thomas Watson won Georgia's 10th CD race in 1890, Democrats did not lose a race to the U.S. House until after the passage of the 1964 Civil Rights Act (Republican Bo Callaway broke the streak with a 3rd CD win that November).
Democrats held onto 27 consecutive vacant seats through Buddy Darden's 1983 victory in the 7th CD in the special election held after Larry McDonald died in the Korean Air Lines flight shot down by the Soviet Union over the Sea of Japan.
Since then, Republicans have held onto each of the three seats to come up for special elections: Johnny Isakson in the 6th (1999; previously held by Newt Gingrich), Paul Broun in the 10th (2007; Charlie Norwood), and Tom Graves in the 9th (2010; Nathan Deal).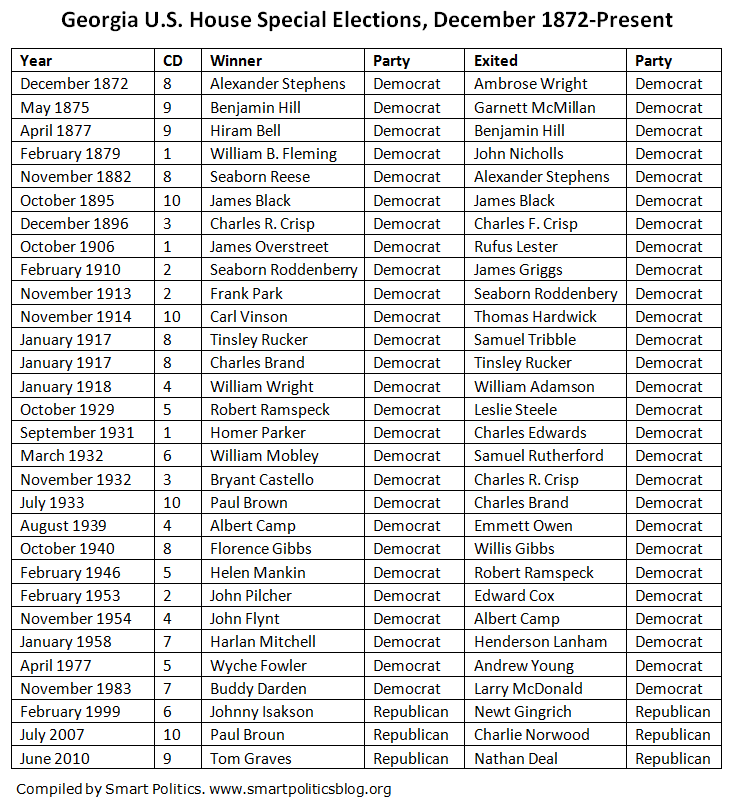 Not only have there not been any changes in partisan control of these 30 districts when special elections arose over the last 140+ years, but very few were close to seeing a flip.
The last two special elections featured two Republicans in the runoff with Isakson's closest challenger in 1999 also being a fellow GOPer.
Similarly, Democratic holds in 1977 (Wyche Fowler) and 1983 (Darden) did not see a Republican candidate make the runoff.
The closest a seat has come to flipping since 1872 took place in 1895 when former Populist Congressman Thomas Watson lost to former Democratic Congressman James Black.
Black had defeated Watson in 1892 (after the congressman switched his allegiance from Democratic to Populist) and in 1894, but resigned from his seat in 1895 after claims of fraud in the 1894 rematch.  Black defeated Watson by 8.3 points in the special election to the fill the vacancy that October.
Democrats last picked up a GOP-held U.S. House seat in Georgia 13 years ago in 2004 when John Barrow unseated freshman Max Burns by 3.6 points. [Note: This excludes Republican Lynn Westmoreland and Democrat Jim Marshall essentially switching seats in the 3rd and 8th districts respectively after the Georgia legislature redrew its district maps for the 2006 cycle].
Follow Smart Politics on Twitter.