Will Keith Ellison Get a Serious Primary Challenger if He Loses DNC Chair?
Only one DFL U.S. Representative in party history has faced more primary opponents than Minnesota's 5th CD U.S. Representative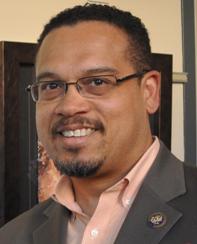 This weekend Democrats will select their next party chair, with six-term Minnesota U.S. Representative Keith Ellison, former U.S. Secretary of Labor Tom Perez, and South Bend Mayor Pete Buttigieg the biggest names among the more than half-dozen hopefuls.
If Ellison is victorious, he will step down from Congress triggering the first special election in the Gopher State in 40 years.
If he loses, he will remain in the House of Representatives, and most likely run for a seventh term next year.
Ellison represents the most Democratic-friendly district in the Gopher State (the Minneapolis-based congressional district has an approximate 70/30 split in favor of his party), so the seasoned legislator is essentially guaranteed reelection every cycle he wins his party's nomination.
But if Ellison falls short at the party's winter meeting, the question will become whether his unrealized national political ambitions could affect his status in his home district among fellow DFLers.
Ellison's 5th CD encapsulates parts of 13 state senate districts (37, 40, 41, 45, 46, 49, 50, 59, 60, 61, 62, 63) and 20 state house districts (37A, 40B, 41A, 41B, 45A, 45B, 46A, 46B, 49A, 50A, 59A, 59B, 60A, 60B, 61A, 61B, 62A, 62B, 63A, 63B).
All but one of these 33 seats is currently held by a DFLer (with the lone exception being Republican Dario Anselmo in HD 49A).
Ellison received far from unified support from his party during his inaugural 2006 congressional bid, winning just 41.2 percent in that cycle's primary.
But while it would have seemed impolitic over the last decade for members of the Democratic establishment in Minnesota to primary Ellison – the first Muslim-American U.S. Representative in history and the first African-American congressman from Minnesota – a defeat in his quest for DNC chair could provide a political opening for ambitious politicians in his district.
In fact, Representative Ellison has already inspired a historically inordinate number of primary challengers since his 2006 win. Most, however, have been from fringe or perennial candidates.
Ellison has faced primary challengers in four of the five cycles he has run for reelection, or 80 percent of the time.
That is the highest rate of the 23 DFLers to run for reelection outside of two freshmen running for reelection in 1946 – one was defeated in the general election (Frank Starkey) and the other died after winning renomination (William Gallagher). Both freshmen faced a primary challenger that cycle.
Only one other DFLer has faced at least one primary challenger in more than half of his or her reelection bids – Tim Penny, in three out of five cycles (60 percent).
Ellison has faced an average of 1.4 primary opponents during his reelection bids – more than any of the 21 DFLers to serve more than one term and far greater than his fellow Democratic delegation members.
Tim Walz (1st CD) and Rick Nolan (6th and 8th CDs) have not faced a single primary opponent during their nine cumulative renomination bids.
Betty McCollum (4th CD) has been opposed by four challengers across eight cycles (0.5 per cycle) while just two have run against Collin Peterson (7th CD) during his 13 reelection bids (0.15 per cycle).
Ellison has drawn more than three times the rate of primary opponents (1.40 per cycle) as the DFL incumbent average (0.42) since the formation of the party
The seven primary challengers faced by Ellison through just five cycles as an incumbent is already second most in DFL history.
Only Jim Oberstar drew more, but just barely: eight during his 18 reelection bids.
By that metric, Ellison has already eclipsed 10 other DFLers who served as long  or longer in the chamber: Martin Sabo (six opponents), John Blatnik (six), Don Fraser (five), Tim Penny (five), Roy Wier (four), Gerry Sikorski (four), Betty McCollum (four), Bruce Vento (three), Collin Peterson (two), Joseph Karth (one), Fred Marshall (one), and Tim Walz (none).
Of the 32 state legislative DFLers who serve in the 5th CD, it is unclear who would dare to emerge and take on Ellison should he falter in his DNC chair bid.
Among State Senators, Ann Rest of SD 45 (2001-present) and Scott Dibble of SD 61 (2003-present) have the longest service in the chamber, but Dibble has already endorsed Ellison for the chairmanship.
Former popular three-term Minneapolis Mayor R.T. Rybak, who would probably be the most formidable primary challenger in the district, has also endorsed Ellison, so a challenge by the DNC Vice-Chair is essentially inconceivable.
Of course, all of this speculation is moot if Ellison can translate all of his high profile endorsements into a victory on Saturday and resigns from his seat as he has stated he would.
Follow Smart Politics on Twitter.