Walz, Nolan Could Become 1st DFL US Representative to Win Gubernatorial Nomination
No sitting or ex-DFL U.S. House member has ever won their party's gubernatorial nomination – or even competed in the primary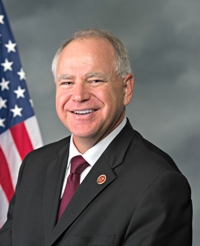 A month after U.S. Representative Rick Nolan announced he was considering a gubernatorial bid to succeed retiring Mark Dayton, comes news that a second DFL delegation member is doing the same.
Last Thursday, six-term Congressman Tim Walz of the state's 1st CD told a town hall audience he was "seriously thinking" about a run for governor in 2018.
Both Walz and Nolan would appear to be bona fide gubernatorial candidates on paper – having proved their political resilience by narrowly winning their greater Minnesota congressional districts that were handily carried by Donald Trump last cycle (by 14.8 and 15.5 points respectively).
But even if just one of these congressmen runs in the DFL primary in August 2018 it will be a first for the party.
Smart Politics reviewed the 23 gubernatorial elections conducted since the 1944 DFL merger and found that not a single sitting or ex-U.S. Representative has landed the party's nomination nor were among the 79 candidates to appear on the primary ballot.
One has to go back more than a century to find a gubernatorial nominee or primary contender from the Democratic Party in Minnesota who served in the U.S. House.
In 1914, four-term Congressman Winfield Hammond narrowly defeated former St. Paul Mayor Daniel Lawler by 2.2 points in the Democratic primary.
Hammond went on to win the general election by 3.7 points over Republican William Lee in a six-candidate field, but died less than a year into his term.
None of the three Democrats or 23 DFLers to subsequently win a U.S. House seat over the next century ever launched a gubernatorial primary or general election campaign.
Republicans, meanwhile, have had several sitting or former U.S. Representatives subsequently run for governor since the primary era began in 1912: Charles Lindberg (1918), Franklin Ellsworth (1920, 1922, 1924, 1932), John Alexander (1942), George MacKinnon (1958), and Al Quie (1978).
MacKinnon and Quie were nominated by the GOP and Quie went on to win the general election.
Prior to the primary era, Democrats had nominated a candidate for governor with service in the House of Representatives on his resume six times:
Henry Sibley (1857): former two-term U.S. Delegate (1849-1853)
Eugene Wilson (1888): former one-term U.S. Representative (1869-1871)
Thomas Wilson (1890): former one-term U.S. Representative (1887-1889)
John Lind (1896, 1898, 1900): former three-term Republican U.S. Representative (1887-1893)
If Walz or Nolan officially jumps into the race later this year, they will join a growing list of Gopher State politicians seeking the DFL nomination. St. Paul Mayor Chris Coleman, State Auditor Rebecca Otto, and State Representative Erin Murphy have all announced their candidacies.
Lieutenant Governor Tina Smith and State Representative Tina Liebling are also mulling gubernatorial bids.
With several big names possibly seeking the governorship, it will be interesting to see if any bow out and abide by their party's endorsement which will be handed out a little over a year from now.
In 2014, four of the top five candidates at the Republican State Convention went on to run in the August primary.
Democrats have generally not fared very well in the general election after enduring a hotly contested gubernatorial primary.
Prior to Mark Dayton's 1.5-point primary win over State Representative Margaret Anderson Kelliher in 2010, each of the 10 Democratic and DFL nominees who won only a plurality of the primary vote all lost in the general election:
1916: Thomas Dwyer (39.7 percent)
1920: Laurence Hodgson (40.2 percent)
1934: John Regan (34.6 percent)
1938: Thomas Gallagher (29.2 percent)
1940: Ed Murphy (36.1 percent)
1946: Harold Baker (44.7 percent)
1948: Charlie Halstead (36.0 percent)
1950: Harry Peterson (47.5 percent)
1994: John Marty (37.8 percent)
1998: Skip Humphrey (37.0 percent)
Meanwhile, Democrats have won 10 of 24 gubernatorial elections in which its nominee won a majority of the primary vote (though five of these victories were by incumbents).
Note: From 1924 through 1930 the party selected its nominees for governor via state convention. The Republican Party has continuously held primaries since 1912 for the office.
Follow Smart Politics on Twitter.