10 US Attorneys General Who Served Less than 1 Year
Jeff Sessions needs to last until April 25th to avoid having the shortest tenure of the 84 men and women to serve in the position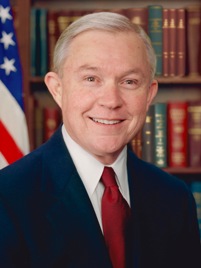 Reports Jeff Sessions did not disclose the meetings he held last year with Russia's Ambassador to the United States at his U.S. Senate confirmation hearings in January prompted bipartisan calls today for the Attorney General to recuse himself from Justice Department investigations into Russia's involvement in the 2016 election as well as Democratic demands for his resignation from the office and possible prosecution for lying to Congress.
Sessions later announced he would indeed recuse himself on any federal investigations related to the Trump campaign during a mid-afternoon press conference on Thursday.
The news of Sessions' meetings with the Russian ambassador broke on Wednesday on just his 21st day in office.
With Republicans on the Hill and Donald Trump holding firm behind Sessions remaining in office at this point, there are no signs that the former Alabama U.S. Senator will resign, and Thursday's recusal announcement is undoubtedly aimed to quell such talk in the media and on the Democratic side of the aisle.
But, with unknown political terrain ahead, Sessions is going to have to last another 50+ days to avoid setting an embarrassing record in U.S. political history.
Smart Politics reviewed the tenures of the 84 men and women to serve as U.S. Attorney General and found that Jeff Sessions will need to remain in office until April 25th in order to not own the record for the shortest tenure ever recorded for the post.
Just 10 of Sessions' 83 predecessors served less than one year. Only three of these 10, like Sessions, were the first appointment to the office of a presidential administration.
[Note: The beginning tenure dates listed below indicate when the attorney general entered office and began duties, not the appointment date. Acting attorneys general are not included.].
Edwin Stanton: 75 days (December 20, 1860-March 4, 1861)
Stanton was appointed by Democrat James Buchanan after Jeremiah Black left the position to become Secretary of State. Both Stanton and Buchanan hailed from Pennsylvania where the former held the position of state counsel.
Stanton served 75 days until the completion of Buchanan's single term in office and has the shortest tenure in U.S. history for the office.
Sessions needs to serve until April 25th to surpass Stanton on the all-time tenure list.
Elliot Richardson: 150 days (May 24, 1973-October 20, 1973)
Richardson, a former lieutenant governor and attorney general of Massachusetts, was Richard Nixon's Secretary of Health, Education, and Welfare from June 1970 to January 1973 and left that post to become Secretary of Defense, a position he held until late May.
Richardson replaced Richard Kleindienst who resigned in the midst of the Watergate scandal. Richardson resigned as well after less than five months in office in order to avoid executing Nixon's order to fire Archibald Cox, the Watergate Special Prosecutor.
John Crittenden: 192 days* (March 5, 1841-September 12, 1841)
Crittenden, a U.S. Senator from Kentucky, became the 15th U.S. Attorney General at the beginning of Whig William Harrison's term.
After Harrison's death, Crittenden resigned five months into John Tyler's administration and owns the mark for the fewest days of service among attorneys general who started at the beginning of a presidential term.
He returned to the U.S. Senate a half-year later in March 1842 and was later elected governor of Kentucky in 1848. But Crittenden resigned midway through his gubernatorial term in 1850 after Millard Fillmore appointed him to the post of attorney general once again, and served more than two and one-half years during his second stint.
Sessions will need to serve until August 20, 2017 to pass Crittenden's mark.
William Evarts: 228 days (July 20, 1868-March 4, 1869)
Evarts was a New York attorney who was counsel to Andrew Johnson during his 1868 impeachment trial in the House of Representatives.
Evarts succeeded Henry Stanbury who had stepped down as Attorney General in mid-March 1868 to defend the president but failed to get confirmed by the U.S. Senate on a 29 to 11 vote that June after Johnson nominated him again.
Evarts served as Attorney General until the end of the Johnson administration in March 1869.
Wayne MacVeagh: 234 days (March 5, 1881-December 15, 1881)
A former Minister to Turkey and chair of the Republican Party of Pennsylvania, MacVeagh served as attorney general under James Garfield.
After Garfield's assassination, MacVeagh served for one month under Chester Arthur before tendering his resignation.
James McGranery: 239 days (May 27, 1952-January 20, 1953)
McGranery, a U.S. Federal Court judge for the Eastern District of Pennsylvania, was the fourth attorney general to serve under Harry Truman, taking office after the resignation of J. Howard McGrath.
McGranery served until the end of Truman's term.
Isaac Toucey: 249 days (June 29, 1848-March 4, 1849)
The former U.S. Representative and governor from Connecticut was appointed by James Polk after his predecessor, Nathan Clifford, resigned to become U.S. Envoy to Mexico.
Toucey served until the end of Polk's term and was later elected to the U.S. Senate and became Secretary of the Navy under President Buchanan.
Alphonso Taft: 284 days (June 1, 1876-March 11, 1877)
Taft served as the Secretary of War during Ulysses Grant's second term for two months but, after Edwards Pierrepont resigned to become a Minister to Great Britain, Taft became the nation's 35th Attorney General.
Taft remained in that post until the end of Grant's term and later held the positions of U.S. Minister to Austria-Hungary and Russia in the 1880s.
Joseph McKenna: 325 days (March 7, 1897-January 25, 1898)
A former Congressman and sitting U.S. Circuit Court judge, McKenna was appointed by William McKinley at the start of his first term in the White House.
McKenna lasted less than a year, however, after long-serving Supreme Court Justice Stephen Field retired in 1897. McKinley appointed McKenna to fill the vacancy and he served on the high court for nearly 27 years.
Harlan Stone: 328 days (April 9, 1924-March 2, 1925)
An attorney and former law school professor and dean, Stone was appointed by Calvin Coolidge to become the 52nd attorney general following the dismissal (technically, resignation) of Harry Daugherty who was embroiled in the Teapot Dome Scandal.
In 1925, Stone was appointed to the U.S. Supreme Court and confirmed by the U.S. Senate after the retirement of Justice McKenna.
Follow Smart Politics on Twitter.