A majority of the 17 seven-term U.S. Senators in history have either retired, resigned, or died in office, but five of the six who ran for reelection were victorious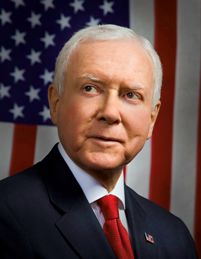 After months of speculation, Utah Republican Orrin Hatch has confirmed he plans to run for reelection in 2018, six years after stating his 2012 U.S. Senate campaign would be his last.
The 82 year-old Hatch is currently eighth on the chamber's all-time service list at a shade over 40 years and 2 months, and will climb to sixth before the end of his seventh term in late 2018.
Hatch is already the longest-serving Republican member of the U.S. Senate – passing up Strom Thurmond of South Carolina nearly two years ago.
Thurmond served 38 years, 3 months, 19 days as a Republican after switching parties in September 1964 – two and one-half months after the passage of the Civil Rights Act.
Many Utah GOPers have been eying a 2018 bid for the seat Hatch has occupied since 1977, though it is not clear that Hatch's recent declaration will clear the field.
If, however, Hatch is successful in capturing his party's nomination, he will be a shoo-in to become just the sixth U.S. Senator in the chamber's history to win election to an eighth term:
South Carolina Democrat/Republican Strom Thurmond: elected in 1954/1956 (the latter a special election to the same term caused by his own resignation), 1960, 1966, 1972, 1978, 1984, 1990, 1996
West Virginia Democrat Robert Byrd: 1958, 1964, 1970, 1976, 1982, 1988, 1994, 2000, 2006
Massachusetts Democrat Ted Kennedy: 1962 (special), 1964, 1970, 1976, 1982, 1988, 1994, 2000, 2006
Hawaii Democrat Daniel Inouye: 1962, 1968, 1974, 1980, 1986, 1992, 1998, 2004, 2010
Vermont Democrat Patrick Leahy: 1974, 1980, 1986, 1992, 1998, 2004, 2010, 2016
Only one seven-term U.S. Senator has lost a reelection bid for an eighth term: Republican Ted Stevens of Alaska in 2008.
Stevens was narrowly defeated by 1.3 points that November despite coming up for reelection during a Democratic-friendly political environment at the end of George W. Bush's term, having been convicted of corruption charges a week before the election, and facing a challenger from a well-known Democratic family (Anchorage Mayor Mark Begich).
Hatch will become the seventh seven-term U.S. Senator to run for reelection.
Overall, 17 members of the chamber have served into a seventh term. Of the remaining 10 who did not seek reelection:
Four retired: Arizona Democrat Carl Hayden in 1968, Louisiana Democrat Russell Long in 1986, Mississippi Democrat John Stennis in 1988, and South Carolina Democrat Fritz Hollings in 2004
Two resigned: Virginia Democrat Harry Byrd, Sr. in 1965 and Delaware Democrat Joe Biden in 2009
Two died: Wyoming Republican Francis Warren in 1929 and Georgia Democrat Richard Russell in 1971
Two are currently in office: Mississippi Republican Thad Cochran and Iowa Republican Chuck Grassley [Cochran also technically served one week at the end of the 95th Congress before the start of his first full term when Democrat James Eastland resigned to give Cochran greater seniority for his state in the entering class].
During these months of speculation as to whether or not Hatch would retire as he indicated he would in 2012, several big name Republicans have been floated as potential candidates for his seat including three former presidential candidates: Mitt Romney, Jon Huntsman, and Evan McMullin.
Follow Smart Politics on Twitter.