Chaffetz Loss in 2018 Would Be Biggest US House Upset in Utah History
No Utah U.S. Representative who won their seat by 25+ points has ever been defeated in the subsequent general election

Under ordinary circumstances, one would not expect Utah U.S. Representative and House Committee on Oversight and Government Reform Chairman Jason Chaffetz to be concerned about losing his seat to a Democrat.
The five-term Congressman has won north of 70 percent of the vote in all three reelection victories since redistricting in 2012 including a 46.9-point win in 2016.
As a committee chair, Chaffetz often receives national attention, but his comment a week ago on CNN made unusually large waves when discussing access to health care:
Americans have choices, and they've got to make a choice. So rather than getting that new iPhone that they just love and want to go spend hundreds of dollars on that, maybe they should invest in their own health care.
As a result of those comments, Democratic physician and political novice Kathryn Allen of Cottonwood Heights officially filed her candidacy paperwork with the FEC to challenge Chaffetz and raised over $400,000 with an assist from a Rachel Maddow segment on MSNBC last Wednesday evening.
The 3rd CD race had already fielded a GOP challenger to Chaffetz – attorney Damian Kidd of American Fork filed to run against him on February 2nd.
But even with this recently brewed controversy, it is difficult to see Chaffetz faltering in 2018 – particularly if he wins his party's nomination.
Overall, Utah U.S. Representatives have won their party's nomination in 107 of 110 attempts, or 97.3 percent of the time since statehood.
[Note: Over the decades, an additional 21 incumbents did not seek reelection to their U.S. House seat].
Chaffetz was the last Utahan to knock a U.S. Representative out of office at the nomination phase.
None of the five candidates seeking the 3rd CD party nod in May 2008 won enough support at the nominating convention, so the top two candidates – Chaffetz and six-term Congressman Chris Cannon – squared off in a June primary which Chaffetz won by 19.6 points.
The only other incumbents to lose their party's nomination were freshman Congressman Jacob Johnson in 1914 for the 2nd CD (to Elmer Leatherwood) and two-term 2nd CD U.S. Representative Merrill Cook in 2000 (to Derek Smith).
Of the 107 U.S. Representatives from Utah who won their party's nomination, 93 were victorious in the general election, or 86.9 percent.
None of these incumbents, however, had come off as large of a victory as Chaffetz in 2016 – in fact, they were not even within 20 points of his blow-out win.
The 16 times Utah U.S. Representatives lost a general election race followed cycles in which they were victorious by an average of just 9.6 points, with none winning by 25+ points.
Only five ousted incumbents had won by double-digits in the cycle preceding their loss:
1932 (1st CD): Republican Don Colton lost to attorney Abe Murdock, two years after winning his sixth term by 22.1 points.
1946 (2nd CD): Democrat J. Will Robinson was defeated by former State Senator William Dawson, two years after winning his seventh term by 24.5 points.
1958 (2nd CD): Republican William Dawson lost to attorney and professor David King after winning his fourth nonconsecutive term in 1956 by 15.3 points.
1966 (2nd CD): Democrat David King was defeated by former Congressman Sherman Lloyd, two years after winning his third nonconsecutive term by 15.1 points.
1996 (3rd CD): Democrat Bill Orton lost to attorney Chris Cannon after winning his third term in 1994 by 19.1 points.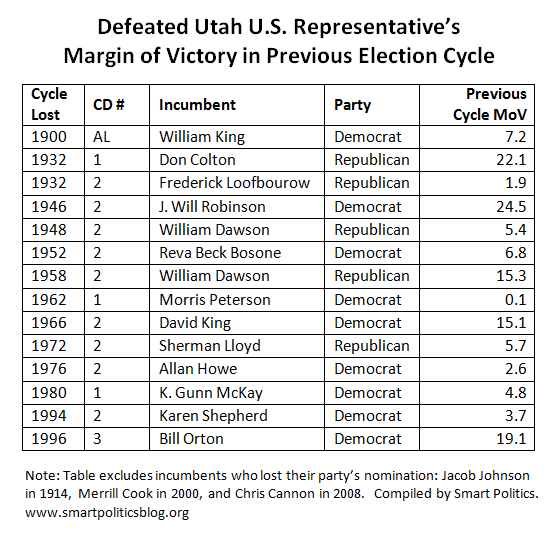 Robinson's 24.5-point win in 1944 is the largest in Utah history to be followed by a loss for the incumbent.
A loss by Chaffetz in November 2018, however, would be on an entirely different level.
Chaffetz's 46.9-point win over Stephen Tryon in 2016 was the seventh largest victory margin across the 137 races conducted for the U.S. House since statehood.
Chaffetz, in fact, owns four of the Top 7 biggest blow-out victories for the office: winning by 53.2 points over Soren Simonsen in 2012 (#3), 49.7 points over Brian Wonnacot in 2014  (#4), and 49.6 points over Karen Hyer in 2010 (#5).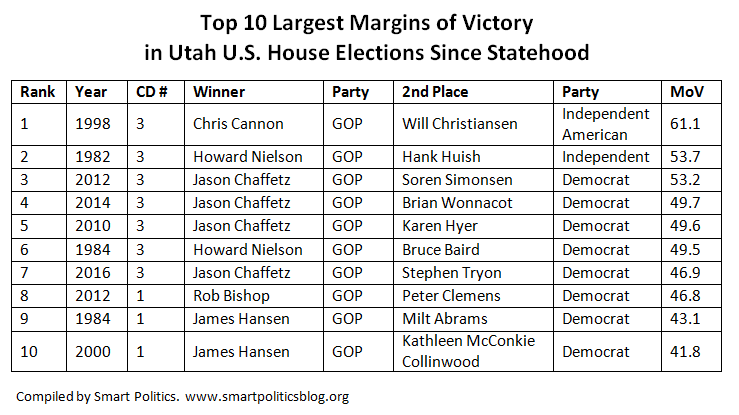 The only two races with larger victory margins than those registered by Chaffetz in 2010, 2012, and 2014 were contests in which there was only one major party candidate on the ballot.
Republican Chris Cannon defeated Independent American nominee Will Christiansen by 61.1 points in 1998 and GOPer Howard Neilson beat independent Hank Huish by 53.7 points in 1982 – both 3rd CD races.
Follow Smart Politics on Twitter.