Minnesota Democrats Could Endure 1st Cycle with 2 Open US House Seats
Only 13 Democratic U.S. Representatives in state party history have opted not to run for reelection – no two in the same cycle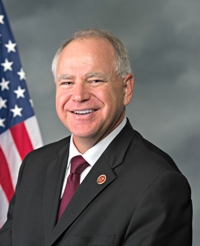 A report published last Tuesday in National Journal on Minnesota's 2018 congressional races ("Why House Democrats Could Have a Minnesota Problem") examined how the DFL might be tasked to field strong nominees in order to hold three competitive districts in the state – each carried by Donald Trump last November.
With rumors still swirling of possible Tim Walz (pictured) and Rick Nolan gubernatorial bids and the always looming chatter of Collin Peterson retiring from politics, the party could have open seats in the 1st, 7th, and 8th congressional districts next year.
As Smart Politics has previously documented, it has been rare for sitting DFL U.S. House members to run for higher office – particularly governor – and, as such, cycles in which even one DFLer exits the U.S. House on their own terms have been uncommon occurrences over the decades.
But what about cycles in which multiple DFL-held seats have been simultaneously open in an election cycle?
Smart Politics examined the 35 exits from the U.S. House by Democratic and DFL Minnesota U.S. Representatives since statehood and found that there has not been a single cycle in which two sitting members from the party decided not to run for reelection.  
Of the nearly three-dozen Democrats and DFLers who previously served in the U.S. House,  more than half – 18 – exited the chamber by losing in the general election:
1859: Freshman Democrat James Cavanaugh (at-large)
1880: Freshman Democrat Henry Poehler (2nd CD)
1888: Freshman Democrat Thomas Wilson (1st CD)
1888: Freshman Democrat John McDonald (3rd CD)
1888: Freshman Democrat Edmund Rice (4th CD)
1892: Freshman Democrat William Harries (1st CD)
1892: Freshman Democrat James Castle (4th CD)
1894: Two-term Democrat Osee Hall (3rd CD)
1894: Freshman Democrat Melvin Baldwin (6th CD)
1940: Three-term Democrat Elmer Ryan (2nd CD)
1946: Freshman DFLer Frank Starkey (4th CD)
1958: Two-term DFLer Coya Knutson (9th CD)
1960: Six-term DFLer Roy Wier (3rd CD)
1966: Two-term DFLer Alec Olson (6th CD)
1992: Five-term DFLer Gerry Sikorski (6th CD)
2000: Four-term DFLer David Minge (2nd CD)
2002: Four-term DFLer Bill Luther (2nd CD)
2010: 18-term DFLer Jim Oberstar (8th CD)
Three other Democratic U.S. Representatives died in office (Carl Van Dyke in 1919, William Gallagher in 1944, Bruce Vento in 2000) while one resigned mid-term (Bob Bergland, to become U.S. Secretary of Agriculture under Jimmy Carter).
That leaves just 13 Democratic or DFL U.S. Representatives who did not run for reelection – none of whom did so in the same cycle, and often a decade or two apart:
1859: Freshman Democrat William Phelps (at-large)
1870: Freshman Democrat Eugene Wilson (2nd CD)
1904: Four (nonconsecutive)-term GOPer-turned-Democrat John Lind (5th CD)
1914: Four-term Democrat Winfield Hammond (2nd CD)
1934: Freshman Democrat Einar Hoidale (at-large)
1958: Five-term DFLer Eugene McCarthy (4th CD)
1962: Seven-term DFLer Fred Marshall (6th CD)
1974: 14-term DFLer John Blatik (8th CD)
1976: Nine-term DFLer Joseph Karth (4th CD)
1978: Eight-term DFLer Don Fraser (5th CD)
1980: Three-term DFLer Rick Nolan (6th CD)
1994: Six-term DFLer Tim Penny (1st CD)
2006: 14-term DFLer Martin Sabo (5th CD)
Over the decades, there have been more than twice as many Republicans to serve in the U.S. House from the Gopher State (80+) than Democrats.
The last cycle in which two GOPers opted to not run for reelection was after Watergate in 1974 when Ancher Nelsen and John Zwach (the last alphabetical entry in the Biographical Directory of the United States Congress) retired after their eighth and fourth terms respectively.
The DFL almost had a vacant seat this cycle when 5th CD Congressman Keith Ellison narrowly lost in his bid for DNC chair. Had he won, of course, a special election would have been conducted with the winner – presumably a Democrat in the Minneapolis-based district – likely to have run for reelection in 2018.
Follow Smart Politics on Twitter.