A Brief History of Alabama Governors Who Exited Office Early
Bentley's tenure lasted just 10 days shy of Guy Hunt who was removed from office 24 years prior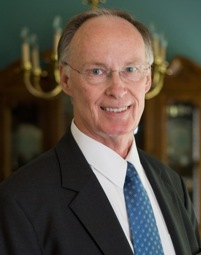 Alabama has elected four Republican governors since the end of Reconstruction – and now two of them have left office early with a criminal record.
On Monday afternoon, embattled two-term Governor Robert Bentley entered into a plea agreement whereby he admitted to charges of using campaign contributions for personal use and failing to report large contributions on his campaign filings.
Initially brought about by a sex scandal with a younger female political adviser, multiple investigations into Bentley's behavior resulted in looming impeachment proceedings led by the GOP-controlled legislature.
With Bentley's departure, eight of Alabama's more than 50 statehood governors failed to finish their term since statehood.
Three died in office:
Jeffersonian Republican William Bibb in 1820 (at the age of 38)
Democrat William Samford in 1901 (aged 56)
Democrat Lurleen Wallace in 1968 (aged 41)
Two others resigned after being elected to the U.S. Senate:
Jacksonian Gabriel Moore in 1831 (serving one full term in the chamber)
Democrat Clement Clay in 1837 (to fill the vacancy caused by John McKinley's resignation)
After Alabama had seceded from the Union, the term of Whig Governor Thomas Watts was also cut short when he was arrested at the end of the Civil War in May 1865. [Watts was released shortly thereafter and resumed his law practice; President Andrew Johnson appointed Lewis Parsons as the state's provisional governor].
Bentley now joins Guy Hunt as the second Alabama GOP governor in 24 years to resign in the face of criminal charges.
Hunt, like Bentley, was also elected to two terms, and each resigned in April of their seventh year in office.
Bentley lasted 6 years, 2 months, and 25 days as the top official in the Yellowhammer State – 10 days shy of Hunt who served 6 years, 3 months, and 4 days.
Hunt was found guilty of corruption (using campaign funds and funds from his inaugural to pay off personal debts) and was removed from office as state law prohibits governors from serving with a felony conviction.
Nearly five years later, however, Hunt was pardoned by the Alabama Board of Pardons and Paroles deeming the disgraced GOPer innocent of all charges.
As a result of the pardon, Hunt subsequently challenged incumbent Governor Fob James for the 1998 GOP nomination but placed a distant third with just 8.0 percent of the primary vote.
The odds of Bentley seeking a similar political redemption are quite low, however.
The outgoing governor is already 74 years old whereas Hunt was only 59 when he was removed from his gubernatorial post.
Follow Smart Politics on Twitter.