Thompson vs Estes II and a History of Kansas US House Rematch Elections
Nearly one-quarter of major party nominees seeking rematches in U.S. House elections in the Sunflower State have been successful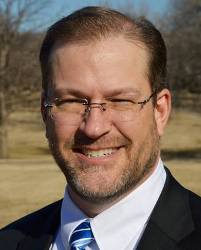 Heartened by his strong showing in last Tuesday's special election in Kansas' strongly Republican 4th Congressional District, Democrat James Thompson immediately announced his plans to run again for the seat in November 2018.
Thompson fell just 6.8 points shy of a stunning upset against state Treasurer Ron Estes, winning 45.8 percent of the vote in a district where the party's 2016 nominee, Daniel Giroux, claimed only 29.6 percent less than a half-year ago.
Thompson, a U.S. Army veteran and civil rights attorney, will undoubtedly expect – and receive – greater outside support for his 2018 candidacy.
But will increased funding and better name recognition translate into success in such a rematch against Congressman Estes (the presumptive 2018 GOP nominee)?
A Smart Politics analysis of Kansas U.S. House elections finds nearly 10 percent involved rematches among major party nominees with the challenger winning 24 percent of such contests.
Overall, Kansas has held 443 elections to the U.S. House since statehood, of which 42 involved rematches among major party nominees (9.5 percent).
Among the 42 elections in which a rematch was sought, 10 were successful, or 23.8 percent:
1894 (7th CD): Republican Chester Long defeated two-term Populist Sockless Jerry Simpson
1896 (7th CD): Former Populist Congressman Sockless Jerry Simpson beat freshman GOPer Chester Long
1898 (5th CD): Former Republican Congressman William Calderhead defeated Democratic freshman William Vincent
1898 (7th CD): Former Republican Congressman Chester Long beat Populist Sockless Jerry Simpson
1912 (5th CD): Democrat Guy Helvering ousted freshman GOPer Rolling Rees
1922 (8th CD): Former Democratic Congressman William Ayres defeated freshman Republican Richard Bird
1934 (3rd CD): Democrat Harold McGugin beat two-term Republican Edward Patterson
1958 (2nd CD): On his third attempt, Democrat Newall George defeated eight-term GOPer Errett Scrivner
1958 (3rd CD): Democrat Denver Hargis knocked out five-term Republican Myron George
2006 (2nd CD): Democrat Nancy Boyda beat five-term GOPer Jim Ryun
Thompson's decision to seek a second chance against Estes in 2018 is understandable given his strong performance in the special election.
If Thompson and Estes each become their party's nominees in 2018, their matchup would be just the sixth rematch among major party U.S. House nominees from Kansas over the last 60 years.
From statehood through 1958, a total of 37 of the 309 elections involved rematches, or 12.0 percent of all contests.
However, since 1960, just five of 134 U.S. House contests were rematches, or 3.7 percent:
1988 (5th CD): Five-term Republican Robert Whittaker vs. Democrat John Barnes
1992 (1st CD): Six-term Republican Pat Roberts vs. Democrat Duane West
1992 (2nd CD): Five-term Democrat Jim Slattery vs. Republican Jim Van Slyke
2002 (4th CD): Four-term Republican Todd Tiahrt vs. Democrat Carlos Nolla
2006 (2nd CD): Five-term Republican Jim Ryun vs. Democrat Nancy Boyda
Boyda is the only challenger since 1958 to launch a successful rematch campaign. The chemist and teacher erased a 14.9 deficit against Ryan in 2004 and eked out a 3.4-point win with Barack Obama at the top of the ticket two years later.
None of the other four repeat challengers during this period came within single digits of victory the second time around.
While nearly one in four losing nominees seeking a rematch have been victorious, taken as a whole, challengers do not net much ground during their second (or third, fourth) time around.
Across the 42 rematches among major party nominees, the challenger gained an average of just 0.7 points from his or her previous effort.
In addition to the 10 nominees who launched successful rematch campaigns, 15 others gained ground and lost by a smaller margin.
Meanwhile, 17 nominees actually performed worse in their rematch attempt – losing by a bigger margin.
The most impressive turnaround in a rematch election came during the 1912 Democratic wave in the state's 1st CD.
In 1910, two-term Republican Daniel Anthony defeated Democrat J.B. Chapman by 46.5 points in a three-candidate field. Two years later, Rep. Anthony was victorious by just 5.3 points – a 42.2-point gain for Chapman that came up just short.
Chapman also challenged Anthony for a third straight cycle in 1914, but lost by 18.4 points.
The second biggest gain by a challenger took place in 1922 in the 8th CD.
Republican district court judge Richard Bird had defeated three-term Democratic incumbent William Ayres by a scant 0.3 points in 1920 as Warren Harding rolled to a 32.2-point win in the state.
In the Democratic-friendly 1922 cycle, Ayres sought to win his seat back and did so handily with a 24.6 point win for a 24.9-point turnaround.
Ayres would go on to serve nine non-consecutive terms in the chamber, with a third matchup against Bird in 1928 going the Democrat's way with a 16.8-point victory.
Overall, there were eight instances in which two major party nominees for the U.S. House in Kansas squared off in three or more cycles:
1892, 1894, 1896, 1898 (7th CD): Republican Chester Long vs. Populist Sockless Jerry Simpson
1896, 1898, 1900 (5th CD): Populist/Democrat William Vincent vs. Republican William Calderhead
1902, 1904, 1908 (4th CD): Democrat Thomas Grisham vs. Republican James Miller
1910, 1912, 1914 (1st CD): Democrat J.B. Chapman vs. Republican Daniel Anthony
1920, 1922, 1928 (8th CD): Democrat William Ayres vs. Republican Richard Bird
1932, 1934, 1936 (3rd CD): Democrat Edward Patterson vs. Republican Harold McGugin
1954, 1956, 1958 (2nd CD): Democrat Newall George vs. Republican Errett Scrivner
1954, 1956, 1958 (6th CD): Democrat Elmo Mahoney vs. Republican Wint Smith
It should be noted that of the 10 challengers who found victory in their rematch, four were former U.S. Representatives who had been knocked out of office in the previous cycle.
Follow Smart Politics on Twitter.