Study: 1 in 5 US House Seats Flipped in Special Elections Since 1941
A outright win by Jon Ossoff on Tuesday will end a pick-up drought of 19 specials in a row – tied for the largest streak since WWII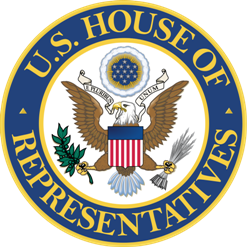 James Thompson's near-miss for the Democrats in Kansas' 4th Congressional District last week adds to a long and growing list of special elections in which control of the vacated seat has remained with the party of the exiting U.S. Representative.
Ron Estes' win for the GOP in Kansas extends the number of U.S. House specials without a change in partisan control to 19 in a row, dating back more than four years.
Democrats are hoping that streak ends Tuesday, with the well-funded Jon Ossoff hoping to eke out a slight majority in Georgia's cluttered 6th CD field to fill the vacancy of Health and Human Services Secretary Tom Price.
As a rule, the incumbent party usually maintains control of congressional seats, but special elections can give better odds for the challenging party because, by definition, the race is an open seat contest, usually with a compressed campaign schedule and depressed voter turnout.
So just how often do political parties pick up House seats in special elections?
According to a Smart Politics review, there have been 378 special elections to the U.S. House of Representatives since the beginning of the 77th Congress in 1941. Partisan control has changed for 76 of these seats, or approximately one in five elections (20.1 percent).
To be sure, special elections often receive outsized attention as pundits and poll watchers impatiently await the next general election.
However, it has been some time since the nation has had the pleasure of witnessing the drama of a change of partisan control caused by one of these House specials.
The last U.S. House seat to flip in a special election was 4.5 years ago on November 6, 2012.
Four special elections were simultaneously held during that general election with one, Michigan's 11th CD, changing control.
In the race to fill the seat of Thad McCotter, who resigned after a short presidential campaign and failing to qualify for the primary ballot, Democrat David Curson defeated Kerry Bentivolio by 2.3 points to serve the remaining two months of the 112th Congress. Bentivolio simultaneously won the general election by 6.1 points against Democrat Syed Taj.
[Note: Michigan's 11th CD special was obviously buried by hundreds of higher profile general election contests held that day. The last stand-alone special to flip was in New York's 9th CD after the resignation of Democrat Anthony Weiner. Bob Turner picked up the seat for the GOP.]
Since Curson's victory in MI-11, there have been 19 special elections to the U.S. House heading into Georgia's 6th CD on Tuesday – and none of the 19 seats have flipped.
In fact, only three of these elections have been remotely competitive:
May 7, 2013 (South Carolina-01): Republican Mark Sanford defeated Democrat Elizabeth Colbert Busch by 8.8 points
March 11, 2014 (Florida-13): Republican David Jolly beat Democrat Alex Sink by 1.9 points
April 11, 2017 (Kansas-04): Republican Ron Estes defeated Democrat James Thompson by 6.8 points
The 19 elections without seeing a change in control of a U.S. House special is now tied for the biggest such streak since the 77th Congress began in 1941.
The current drought is tied with the 19 consecutive special U.S. House elections conducted from November 1953 through May 1959: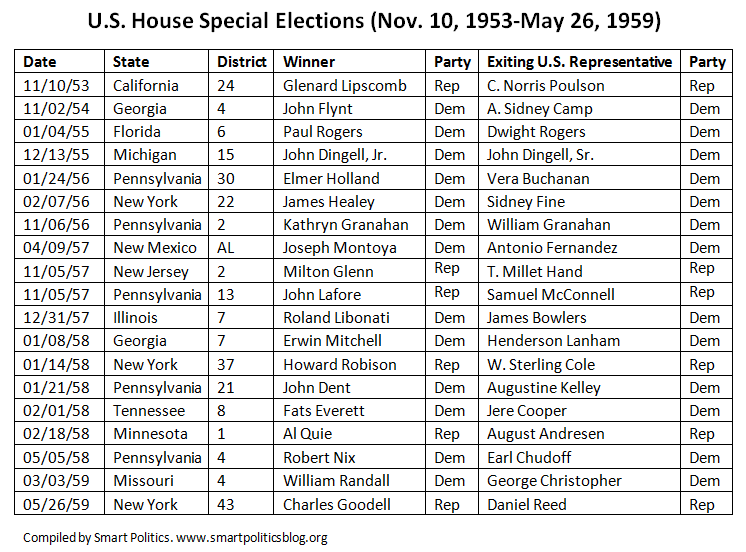 There have been several other double-digit streaks without seeing a change in partisan control of a U.S. House seat in special elections:
18 in a row: April 22, 1947 (WI-02) through February 15, 1949 (NY-07)
12 in a row: April 18, 1961 (AR-06) through April 10, 1962 (SC-02)
10 in a row: July 30, 1963 (PA-15) through November 3, 1964 (MO-09, OR-01, SC-05)
10 in a row: April 27, 1971 (SC-01) through November 7, 1972 (VA-06)
16 in a row: March 1, 1983 (NY-07) through January 19, 1988 (TN-05)
11 in a row: July 2, 1991 (IL-15) through December 7, 1993 (MI-03)
12 in a row: November 4, 1997 (NY-13) through June 5, 2001 (CA-32)
12 in a row: July 20, 2004 (NC-01) through December 11, 2007 (OH-05, VA-01)
Follow Smart Politics on Twitter.