Collin Peterson and the Longest Congressional Tenures in Minnesota History
The 7th CD U.S. Representative currently sits at #7 on Minnesota's all-time congressional service list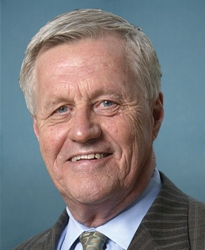 In recent election cycles, political observers have frequently questioned Collin Peterson's commitment to running another campaign based on perceived lackluster fundraising numbers, his outlier Blue Dog ideology within his party, and the GOP-lean of his district.
And yet, in every cycle, Minnesota's 7th Congressional District DFLer runs and wins again.
To the surprise of no one who reads this site, Peterson stated last week to Roll Call that he will once again stand for reelection in 2018 – two years after he survived a 5-point victory in a district Donald Trump carried by 31 points.
Peterson's tenure is becoming increasingly noteworthy – not only as one of the few Blue Dog Democrats remaining in the U.S. House but also for his political longevity in the Gopher State.
If Peterson is reelected in 2018, he will become just the fourth Minnesotan to win 15 or more terms to the nation's lower legislative chamber and the third to win them consecutively.
At 14 terms and counting, Peterson is currently tied with DFLers John Blatnik (1947-1974) and Marty Sabo (1979-2007) for fifth in state history – beginning with the 102nd Congress in 1991 after ousting Republican Arlan Stangeland (following failed attempts to win the seat from him in 1984 and 1986 and a DFL primary loss in 1988).
Topping that list is the late DFLer Jim Oberstar who won 18 terms (1975-2011) with two Republicans – Harold Knutson (1917-1949) and August Andresen (1925-1933; 1935-1958) – elected to 16 terms each.
[Note: Andresen's tenure was interrupted after his first four terms following his loss during the Election of 1932. The 1930 U.S. Census saw Minnesota lose one of its 10 seats due to reapportionment and the state could not agree on new district lines. As a result, all nine Representatives were elected at-large that cycle. Andresen placed 10th in the U.S. House contest with 30+ candidates on the ballot – just 1,023 votes behind the aforementioned Knutson in ninth.]
Following the 115th Congress, Peterson will trail only Oberstar, Knutson, Andresen, and Republican Knute Nelson on the all-time tenure list for congressional service in state history.
Peterson currently sits in seventh place with 26 years, 3 months, and 28 days tallied through the end of April.
The greater Minnesota congressman will pass Blatnik (27 years, 11 months, 29 days) on January 1, 2019 and tie Sabo (28 years, 1 day) on January 3, 2019.
Nelson logged in 34 years, 1 month, and 25 days between his three terms in the U.S. House (1883-1889) and a state record five terms (tied with Hubert Humphrey) in the U.S. Senate (1895-1923) and ranks second in Minnesota history for congressional service.
Rounding out the Top 10 are Republican U.S. Representative H. Carl Anderson (24 years, 1 day), Farmer-Laborite turned Republican U.S. Senator Henrik Shipstead (23 years, 10 months), and DFL U.S. Representative Bruce Vento (23 years, 9 months, 8 days).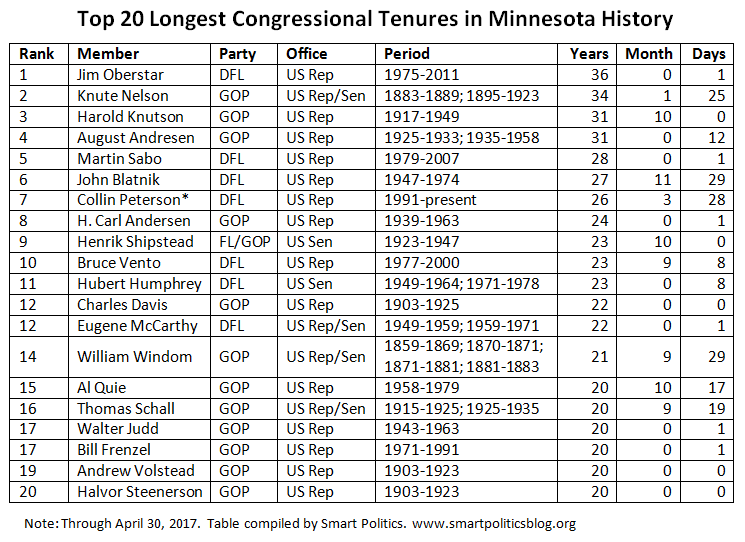 Follow Smart Politics on Twitter.