Have 2 Sitting US Senators from the Same State Simultaneously Run for President?
Could Minnesota make history in 2020? Don't count on it.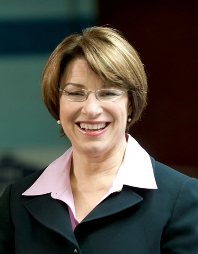 During his weekly segment on KFAN's The Dan Barriero Show on Wednesday afternoon, WCCO political reporter Pat Kessler discussed the increasingly high national profiles of Minnesota's two U.S. Senators – Amy Klobuchar and Al Franken.
Noting Franken's grilling of nominees during U.S. Senate confirmation hearings (e.g. Jeff Sessions) and Klobuchar's upcoming visit to Des Moines, Iowa this weekend, Kessler somewhat playfully stated it was "not out of the question" that both members of the Gopher State delegation could dip their toes into the 2020 presidential campaign waters.
Barriero asked whether such a political development was unprecedented in U.S. history, a question to which Kessler replied was "something for our friends over at Smart Politics."
Before this author could weigh in on the matter, listeners alerted Barriero and Kessler over the commercial break about the 1968 Democratic race between Hubert Humphrey and Eugene McCarthy – which prompted sheepishness from the duo as both of those politicians were also from the Gopher State.
However, Kessler and Barreiro had no reason to feel embarrassed as that example does not technically apply. Humphrey, of course, was the sitting vice president during the '68 contest and in between his senate terms (he was reelected back to the chamber in 1970).
In fact, if ex-senators were included in this trivia question then the 1972 Democratic campaign would qualify as well: McCarthy, by then a former senator, launched his bid on December 17, 1971 and Humphrey, back at his old job on Capitol Hill, announced his candidacy three weeks later on January 10, 1972.
Put aside, for the moment, the odds in this particular case of either Franken or Klobuchar running for president in 2020 (Klobuchar's name has been perennially floated for higher office after winning her first U.S. Senate campaign in 2006), let alone the difficulty in conceiving that one Minnesota U.S. Senator would step on the other's potential presidential ambitions and both of them run. [Note: While Minnesota Governor Tim Pawlenty and Congresswoman Michele Bachmann both ran for president in 2012, they were not colleagues and came from different wings of the party].
So, the question remains: have two sitting U.S. Senators from the same state ever run for president in the same cycle?
It actually came close to happening in 1972, when more than a dozen Democrats ran for their party's nomination.
One of those Democrats was Indiana's three-term Senator Vance Hartke who launched his bid for the White House on January 3, 1972 in a short-lived campaign that lasted only 84 days.
Hartke placed a distance fifth in New Hampshire in early March, winning 2.7 percent, and 10th in Florida a week later with just 0.2 percent.
He exited the race shortly thereafter on March 26th.
Earlier that cycle, fellow delegation member Birch Bayh had explored a presidential bid, but never officially announced his candidacy. Bayh confirmed he would not be running for the White House on October 12, 1971.
In short, there have never been two sitting U.S. Senators from the same state run for president during the modern primary era.
However, there has been one occasion, many decades ago, when two such officeholders received multiple votes at the same party convention – though only one was a bonafide candidate.
At the 1916 Republican National Convention in Chicago, both Massachusetts U.S. Senators – John Weeks and Henry Cabot Lodge – received support by multiple delegates during balloting that June. [Neither senator ran in any of the 20 GOP primaries conducted that cycle and only Weeks' name was formally placed into nomination at convention prior to balloting].
Weeks, the state's junior senator, won 105 votes on the first ballot – good for second place behind eventual nominee Charles Evans Hughes.
Weeks won the support of 28 delegates from the Bay State plus votes from 22 other states and territories: Arkansas (3), California (3), Connecticut (1), Georgia (6), Kansas (3), Louisiana (3), Maine (3), Maryland (5), Mississippi (1.5), Missouri (8), New Hampshire (8), New Jersey (1), New Mexico (2), North Carolina (3), Oklahoma (6), South Carolina (3), Tennessee (3.5), Texas (1), Virginia (3), West Virginia (5), Alaska (1), and Hawaii (1).
About a quarter of Weeks' support dropped off on the second round of balloting (79) and he received just three votes on the third and final ballot.
On that third ballot, Lodge, a four-term senator, won the support of seven delegates – all from the North Carolina delegation – good for a distant fourth.
Admittedly, this does not exactly paint a picture of two delegation members wholeheartedly vying for the White House against one another, but it's the closest example in U.S. history to satisfying the criteria laid out by Barreiro's question.
And so, after nearly five-dozen presidential elections, what are the odds we'll see both Franken and Klobuchar suit up in what admittedly is expected to be a large, wide-open Democratic field in 2020?
Approaching zero.
However, if one were in the business of speculating about which pair of U.S. Senate delegation members would be most likely to launch such bids, few other states come to mind.
Perhaps Democrats Tim Kaine and Mark Warner of Virginia? Chuck Schumer and Kirsten Gillibrand from New York?
Or, under the scenario that Trump did not run or prompted primary challengers: Democrat Sherrod Brown and Republican Rob Portman from Ohio? Democrat Michael Bennet and Republican Cory Gardner of Colorado?
Any other ideas?
Follow Smart Politics on Twitter.