Jon Husted and a History of Ohio Secretaries of State Running for Governor
Only one sitting or ex-secretary of state has won the governorship in Ohio history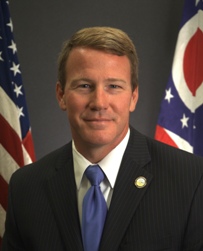 The large field for Ohio's 2018 gubernatorial race got a little more crowded earlier this week when another statewide official, Secretary of State Jon Husted, officially announced his long-expected candidacy for the GOP nomination.
The Republican race to replace term-limited Governor John Kasich is particularly top-heavy with state Attorney General (and former U.S. Senator) Mike DeWine, Lieutenant Governor Mary Taylor, and Congressman Jim Renacci all running this cycle.
Republicans have not had a closely-decided gubernatorial primary since 1944 when James Stewart defeated Attorney General Thomas Herbert by 0.4 points with Lieutenant Governor Paul Herbert just 5.4 points back.
Over the next 21 primaries through 2014, just two other GOP races were decided by less than 10 points: former Cincinnati City Councilman Charles Taft over Thomas Herbert by 8.0 points in 1952 and former four-term Governor Jim Rhodes in his last hurrah by 9.7 points over State Senator Paul Gillmor in 1986.
With the 2018 GOP race slated to be a barn burner, the prospects of Husted (also a former state senator and representative) coming out on top in both the primary and the general election are challenging at best.
In fact, his pathway to the office has been rarely blazed in Ohio politics.
A Smart Politics review finds that only one sitting or former Ohio secretary of state has been elected governor in state history with 11 such attempts made over the last century.
The only secretary of state to win the governorship in the Buckeye State is Bob Taft.
A former state representative and Hamilton County commissioner, Taft served as secretary of state from 1991 to 1999 and launched his gubernatorial bid while in office in 1998.
Taft ran unopposed in the GOP primary and was elected to two terms – by 5.4 points over former state Attorney General Lee Fisher in 1998 and by 19.5 points over former Cuyahoga County Commissioner Tim Hagan in 2002.
Taft's victory ended a string of nine consecutive failed gubernatorial bids by ex- or sitting Ohio secretaries of state during the primary era (1914-present).
Carmi Thompson (1907-1911) and Harvey Smith (1919-1923) were the first to seek this electoral promotion – both running for the GOP nomination in 1922.
In what still stands as a state record nine-candidate gubernatorial primary field, Smith placed a distant fourth with 11.1 percent while Thompson won the nomination with 41.0 percent.
However, Thompson was narrowly defeated by 1.2 points in the general election by former Auditor Vic Donahey.
Over the next quarter-century, former or sitting secretaries of state would run for the governorship six more times in Ohio and failed on each attempt:
1926: Republican Thad Brown (1923-1927) lost in the primary to real estate developer Myers Cooper
1932: Republican Clarence Brown (1927-1933) lost in the primary to former state legislator David Ingalls
1934: Brown won his party's nomination but lost the general election to former Congressman Martin Davey by 3.0 points
1940: Democrat William Kennedy (1936-1939) placed third in the primary behind former Governors Martin Davey and George White
1950: Republican Edward Hummel (1943-1949) placed a distant third in a primary won by Treasurer Don Ebright
1956: Democrat John Sweeney (1941-1943) was defeated in the primary by former state representative and Toledo Mayor Michael DiSalle
A generation would pass before another Ohio politician who had served as secretary of state would run for governor, due in part to Republican Ted Brown content in holding the office for a state record 28 years from 1951 to 1979.
In 1990, Democrat Anthony Celebrezze, Jr. (1979-1983) easily won his party's gubernatorial nomination but was defeated in the general election with former Cleveland Mayor George Voinovich prevailing by 11.5 points.
After Taft's consecutive victories in 1998 and 2002, sitting Republican Secretary of State Ken Blackwell (1999-2007) ran for governor in 2006 and defeated Ohio Attorney General (and former Auditor) Jim Petro to win his party's nomination.
However, Blackwell was crushed by 23.9 points in the general election by Congressman Ted Strickland in the face of a national Democratic wave – marking the biggest loss by a GOP nominee across the 66 elections held for the office since the party first fielded a candidate in the state in 1855.
Prior to the primary era, no sitting or former Ohio secretary of state was elected governor or even won their party's nomination. [A few made attempts, such as Republicans Benjamin Cowen and Samuel Galloway in 1867].
Follow Smart Politics on Twitter.