Will There Be Any Woman vs Woman US Senate Matchups in 2018?
Missouri may be the most likely state to host the 17th U.S. Senate race between two female major party nominees next cycle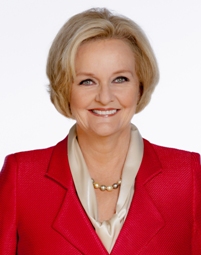 As previously reported at Smart Politics, the 2018 election cycle is slated to shatter the record for the number of female U.S. Senators running for reelection.
The terms of eleven such women are ending after the 2018 cycle and it appears there is now at least one state with a bonafide chance of hosting a female-versus-female general election matchup: Missouri.
Reports have been circulating for several weeks that three-term Missouri Republican U.S. Representative Ann Wagner is gearing up to challenge one of the most vulnerable Democratic incumbents this cycle – Claire McCaskill (pictured).
Those reports gained traction after Wagner closed out the first quarter of 2017 with $2.76 million cash on hand – nearly equaling that of McCaskill's $3.05 million in the bank.
Other notable Missourians are expected to jump into the 2018 race, so a Wagner vs. McCaskill general election matchup is far from guaranteed at this point.
But the only female challengers to officially file in the 11 states with women in the U.S. Senate up for election this year (California, Hawaii, Massachusetts, Michigan, Minnesota, Missouri, Nebraska, New York, North Dakota, Washington, Wisconsin) are two little-known hopefuls: perennial Democratic candidate Jennifer Ferguson of Washington and Republican businesswoman Caren Lancona of California.
But whether such a matchup surfaces in Missouri or not, the odds are good that at least one U.S. Senate race this cycle will feature a pair of female major party nominees – something that has been seen at the ballot box in each of the last six cycles.
Beginning with the 1960 race between Maine Republican Margaret Chase Smith and Lucia Cormier, there have been a total of 16 female vs. female U.S. Senate contests in the chamber's history.
Only two others were held during the 20th Century: Maryland Democrat Barbara Mikulski beating Linda Chavez in 1986 and Washington Democratic Senator Patty Murray defeating Linda Smith in 1998.
The 2002 cycle was the first in which there were two states with a pair of female major party nominees: Maine Republican Senator Susan Collins defeated Chellie Pingree and Louisiana Democratic incumbent Mary Landrieu beat Suzanne Terrell.
Ever since 2006, there has been at least one female vs. female contest for the office:
2006, Maine: Republican Senator Olympia Snowe vs. Democrat Jean Hay Bright
2006, Texas: Republican Senator Kay Bailey Hutchison vs. Democrat Barbara Radnofsky
2008, North Carolina: Democrat Kay Hagan vs. Republican Senator Elizabeth Dole
2010, California: Democratic Senator Barbara Boxer vs. Republican Carly Fiorina
2012, California: Democratic Senator Dianne Feinstein vs. Republican Elizabeth Emken
2012, Hawaii: Democrat Mazie Hirono vs. Republican Linda Lingle
2012, New York: Democratic Senator Kirsten Gillibrand vs. Republican Wendy Long
2014, Maine: Republican Senator Susan Collins vs. Democrat Shenna Bellows
2014: West Virginia: Republican Shelley Moore Capito vs. Democrat Natalie Tennant
2016: California: Democrat Kamala Harris vs. Democrat Loretta Sanchez
2016: New Hampshire: Democrat Maggie Hassan vs. Republican Senator Kelly Ayotte
Female incumbents have won 10 out of 12 races against female challengers, with the only losses occurring in North Carolina in 2008 (Hagan defeating Dole) and New Hampshire last November (Hassan beating Ayotte). Four contests have been for open seats.
Hassan's 0.1-point win over Ayotte is the closest U.S. Senate matchup between female nominees in the chamber's history. Only two others have been remotely competitive: Landrieu's 3.4-point win over Terrell (the state Commissioner of Elections) in 2002 and Hagan's 8.5-point win over Dole.
In total, women have won 85 U.S. Senate elections beginning with Arkansas Democrat Hattie Caraway in a January 1932 special election.
Over 150 women have been nominated more than 210 times across the subsequent 43 election cycles.
Maine (18) and California (14) have fielded the most female nominees followed by Missouri, New York, and Washington with nine each.
Mississippi is the only state never to nominate a woman in a race for a seat in the nation's upper legislative chamber with nine other states doing so just once: Idaho, Indiana, Montana, Ohio, Oklahoma, Tennessee, Utah, Vermont, and Virginia.
Follow Smart Politics on Twitter.