Can South Carolina Democrats End the Party's Biggest Congressional Pick-Up Drought?
Palmetto State Democrats have failed to flip a GOP-held U.S. House seat in a nation-leading 60 consecutive contests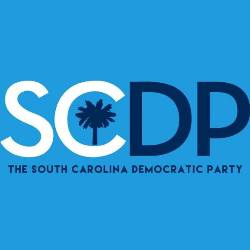 While South Carolina's 5th Congressional District special election has heretofore taken a back-seat with the national media to the specials in Georgia and Montana, there has been increased chatter suggesting Democrats have a chance to pick-up the seat on June 20th.
For although the GOP has won the district by increasing margins since redistricting in 2012 – victorious by 20.5 points last November – the fact that Democrats came within 6.2 points of flipping the even more Republican-leaning 4th CD special in Kansas last month has generated some attention on the Palmetto State.
The South Carolina Democratic Party has in turn launched a "FLIP the 5th" campaign to bring attention to the race.
Palmetto State Democrats nominated Goldman Sachs adviser Archie Parnell with State Representative Ralph Norman needing a close runoff primary victory to close out the GOP nomination.
Libertarian Victor Kocher, Green David Kulma, and American Party nominee Josh Thornton are also on the ballot.
If Democrats have ambitions to pick-up a seat in South Carolina in the near future, the upcoming 5th CD special would be the one to circle.
The district has been carried by Republicans by an average of 16.5 points since 2012 – the most competitive in the state. Republicans have won the 7th CD by an average of 17.7 points over the last three cycles, the 1st by 37.6 points, the 3rd by 40.5 points, the 4th by 45.8 points, and the 2nd by 49.3 points.
However, even with national winds seemingly at his party's back, it is asking a lot of Parnell to accomplish what no Democrat has done in the state in 30 years.
A Smart Politics review of U.S. House election data finds that Democrats in South Carolina have endured the nation's biggest pick-up drought by failing to flip a GOP-held seat in 60 consecutive contests – one more than Missouri Democrats.
[Note: For this study, Smart Politics determined the election cycle (or special election) in which the Democratic Party last picked up a seat held by a Republican in each state and tallied the number of subsequent general and special election contests in which the Party failed to flip a GOP-held seat. Excluded from this analysis were brand new districts created when a state gained House seats after reapportionment as well as interparty incumbent-on-incumbent matchups].
During the 2016 cycle, Democrats picked up at least one Republican seat in six states: Florida, Illinois, Nevada, New Hampshire, New Jersey, and Virginia.
There were an additional six states where Democrats were unable to pick up seats in 2016 because they already had a monopoly on the state's U.S. House delegation: in Rhode Island (winning every House contest since the 1994 election), Massachusetts (1996), Vermont (2006), Connecticut (2008), Delaware (2010), and Hawaii (2010).
That leaves 38 states where Democrats have not flipped any Republican-held seat for at least one cycle.
South Carolina leads the way at 60 consecutive contests, with Democrats failing to make a dent in the state's GOP-held districts for the last 28+ years since the 1988 cycle.
Liz Patterson was the last Democrat to accomplish such a feat – winning an open 4th CD seat in 1986 previously held by Republican Carroll Campbell.
Patterson narrowly won by 4.1 points over Bill Workman and carried the district two more times before losing by 2.9 points to Bob Inglis after redistricting in 1992.
Since Patterson's 1986 win, Democrats have suffered defeats in 58 general election contests in the state plus two special elections in districts vacated by Republicans.
Moreover, South Carolina Democrats have come close to victory only a handful times during this three-decade drought, losing by single-digits just five times across these 60 contests:
SC-02 (1988): Jim Leventis lost by 6.1 points to nine-term GOP incumbent Floyd Spence
SC-01 (2008): Linda Ketner lost by 4.0 points to four-term incumbent Henry Brown
SC-02 (2008): Rob Miller lost by 7.6 points to four-term incumbent Joe Wilson
SC-02 (2010): Miller lost by 9.7 points in a rematch against Wilson, then a five-term incumbent
SC-01 (2013): Elizabeth Colbert Busch lost by 8.9 points to former congressman and Governor Mark Sanford in a special election
If Democrats do manage to 'Flip the 5th' in South Carolina, then Missouri will be home to the party's largest pick-up drought at 59 in a row since 1994.
The last time a Missouri Democrat picked up a Republican U.S. House seat was after redistricting in 1992 when Pat Danner upset nine-term incumbent Earl Thomas Coleman by 10.9 points in the state's 6th CD race.
Georgia and Texas are next with 49 consecutive failed flips for the Democrats followed by Ohio at 44, Pennsylvania at 43, Tennessee at 37, Oklahoma at 35, and North Carolina and Washington at 30.
The longest Democratic streaks without flipping a district are in the sparsely populated states of Alaska (22 in a row since 1974), Montana (17 in a row since 1978), and Wyoming (20 in a row since 1980). [Note: Montana Democrats failed to pick up the GOP-held seat in the state's 2nd CD from 1978 through 1990 and then, after reapportionment left the state with one (Democratic-held) at-large seat, from 1998 onward]. South Carolina's drought is the fourth longest for the party.
Follow Smart Politics on Twitter.