Will 2018 Produce Any New All-GOP Congressional Delegations?
The Republican Party's hold on every congressional seat could increase from nine to 12 states after the 2018 cycle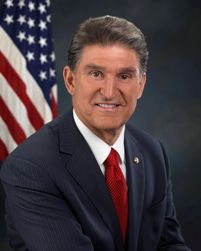 Despite the fear of a potential anti-Trump backlash at the polls in 17 months, Republicans are still hoping to pick-off several vulnerable Democratic U.S. Senators in 2018 with a GOP-friendly calendar in which the party only has to defend eight of 33 seats.
Three of these seats are held by incumbents who are currently the only Democratic member of their state's congressional delegation: Jon Tester of Montana, Heidi Heitkamp of North Dakota, and Joe Manchin of West Virginia (pictured).
No Republican has officially filed to run against Tester or Heitkamp – although Montana State Senator Albert Olszewski has stated he will challenge the two-term Democrat.
In West Virginia, two-term U.S. Representative Evan Jenkins recently jumped into the race with coal miner Bo Copley set to launch an unlikely outsider bid as well.
Republicans currently hold all U.S. Senate and U.S. House seats in nine states (Alaska, Arkansas, Idaho, Kansas, Nebraska, Oklahoma, South Dakota, Utah, Wyoming) – the largest number for the party since the 84th Congress (1955-1957).
So how unusual would it be to see some of these red-leaning states return to an all-GOP delegation?
Smart Politics reviewed the historical congressional delegation data of all 50 states and found that 38 states have at one point seen each of its seats on Capitol Hill simultaneously filled by Republicans.
However, if the GOP runs the table in either Montana, North Dakota, or West Virginia this cycle, it will be a feat not seen in each of these states for many decades.
It has been over 100 years since the last time Montana's delegation was comprised only of Republicans.
In the 61st Congress (1909-1911), the Treasure State was represented by Republicans Thomas Carter and Joseph Dixon in the Senate and Charles Pray in the House.
Democrat Henry Myers was elected to the upper legislative chamber for the 62nd Congress and at least one Democrat has held a congressional seat in the state ever since.
In West Virginia, it has been 94 years since the GOP held all of its congressional seats.
The Mountain State was represented in the 67th Congress (1921-1923) by Republican Senators Howard Sutherland and Davis Elkins with GOPers Benjamin Rosenbloom, George Bowers, Stuart Reed, Harry Woodyard, Wells Goodykoontz, and Leonard Echols holding all six U.S. House seats.
That streak ended after the 1922 election with Matthew Neely defeating Sutherland and Democrats picking off four seats in the lower legislative chamber.
North Dakota Republicans have not held all congressional seats since the 85th Congress (1957-1959) when Wild Bill Langer and Milton Young were in the Senate and Usher Burdick and Otto Krueger held the state's two at-large seats in the House.
Neither Burdick nor Krueger ran for reelection in 1958 and Democrat Quentin Burdick (Usher's son) won one of the at-large seats that November to begin a streak for his party that has lasted nearly 60 years.
As for the 12 states that have never seen unified GOP control of its congressional delegation, they reflect a mix of small, moderate, and heavily populated states from all four regions of the country:
Northeast: New Jersey and New York
South: Georgia, Kentucky, North Carolina, Texas, and Virginia
Midwest: Illinois, Missouri, and Ohio
West: Arizona and Hawaii
In addition to the nine states listed above where Republicans currently hold all congressional seats, the most recent states to have had an all-GOP delegation are New Hampshire in the 109th Congress (2005-2007), New Mexico in the 97th (1981-1983), Vermont in the 93rd (1973-1975), and Delaware in the 92nd (1971-1973).
No other state has seen the GOP hold all of its congressional seats over the last half-century.
Eight states last sent all-GOP delegations to D.C. in the 19th Century: Alabama during the 40th Congress (1867-1869), Tennessee in the 41st (1869-1871), Louisiana, Massachusetts, and Mississippi during the 42nd (1871-1873), Florida in the 43rd (1873-1875), South Carolina in the 44th (1875-1877), and Colorado in the 52nd (1891-1893).
The remaining 17 states last had all-GOP delegations in the early- to mid-20th Century:
57th Congress (1901-1903): Maryland
61st Congress (1909-1911): California, Montana, Rhode Island
67th Congress (1921-1923): Indiana, Minnesota, Washington, West Virginia
71st Congress (1929-1931): Pennsylvania
72nd Congress (1931-1933): Michigan
80th Congress (1947-1949): Wisconsin
82nd Congress (1951-1953): Oregon
83rd Congress (1953-1955): Nevada
84th Congress (1955-1957): Iowa, Maine
85th Congress (1957-1959): Connecticut, North Dakota
[Note: Some of these states only had Republicans holding all U.S. House and Senate seats during part of the congress].
Looking ahead once again at the 2018 cycle, it is also possible – though unlikely – that Democrats could lose the U.S. Senate seat in, say, Montana, but still pick up a U.S. House seat and thus deny a Republican monopoly in its delegation.
The GOP could also lose a U.S. House seat in one of the aforementioned nine states such as in Nebraska's 2nd CD (held by Don Bacon), Kansas' 3rd CD (Kevin Yoder), or Arkansas' 2nd CD (J. French Hill).
Democrats also hold only one seat in the congressional delegations of seven other states – but none of these seats are considered vulnerable heading into the 2018 cycle: Alabama (Terri Sewell), Iowa (Dave Loebsack), Kentucky (John Yarmouth), Louisiana (Cedric Richmond), Maine (Chellie Pingree), Mississippi (Bennie Thompson), and South Carolina (Jim Clyburn).
Follow Smart Politics on Twitter.