A Brief History of New Jersey Gubernatorial Primaries
More than twice as many Republican primary races for governor have been decided by single digits as Democratic nomination contests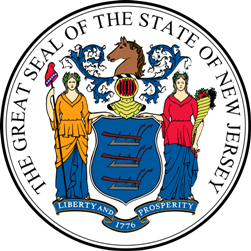 A week ago, former Vice President Joe Biden heralded New Jersey's 2017 gubernatorial race as the "single most important" election of the next three years.
While political observers might find that remark curious, eyes will be on the Garden State this year in what is the GOP's first attempt to hold a gubernatorial seat under President Donald Trump.
Voters head to the polls in the state on Tuesday where six Republicans and five Democrats will appear on the primary ballot in an open seat race to succeed the term-limited Chris Christie.
The direct primary for governor was adopted in New Jersey in 1911 and Tuesday's election will be the 30th since the first time the office came up on the primary ballot on September 23, 1913.
In today's report, Smart Politics delves into the last 100 years of Garden State gubernatorial primaries.
Number of Candidates
The 11 Democratic and Republican candidates on Tuesday's ballot is tied for the third most major party hopefuls in a race for governor in state history.
A high water mark of 21 candidates (13 Democrats and 8 Republicans) was set during 1981's open seat race. Congressman Jim Florio received the Democratic nod with 25.9 percent in a field that included two U.S. Representatives, the state attorney general, two mayors, five sitting or former state legislators, and the state human services commissioner.
Former state legislator Tom Kean won the GOP nomination with 30.8 percent beating three other sitting or former state legislators, one sitting and one former mayor, and a former superior court judge.
The only other cycle to feature more major party candidates was the 15 who ran on the ballot in 1977: 11 Democrats (won by Governor Brendan Byrne) and four Republicans (State Senator Raymond Bateman).
Eleven candidates also appeared on the primary ballot in 1953 (four Democrats, seven Republicans), 1969 (six Democrats, five Republicans), and 1989 (three Democrats, eight Republicans).
Overall, a total of 195 major party candidates have appeared in the 30 primaries conducted since 1913, or an average of 6.5 per cycle.
Closest Races
The 2017 Democratic race is not anticipated to be highly competitive with former U.S. Ambassador to Germany and Goldman Sachs executive Phil Murphy with a large double-digit lead in the polls.
Most Democratic gubernatorial primaries over the decades have been yawners, with only four of the previous 29 contests decided by single digits:
1953: Former State Senator Robert Meyner defeated former U.S. Representative and 1949 gubernatorial nominee Elmer Wene by 0.7 points
1977: Governor Brendon Byrne beat U.S. Representative Robert Roe by 7.1 points in an 11-candidate field
1985: Former State Assemblyman Peter Shapiro defeated State Senator John Russo by 4.4 points
1997: State Senator Jim McGreevey beat U.S. Representative Robert Andrews by 2.7 points
The 1953 race between Meyner and Wene resulted in the closest gubernatorial primary finish by either party in state history.
Democratic nominees have run without opposition in 12 cycles (1916, 1922, 1925, 1928, 1931, 1937, 1940, 1943, 1946, 1949, 1957, 1993) with the average victory margin coming in at 66.6 points.
The Republican side of the ticket has garnered a bit more attention in 2017, although Lieutenant Governor Kim Guadagno is also expected to win relatively comfortably over State Assemblyman Jack Ciattarelli.
The GOP has historically held much more competitive gubernatorial primaries than their Democratic counterparts with more than one-third decided by single digits (11 of 29):
1916: State Senator Walter Edge eked out a 2.0-point win over State Senator Austen Colgate
1919: State Comptroller Newton Bugbee defeated Acting Governor William Runyon by 3.8 points
1925: State Senator Arthur Whitney beat former Attorney General Thomas McCran by 9.6 points
1940: State Senator Robert Hendrickson defeated former Governor Harold Hoffman by 7.0 points
1961: U.S. Secretary of Labor James Mitchell beat State Senator Walter Jones by 9.0 points
1965: State Senator Wayne Dumont narrowly defeated State Senator Charles Sandman by 3.9 points
1969: U.S. Representative William Cahill outlasted fellow delegation member Charles Sandman by 3.5 points
1981: Former State Assemblyman Tom Kean beat former Paterson Mayor Pat Kramer by 9.8 points
1989: U.S. Representative James Courter scored a 7.0-point victory over state Attorney General Cary Edwards
1993: Former Somerset County Freeholder Christine Todd Whitman defeated former Attorney General Cary Edwards by 7.1 points
2005: Businessman and former West Windsor Mayor Doug Forrester beat former Jersey City Mayor Bret Schundler by 4.8 points
The GOP has held uncontested primaries for the office in just five cycles (1922, 1931, 1943, 1985, 1997) with its nominee's average victory margin coming in at 32.0 points, which is less than half the margin tallied on the Democratic side.
Incumbents
Incumbent governors (or acting governors) have won their party's nomination in 10 of 12 attempts over the last century.
The only two governors to fall short in a campaign to make it to the general election were Republican Acting Governor William Runyon in 1919 (losing by 3.8 points to engineer and State Comptroller Newton Bugbee) and Republican William Cahill in 1973 (losing to U.S. Representative Charles Sandman by 16.9 points).
Successful nomination bids were made by Democrats James Fielder in 1913 (as acting governor), Robert Meyner in 1957, Richard Hughes in 1965, Brendan Byrne in 1977, Jim Florio in 1993, and Jon Corzine in 2009 and Republicans Alfred Driscoll in 1949, Tom Kean in 1985, Christine Todd Whitman in 1997, and Chris Christie in 2013.
None of the 11 major party candidates in 2017 have previously appeared on a gubernatorial primary ballot.
Follow Smart Politics on Twitter.