Kim Guadagno and a Review of New Jersey Female Gubernatorial Candidates
Women running for governor in New Jersey have won their party's nomination each of the last four times they have appeared on the primary ballot since 1993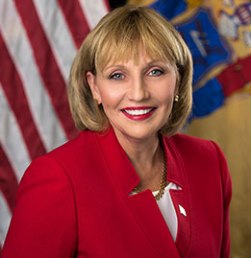 As expected, New Jersey Lieutenant Governor Kim Guadagno won the Republican Party gubernatorial primary on Tuesday – defeating State Assemblyman Jack Ciattarelli and three other GOPers with 47 percent of the vote.
Phil Murphy easily won the Democratic nomination but, of the 11 major party candidates in 2017 running for the Garden State's top elected office, Guadagno was the only woman.
If Guadagno wins the general election this November, New Jersey will become just the eighth state to have directly elected two or more female governors, joining Arizona, Connecticut, Kansas, New Hampshire, Oregon, Texas, and Washington. [One other state – Alabama – has had two female governors, but current governor Kay Ivey ascended to the position after Robert Bentley resigned this spring].
Guadagno's nomination victory continues the success female gubernatorial candidates have enjoyed in the state over the past few decades, although only four of the 47 candidates to run for governor of New Jersey over the last seven cycles since 1993 have been women.
However, each won their party's nomination.
In 1993 and 1997 Republican Christine Todd Whitman won the Republican primaries (uncontested in the latter) en route to becoming the state's first female governor.
The former director of the Somerset County Board of Freeholders won 40.0 percent of the primary vote in 1993 – beating former Attorney General and Assemblyman Cary Edwards by 7.1 points.
In 2013, Democrats rallied around State Senator Barbara Buono who captured 88.1 percent of the primary vote although she lost by 22.1 points to Governor Chris Christie in his reelection bid.
Prior to Todd Whitman, there were only seven female gubernatorial candidates among the 148 to appear on the primary ballot since the first direct primary in 1913.
It would take 60 years before New Jersey voters had their first opportunity to nominate a woman for the office.
Assemblywoman Ann Klein had that honor – seeking the Democratic nomination in 1973.
Klein placed second in a five-candidate field with 27.9 percent – 16.9 points behind former state Board of Public Utilities Commissioners president and Superior Court Judge Brendan Byrne.
Klein would later become the state Human Services Commissioner and seek the Democratic nomination for governor during 1981's free-for-all contest that saw a state record 21 Democrats and Republicans run in the primaries.
However, Klein placed 10th out of 13 Democrats with just 2.4 percent of the vote, behind Assemblywoman Barbara McConnell in ninth with 2.6 percent.
Teacher Stella Mann placed 12th with 0.4 percent and homemaker Rose Monyek finished last in 13th with 0.3 percent.
No women ran for governor in the state in 1985, but two sought their respective party's nomination in 1989's open seat race.
Princeton Mayor Barbara Boggs Sigmund placed a distant second in a three-candidate field with 16.5 percent – 51.7 points behind Congressman Jim Florio who was making his third bid for the office that cycle.
On the Republican side, former New Jersey Commerce Department official Lois Rand came in seventh out of eight candidates with 0.7 percent.
Follow Smart Politics on Twitter.