How Many Gubernatorial Seats Will the GOP Lose in 2018?
The party of the sitting president has won 43 percent of gubernatorial races since the McKinley administration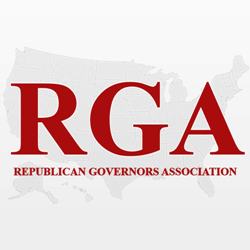 If Donald Trump's approval numbers fail to rally over the next year, Democrats will expect to make big gains in the 2018 cycle – in the U.S. House, state legislatures, and gubernatorial races across the country.
Control of governorships in advance of redistricting following the 2020 Census will be key for Democrats who find themselves reeling after shedding several hundred state legislative seats during the Obama years and dozens of seats in the U.S. House.
Democrats currently hold just 18 governorships which is close, but just shy, of a post-Depression party low. [The party held only 17 seats from 1997-1999].
During the Obama years, Democrats shed far more gubernatorial seats than they gained:
Losing 19 states: Arizona, Arkansas, Illinois, Iowa, Kansas, Kentucky, Maine, Maryland, Massachusetts, Michigan, Missouri, New Hampshire, New Jersey, New Mexico, Ohio, Oklahoma, Tennessee, Wisconsin, Wyoming
Picking up six: California, Connecticut, Hawaii, Louisiana, Minnesota, Rhode Island
Losing three others, but gaining them back: North Carolina, Pennsylvania, Virginia
Gaining one, only to lose it again: Vermont
As a result, Obama exited the White House with the fifth lowest rate of gubernatorial wins for his party (38.0 percent) out of the 20 presidents to serve since 1897.
Following gubernatorial races in New Jersey and Virginia this November, Republicans will have to defend 26 of 36 seats in the 2018 midterms with an unpredictable political environment facing them with Trump as the party's standard bearer.
Democrats are optimistic about their chances of flipping seats in states like Florida, Illinois, Maine, Michigan, New Mexico, and Nevada and hope to recruit quality candidates to give themselves a chance to be competitive in Iowa, Maryland, Massachusetts, New Hampshire, Ohio, Vermont, and Wisconsin.
Meanwhile, Democrats will be playing defense and can't afford to underperform in states like Colorado, Connecticut, Minnesota, and Pennsylvania (with open seats in the former three states).
Overall, the sitting president's party has not fared well in midterms in recent decades – losing a majority of the seats on the ballot during eight of the last nine cycles and 17 of the last 20.
The party controlling the White House has won only 124 of 324 midterm gubernatorial races since 1982 (38.7 percent) and 275 of the 701 seats since 1938 (39.2 percent).
The only midterm election cycles during which the president's party won a majority of seats since 1938 were with John Kennedy at the helm in 1962 (with Democrats winning 21 of 35 races), Jimmy Carter in 1978 (Democrats winning 21 of 36), and George W. Bush in 2002 (Republicans winning 22 of 36).
Going all the way back to William McKinley's first term, gubernatorial candidates from the president's party have won 43.1 percent of all midterm elections – victorious in 435 of 1,009 contests since 1898.
The rate of victory has been virtually the same for when Democrats controlled the White House (42.6 percent; 205 of 481 contests) as Republicans (43.6 percent; 230 of 528).
That said, it would certainly be seen as a disaster if the GOP won only 43 percent of gubernatorial elections held in 2018 (approximately 15 of 36 seats – or a net loss of 11 states).
That is due in part to the fact that Republicans will be the incumbent party in an unusually large number of these 36 states in this upcoming cycle.
However, it is almost a certainty that the party will avoid having the worst gubernatorial midterms across the last 100+ years.
During the 30 midterms since the McKinley administration, the poorest showing by the president's party came in 1974 after the Watergate fallout and Nixon's resignation.
Republicans won only seven of 35 races for governor that cycle (20.0 percent): in Alaska, Iowa, Kansas, Michigan, New Hampshire, Ohio, and South Carolina. [And three of these seven were by less than a percentage point: Jay Hammond in Alaska, Robert Bennett in Kansas, and James Edwards in South Carolina].
The GOP also won no more than a quarter of the seats on the ballot in 1958 during Eisenhower's last midterm (eight of 34 races, 23.5 percent) and in 1982 during Reagan's first midterm (nine of 36 races, 25.0 percent).
In 2018, the GOP has a virtual lock on states like Alabama, Arkansas, Idaho, Kansas, Nebraska, Oklahoma, South Carolina, South Dakota, Tennessee, Texas, and Wyoming which would put them, at a minimum, over the 30 percent mark across the 36 states to hold elections (with the party favored in several other states).
The three worst Democratic showings in midterms since the late 19th Century all took place over the last two decades when their party controlled the executive branch – winning only 11 of 36 races in 1994, 1998, and 2014.
Follow Smart Politics on Twitter.