Georgia Hosts Rare Competitive US House Election with Ossoff-Handel Runoff
Since 1964, the average victory margin in a Georgia U.S. House race has been 50 points; just 1 of the last 69 races since 2008 has been decided by less than five points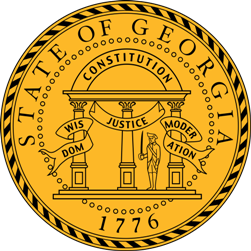 The notion that 'all eyes are on Georgia' for a U.S. House election is, to be sure, a bit of a rarity for the state as Democrat Jon Ossoff and Republican Karen Handel square off in Tuesday's high profile and expensive 6th CD special runoff election.
Polling has been extraordinarily tight for the runoff, with Ossoff generally on top, within the margin of error, and neither candidate able to eclipse the 51 percent mark.
That suggests the race will be decided by a few points at most.
Over the last five cycles since 2008, only one of 69 elections to the chamber in Georgia has produced a victory margin of less than five points (Democratic Congressman Sanford Bishop's 2.9-point win over  state legislator Mike Keown during the 2010 Republican tsunami) with an average victory margin of 52.3 points.
Since redistricting and reapportionment in 2012, Georgia's U.S. House races have largely been blowouts, with the 42 races over the last three cycles decided by an average of 57.9 points and one-third of the races uncontested by one of the major parties.
The only competitive races during this span were in former Blue Dog Democrat John Barrow's 12th CD – with the incumbent winning by 7.4 points over state legislator Lee Anderson in 2012 and losing by 9.3 points to businessman Rick Allen in 2014.
So just how unusual is it to have such a political barn burner in the Peach State?
Smart Politics examined the nearly 675 general and special U.S. House elections conducted in Georgia since 1900 and found that just 19 of these were decided by less than five points (2.8 percent) and only 34 by single digits (5.1 percent).
Of course, prior to the passage of the Civil Rights Act in 1964, the Republican Party rarely even fielded candidates in the Deep South and each of the four closely-decided elections to the chamber in Georgia from 1900 through 1962 (those with victory margins in the single digits) were battles between fellow Democrats in special elections:
1913, 2nd CD: Judge Frank Park by 5.1 points over Roscoe Luke
1939, 4th CD: U.S. Attorney A. Sidney Camp by 4.7 points over Edgar Blalock
1946, 5th CD: Assemblywoman Helen Douglas Mankin by 2.6 points over railway lobbyist Thomas Camp
1953, 2nd CD: Former state senator John Pilcher by 3.8 points over attorney and state legislator H. Grady Rawls
After the Civil Rights Act was passed, the subsequent 1964 general election saw Georgia Republicans come within single digits of winning two seats that November:
Freshman Democrat Charles Weltner held off Jim O'Callaghan by 8.1 points in a rematch in the state's metropolitan Atlanta 5th CD
Two-term Democrat John Davis beat Ed Chapin by 9.4 points in the 7th CD
The GOP also won its first U.S. House race in the state since 1872 that cycle with Bo Callaway defeating Garland Byrd by 15.4 points in the open 3rd CD contest.
Even with the end of single-party rule in the state, the average victory margin across the 307 Georgia U.S. House contests since 1964 has been a whopping 49.8 points.
Just 16 of these 307 races were decided by less than five points (5.2 percent), including three involving Newt Gingrich:
1966, 4th CD: Republican Attorney Benjamin Blackburn eked out a 0.3- point win over Democratic freshman James MacKay
1974, 6th CD: 11-term Democrat John Flynt defeated GOP college professor Newt Gingrich by 2.9 points
1974, 7th CD: Democratic physician Larry McDonald edged Republican Quincy Collins by 0.6 points
1976, 6th CD: 11-term Democrat John Flynt defeated Gingrich in a rematch by 3.4 points
1990, 4th CD: Freshman Democrat Ben Jones beat Republican state legislator John Linder by 4.9 points
1990, 6th CD: Six-term Republican Newt Gingrich narrowly won a rematch against Democratic attorney David Worley by 0.6 points
1992, 4th CD: John Linder beat Democratic State Senator Cathey Steinberg by 1.1 points
1994, 7th CD: Republican attorney Bob Barr defeated six-term Democrat Buddy Darden by 3.9 points
1996, 10th CD: Freshman Republican Charlie Norwood beat Democrat David Bell by 4.7 points
2002, 3rd CD: Former Democratic Macon Mayor Jim Marshall defeated Bibb County Commissioner Calder Clay by 1.0 point
2002, 11th CD: Republican State Senator Phil Gringrey beat Democrat Roger Kahn by 3.2 points
2004, 12th CD: Athens-Clarke city/county commissioner John Barrow ousted Republican freshman Max Burns by 3.6 points
2006, 8th CD: Two-term Democrat Jim Marshall defeated former GOP U.S. Representative Mac Collins by 1.1 points
2006, 12th CD: Freshman John Barrow won a rematch against former Republican Congressman Max Burns by 0.6 points
2007, 10th CD: GOP Physician Paul Broun won a special election runoff against Republican State Senator Jim Whitehead by 0.8 points
2010, 2nd CD: Nine-term Democrat Sanford Bishop beat Republican state legislator Mike Keown by 2.9 points
Overall, 30 of the 307 U.S. House elections in Georgia were decided by single digits (9.8 percent).
Nationally, none of the last 21 special elections to the U.S. House over the last four-plus years have resulted in a flip in power of the seat – the largest such stretch in at least 76 years.
Meanwhile, it has been 145 years and 30 contests since the last time a party picked up a Georgia U.S. House seat in a special election (Democrat Erasmus Beck's 1872 win in the 4th CD).
Follow Smart Politics on Twitter.