2018 Could Have Fewest US Senate Retirements in Direct Election Era
An average of seven senators have retired from the chamber each cycle during the past quarter-century; no incumbent up for reelection next year has yet closed the door on a 2018 bid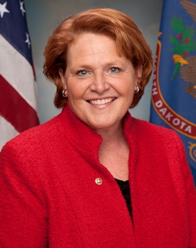 With U.S. Senate candidates required to file for their state's primary within the next 12 months and many incumbents needing an early start to their campaign in the wake of challenging reelection prospects, the vast majority of the 33 lawmakers up for election next year have already launched their 2018 bids.
At one point it was thought that octogenarians Dianne Feinstein of California and Orrin Hatch of Utah would retire (Hatch had said as much after winning his seventh term in 2012), but both are poised to run again this cycle.
A few of the nearly two-dozen Democrats up for reelection are still playing it coy, like Heidi Heitkamp of North Dakota, Tom Carper of Delaware, and Ben Cardin of Maryland, as well as Republican Bob Corker of Tennessee.
Another Democrat – New Jersey's Bob Menendez – is running for another term, but has the potential to bow out if things go south in his corruption trial that is scheduled to begin later this year.
However, thus far, none of the 33 incumbents have announced that they won't be running for reelection, which raises the question of whether or not such a scenario has ever played out during the direct election era.
A Smart Politics analysis finds that there have been at least two U.S. Senators who did not seek another term in each of the 52 election cycles since the passage of the 17th Amendment in 1913.
Nearly 300 U.S. Senators have retired from the chamber since 1914 – excluding those who resigned midterm – averaging 5.5 senators per cycle.
That number has been elevated in recent years, with 7.2 senators retiring over the last 13 cycles during the last quarter-century (1992-2016).
It's been more than 50 years since the last time as few as two Senators did not seek another term.
In 1964, only Arizona Republican Barry Goldwater (who ran for president) and Tennessee Democrat Herbert Walters (appointed to his seat after the 1963 death of Estes Kefauver) did not suit up for another term in the chamber that November.
There have been four other cycles with just two incumbents deciding not to seek another term:
1924: Oklahoma Democrat Robert Owen and West Virginia Republican Davis Elkins
1926: Alabama Democrat Oscar Underwood and Iowa Republican David Stewart [Stewart won the special election for the remaining five months of his term but did not simultaneously run for the full term]
1928: Connecticut Republican George McLean and Missouri Democrat James Reed
1942: Arkansas Democrat George Spencer and West Virginia Democrat Joseph Rosier [Rosier ran and lost the special election for the unexpired term but did not run for the full term; GOP Senator Joseph Ball of Minnesota did not run for the seat to which he was appointed but did run for the state's other seat that November to win a full six-year term]
The number of retirees has reached double-digits four times over the last 100+ years, with three of these cycles taking place in the last 20 years:
1978 (10): Democrats John Sparkman (AL), Kaneaster Hodges (AR), Muriel Humphrey (MN), James Eastland (MS), and James Abourezk (SD) and Republicans James Pearson (KS), Carl Curtis (NE), Dewey Bartlett (OK), William Scott (VA), and Clifford Hansen (WY)
1996 (13): Democrats Howell Heflin (AL), David Pryor (AR), Sam Nunn (GA), Paul Simon (IL), J. Bennett Johnston (LA), Jim Exon (NE), Bill Bradley (NJ), and Claiborne Pell (RI) and Republicans Hank Brown (CO), Nancy Kassebaum (KS), Bill Cohen (ME), Mark Hatfield (OR), and Alan Simpson (WY)
2010 (12): Democrats Chris Dodd (CT), Ted Kaufman (DE), Roland Burris (IL), Evan Bayh (IL), Byron Dorgan (ND), and Carte Goodwin (WV) and Republicans George LeMieux (FL), Sam Brownback (KS), Jim Bunning (KY), Kit Bond (MO), Judd Gregg (NH), and George Voinovich (OH)
2012 (10): Democrats Daniel Akaka (HI), Ben Nelson (NE), Jeff Bingaman (NM), Kent Conrad (ND), Jim Webb (VA), and Herb Kohl (WI), independent Democrat Joe Lieberman (CT), and Republicans Jon Kyl (AZ), Olympia Snowe (ME), and Kay Bailey Hutchison (TX)
Alaska is the only state never to have one of its U.S. Senators retire at the end of his or her term in the direct election era. Three were defeated in the general election (Ernest Gruening in 1968, Ted Stevens in 2008, Mark Begich in 2014), one was knocked out in the primary (Mike Gravel in 1980), one died in office (Bob Bartlett in 1968), and one resigned to become governor (Frank Murkowski in 2002).
Follow Smart Politics on Twitter.