The Most Competitive States for US Senate Elections
Just seven states have had an average victory margin of less than 10 points over the last three decades with North Carolina leading the pack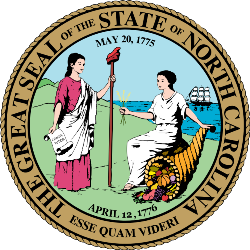 Despite a potential record percentage of incumbents seeking another term next year, many of the 33 U.S. Senate seats on the ballot in 2018 are expected to be up for grabs, particularly with 10 Democratic incumbents running in states carried by Donald Trump.
Some seats are expected to be competitive – such as West Virginia, where conservative Democrat Joe Manchin has to defend a seat where Donald Trump set a new Republican Party record in the 2016 presidential race.
However, the Mountain State has not hosted a competitive Senate race (defined in this report as an election decided by less than 10 points) since 1984, when Jay Rockefeller won Jennings Randolph's open seat.
Meanwhile, a state like Minnesota, which has seen two-thirds of its races over the last 25+ years decided by single digits, is not expected to be remotely competitive with one of the most popular incumbents in the country running for reelection (Amy Klobuchar).
So just where have the most consistently competitive U.S. Senate races been held over the last quarter-century?
Smart Politics examined the nearly 500 U.S. Senate elections conducted since 1990 and found that North Carolina leads the way with its 10 races decided by an average victory margin of 6.1 points including nine by single-digits.
Since 1990, there have been 491 general and special elections to the U.S. Senate with each state holding between nine and 12 such contests.
North Carolina ranks first in the nation with an average margin of victory of just 6.1 points across the ten elections to the chamber it has hosted during this span.
Only six other states have averaged victory margins in the single digits: Colorado at 8.5 points, Pennsylvania at 8.9 points, Missouri at 9.1 points, Nevada at 9.5 points, New Jersey at 9.6 points, and Minnesota at 9.9 points.
Five of these states host senate races in 2018 (all but Colorado and North Carolina) with three expected to be quite close (Missouri, Nevada, and Pennsylvania).
Rounding out the Top 10 states are Washington at #8 with an average victory margin of 12.1 points, Kentucky at 12.3 points, and Wisconsin at 12.6 points.
North Carolina did not disappoint in the drama department last November, with former State Representative Deborah Ross leading incumbent GOPer Richard Burr in most late polls, but falling 5.7 points short on Election Day.
That was good for the seventh closest race in the country, two years after Thom Tillis unseated Democrat Kay Hagan with the second narrowest victory margin that cycle at 1.6 points.
The 2016 cycle also saw very competitive races in Top 5 ranked states Pennsylvania, Missouri, and Nevada.
In Pennsylvania, Republican incumbent Pat Toomey's 1.4-point win over Kathleen McGinty in 2016 was the closest race in the state over the last 21 elections conducted since Democrat Joseph Clark knocked Jim Duff out of office by 0.4 points in 1956.
In Nevada's open seat race to replace Harry Reid, Democrat Catherine Cortez Masto held off Congressman Joe Heck by 2.4 points and Missouri GOP U.S. Senator Roy Blunt eked out a 2.8-point victory over Jason Kander – one of four races decided by less than three points in the Show-Me State since 2000.
To be sure, North Carolina U.S. Senate races have consistently offered match-ups between fairly evenly matched opponents over the last few decades:
1990: Republican Jesse Helms won a fourth term by 5.2 points over former Charlotte Mayor Harvey Gantt
1992: Republican Lauch Faircloth unseated two-term Democrat Terry Sanford by 4.0 points
1996: Helms won his fifth and final term by 6.7 points in a rematch against Gantt
1998: Democrat John Edwards ousted Faircloth with a 4.1-point victory
2002: Republican Elizabeth Dole won an open seat race by 8.6 points against former Bill Clinton Chief of Staff Erskine Bowles
2004: Bowles ran in back-to-back cycles but lost again in an open seat race, this time to U.S. Representative Richard Burr by 4.6 points
2008: Democratic State Senator Kay Hagen unseated Dole by 8.5 points
2010: Burr won his second term with an 11.8-point win over North Carolina Secretary of State Elaine Marshall
2014: State Representative Thom Tillis unseated Hagan with a 1.6-point victory
2016: Burr won his third term with a 5.7-point win against Deborah Ross
The Tar Heel State has consistently produced competitive races going back several decades, with 14 of its last 15 U.S. Senate elections decided by single-digits since 1978.
The last true blowout in North Carolina took place more than 40 years ago in 1974 when Democratic State Attorney General Robert Morgan won an open seat race against furniture executive Bill Stevens by 25.1 points.
And what states have been lacking in drama in its races to the nation's upper legislative chamber?
On the other end of the spectrum are two western states – Democratic stronghold Hawaii and Republican-heavy Wyoming.
Hawaii has been the least competitive state in the country for U.S. Senate elections since 1990 with its 11 races decided by an average of 40.7 points.
Democratic Senator Brian Schatz won by a whopping 51.4 points against John Carroll last November in a state where the last competitive general election was in 1970 when GOP Senator Hiram Fong defeated Cec Heftel by 3.1 points. [Note: Though Daniel Akaka's 1990 special election victory margin over Patricia Saiki was 9.4 points].
Wyoming, meanwhile, has crowned its U.S. Senators by nearly as wide margins with its 10 contests since 1990 decided by an average of 40.7 points.
The margin of victory has dipped below the 25-point mark just twice in the Equality State during this period: Craig Thomas's 19.6-point win over Mike Sullivan in 1994 and Mike Enzi's 11.9-point win over Kathy Karpan in 1996.
Rounding out the Bottom 10 least competitive states are Mississippi with a 38.5-point average victory margin, Idaho at 36.4 points, Kansas at 34.0 points, West Virginia at 33.2 points, Vermont at 33.0 points, Utah at 33.1 points, Alabama at 32.3 points, and Rhode Island at 31.0 points.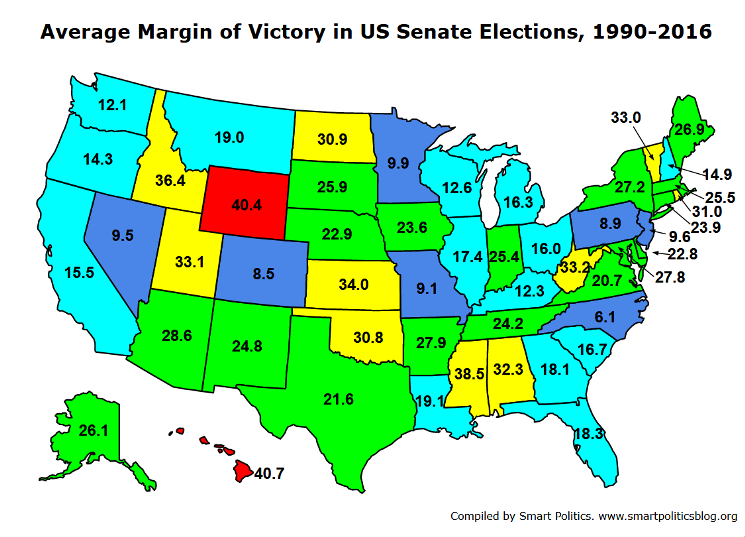 Overall, the average victory margin for the 491 U.S. Senate contests conducted across all 50 states since 1990 has been 22.6 points.
A total of 138 of these 491 races were decided by single-digits (28.1 percent) or approximately 10 per cycle.
North Carolina also leads the way by this measure with victory margins of less than 10 points in nine of its last 10 races (90 percent).
Ten other states have had at least half of their U.S. Senate elections decided by single digits since 1990: Colorado (70.0 percent), Minnesota and Virginia (66.7 percent), Missouri, New Hampshire, and Pennsylvania (60.0 percent), Nevada and Wisconsin (55.6 percent), Georgia (54.5 percent), and New Jersey (50.0 percent).
Four states have hosted U.S. Senate races with winning margins of less than 10 points in each of the last three contests: Colorado, Nevada, Pennsylvania, and Wisconsin.
A total of 77 of the 491 senate races since 1990 were highly competitive – decided by less than five points – or 15.7 percent.
However, nine states failed to host even one U.S. Senate race that was decided by single-digits during this period: Delaware, Idaho, Kansas, Maryland, Oklahoma, Texas, Utah, West Virginia, and Wyoming.
The state with the longest competitive U.S. Senate race drought is Maryland, which last saw a race for the nation's upper legislative chamber decided by single digits 45 years ago in 1970 when GOPer John Beall defeated incumbent Joseph Tydings by 2.6 points.
Maryland's Democratic incumbent Ben Cardin is currently undecided as to his 2018 reelection plans.
Follow Smart Politics on Twitter.