Minnesota DFL Eyes Rare Competitive Gubernatorial Primary in 2018
Just three of the party's 23 primaries for governor since the merger 73 years ago have been decided by single digits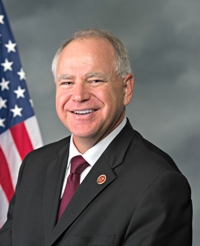 With six bona fide officeholders already running for governor (U.S. Representative Tim Walz (pictured), State Auditor Rebecca Otto, St. Paul Mayor Chris Coleman, and State Representatives Paul Thissen, Erin Murphy, and Tina Liebling) and a seventh expected to join the crowded field soon (State Attorney General Lori Swanson), Minnesota Democrats must be feeling optimistic about their chances to hold onto the seat for a ninth consecutive year for the first time in party history.
Democrats have twice won the governor's mansion in three consecutive cycles since statehood, but both of those streaks took place when the term of office was just two years: Democrat John Johnson in 1904, 1906, and 1908 and DFLer Orville Freeman in 1954, 1956, and 1958.
It would be unusual if a few of the 2018 candidates did not drop out between the party convention next year and the mid-August primary, but what is left of the field should make for a competitive nomination battle in 13 months.
Since the DFL merger in 1944 only three gubernatorial primaries have been competitive out of 23 races for the party's nomination.
It took nearly 40 years before the DFL saw a nomination fight go down to the wire when former Governor Rudy Perpich and three-term Attorney General Warren Spannaus squared off in the September 1982 primary.
Perpich, who was defeated as the DFL nominee in 1978's contest against Al Quie, emerged as a 5.1-point winner over Spannaus in the primary en route to his second of four consecutive nomination victories.
Twelve years later in 1994, a cycle after Perpich was knocked out of office again in 1990, the DFL had its closest ever primary with State Senator John Marty eking out a 1.4-point win over attorney and former state Commerce Commissioner (and failed 1990 gubernatorial candidate) Mike Hatch.
Marty won only 37.8 percent of the primary vote with Hatch at 36.4 percent and former Minneapolis police chief Tony Bouza in third with 24.6 percent.
The DFL's 2010 nomination battle was nearly as close with nine candidates dropping out after the party convention and Dayton defeating party-endorsed Margaret Anderson Kelliher by 1.5 points with former State Representative Matt Entenza in a distant third.
The average victory margin across these 23 DFL primaries conducted since 1944 has been 44.9 points – a large margin, to be sure, but not quite as big as that seen by the Republican Party during this 70+-year span (66.1 points). [Note: Jeff Johnson's 6.4-point win over Kurt Zellers in 2014 was the first GOP gubernatorial primary decided by single digits since 1924].
Divided support in the party has not spelled success for the DFL in races for governor over the decades.
Since 1944, the party has won only one of six general elections in cycles during which its nominee won less than 50 percent of the primary vote (Dayton's aforementioned 2010 campaign).
By contrast, the DFL has won nine of 17 races during this period when their nominees garnered a majority of support in the primary: in 1954, 1956, and 1958 with Orville Freeman, in 1962 with Karl Rolvaag, in 1970 and 1974 with Wendy Anderson, in 1982 and 1986 with Rudy Perpich, and in 2014 with Dayton.
Prior to Dayton's narrow 2010 general election win against Tom Emmer, each of the five previous plurality winners in the DFL primary were defeated in November:
1946: Harold Baker (44.7 percent) losing by 19.3 points to Luther Youngdahl
1948: Charlie Halstead (36.0 percent) by 8.1 points to Governor Youngdahl
1950: Harry Peterson (47.5 percent) by 22.5 points to Governor Youngdahl
1994: John Marty (37.8 percent) by 29.2 points to Governor Arne Carlson
1998: Skip Humphrey (37.0 percent) in third place, 8.9 points behind Jesse Ventura
The 2018 cycle will be just the seventh open seat gubernatorial race in Minnesota since the DFL merger.
Incumbents also opted not to run in 1946 (Republican Edward Thye, who won a U.S. Senate seat), 1970 (Harold LeVander), 1982 (Al Quie), 1998 (Arne Carlson), 2002 (Jesse Ventura), and 2010 (Tim Pawlenty who was preparing for a presidential run).
Dayton is just the second Democratic incumbent in the state – and first since Henry Sibley in 1859 – not to seek another term: John Johnson (1909) and Winfield Hammond (1915) died in office and Orville Freeman (1960), Karl Rolvaag (1966), and Rudy Perpich (1978 and 1990) were defeated in the general election. [Wendy Anderson resigned to receive a U.S. Senate appointment from his running mate Perpich in 1976, nearly two years before he was up for reelection].
Democrats are hoping that the 2018 cycle will be the first time in history that the party is victorious in back-to-back gubernatorial elections with different nominees.
Follow Smart Politics on Twitter.