Where Are All the Senate Bids by GOP US Representatives?
Only one of the 73 Republican U.S. House members from Trump states with Democratic US Senators on the 2018 ballot has mounted a challenge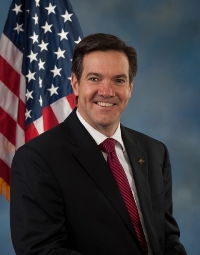 With 23 Democratic U.S. Senators up for reelection in 2018, including 10 running in states carried by Donald Trump, the conventional wisdom at the beginning of this cycle was that several of these incumbents would be vulnerable at the ballot box next year.
While that still may be the case, those numbers have not scared off any incumbents yet, and, as recently discussed at this site, the cycle could set a record for the fewest retirements in the direct election era.
Moreover, although plenty of U.S. Representatives have chosen to run for governor this cycle (four Republicans and four Democrats), there has been surprisingly few GOPers willing to risk their seats to take on these supposed ripe-for-the-picking Democratic U.S. Senators.
For if Democrats up for reelection next year were as susceptible to defeat as the initial electoral map suggested coming out of 2016, one would expect far more Republican U.S. House members seeking to turn their 1 of 435 status into 1 of 100.
As of now, however, almost all are still sitting on the sidelines.
A Smart Politics review finds that 117 Republican U.S. House members serve in states with Democratic U.S. Senators on the ballot in 2018, including 73 in states carried by Donald Trump, but only one has launched a campaign for the chamber (Evan Jenkins of West Virginia).
Jenkins (pictured), a two-term representative from the Mountain State's 3rd CD, announced his challenge of conservative Democrat Joe Manchin in early May, but none of his other 72 colleagues in the GOP caucus from these 10 Trump states with Democratic incumbents have taken the plunge.
Bill Nelson of Florida, Joe Donnelly of Indiana, Debbie Stabenow of Michigan, Claire McCaskill of Missouri, Jon Tester of Montana, Heidi Heitkamp of North Dakota, Sherrod Brown of Ohio, Bob Casey of Pennsylvania, and Tammy Baldwin of Wisconsin have yet to lure a single Republican U.S. Representative into the race with 15+ months until Election Day.
Of course, there is still time for GOP lawmakers to get into the 2018 U.S. Senate sweepstakes and several are still mulling bids.
North Dakota's three-term at-large congressman Kevin Cramer has not ruled out a Senate run nor have Class of 2010 U.S. Representatives Lou Barletta and Mike Kelly of Pennsylvania and Todd Rokita of Indiana or three-term Hoosier State Congressman Luke Messer.
That said, several expected GOP recruits from the U.S. House have already announced they will not challenge 'Trump state' Democratic incumbents this cycle such as Sean Duffy of Wisconsin, Pat Tiberi of Ohio, Susan Brooks of Indiana, and most recently Ann Wagner of Missouri.
The number of Trump state Republican U.S. Representatives who could mount such a 2018 challenge total 16 in Florida, 13 in Pennsylvania, 12 in Ohio, nine in Michigan, seven in Indiana, six in Missouri, five in Wisconsin, three in West Virginia, and one each in Montana and North Dakota.
An additional 14 Republicans serve in California districts with nine in New York, seven in Virginia, five in New Jersey, four in Washington, three in Minnesota, and one each in Maryland and New Mexico.
Republicans do not hold any U.S. House seats in five states with Democratic U.S. Senators on the ballot next year: Connecticut, Delaware, Hawaii, Massachusetts, and Rhode Island.
On the Democratic side, two sitting U.S. Representatives are already running out of just eight states held by Republican U.S. Senators: freshman Jacky Rosen of Nevada and three-term Texan Beto O'Rourke.
Follow Smart Politics on Twitter.