Can Steve Pearce Give the New Mexico GOP Its First Gubernatorial Three-Peat?
New Mexico Republicans have attempted to win a third consecutive gubernatorial election five times since statehood; all have failed (all with GOP presidents in office)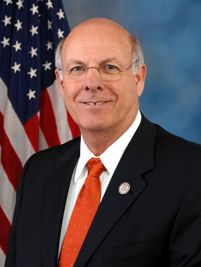 The 2018 gubernatorial election in New Mexico is shaping up to be a matchup between U.S. House delegation colleagues with Republican Steve Pearce, serving in his seventh non-consecutive term, officially announcing his candidacy this week and three-term Congresswoman Michelle Lujan Grisham the frontrunner for the Democratic nomination.
Democrats have fared quite well at the ballot box in the Land of Enchantment in recent cycles – winning more than twice as many statewide elections (14) as Republicans (5) since 2008.
During this five-cycle span, the GOP won elections for secretary of state twice (Dianna Duran in 2010 and 2014), commissioner of public lands once (Aubrey Dunn in 2014), and governor/lieutenant governor twice (Susana Martinez and John Sanchez in 2010 and 2014).
Democrats, meanwhile, swept the state in elections for president, U.S. Senator, auditor, treasurer, and attorney general and were victorious once each in races for secretary of state and commissioner of public lands.
And so, with Governor Martinez term-limited this cycle and Lieutenant Governor Sanchez and Public Lands Commissioner Dunn both declining to run to replace her, Congressman Pearce emerged as the logical, and most prominent, officeholder to seek the GOP nomination.
If successful, Pearce will have the distinction of leading the New Mexico GOP to a third consecutive gubernatorial victory for the first time in party history.
[Democrats have won three or more elections in a row for governor twice: victorious in 10 straight contests from 1930 to 1948 and four in a row from 1970 to 1982].
New Mexico Republicans have won two consecutive gubernatorial elections five times in state history, but failed to hold the seat in each of the subsequent cycles.
After narrow GOP wins in 1918 (by Octaviano Larrazolo) and 1920 (Merritt Mechem), the party's 1922 nominee C.L. Hill – a farmer and president of the board of regents of the Agricultural College of New Mexico – lost to former Roswell mayor and State Senator James Hinkle by 9.9 points.
Later that decade, Republican State Senator Richard Dillon won back-to-back elections in 1926 and 1928. But the party could not hold the seat in 1930 when Republican Judge Clarence Botts was defeated by former Santa Fe Mayor Arthur Seligman by 6.6 points.
The GOP would not win a gubernatorial race for two decades until former FBI agent and State Representative Edwin Mechem won consecutive races in 1950 and 1952. In 1954, however, State House Speaker Alvin Stockton fell by 14.0 points to former House Speaker John Simms.
State Representative "Lonesome Dave" Cargo won back-to-back elections for the Republican Party in 1966 and 1968, winning the final two-year term for the office before a constitutional change to four-year terms. In 1970, Republican attorney and Albuquerque City Commissioner (and future U.S. Senator) Pete Domenici was not quite ready to see his star shine – losing by 4.9 points to State Representative Bruce King.
Republicans last attempted to hold the governorship for three consecutive cycles after the administration of Gary Johnson, who won the office in 1994 and 1998. But in 2002, State Representative (and current Lieutenant Governor) John Sanchez was handily defeated by Bill Richardson by 16.4 points.
It should be noted that during each of these five previous midterms during which the New Mexico GOP streak ended, a Republican president was sitting in the White House (Warren Harding, Herbert Hoover, Dwight Eisenhower, Richard Nixon, and George W. Bush respectively).
If Pearce and Lujan Grisham both win their respective party's nomination next year, New Mexico will elect its first sitting U.S. Representative to the office of governor in state history.
Two nominees had previously served in the U.S. House when they won the governorship but were not in the chamber at the time.
Democrat John Dempsey served three terms (1935-1941) and, after a failed 1940 U.S. Senate bid, was elected governor in 1942. Dempsey would later serve four more terms in the U.S. House in the 1950s.
More than a half-century later, Democrat Bill Richardson served eight terms (1983-1997) in the chamber and, after holding the posts of Ambassador to the U.N. and Secretary of Energy, was elected governor in 2002.
Likewise, no sitting or ex-U.S. Senator has been elected governor of New Mexico. Two governors later served in the chamber: the aforementioned Republicans Octaviano Larrazolo (seven years after his governorship ended in 1928) and Edwin Mechem (who famously resigned from his post in 1962 to get appointed by his successor to the state's open U.S. Senate seat).
Follow Smart Politics on Twitter.