US Representatives Not Lining Up to Flip Gubernatorial Seats in 2018
Only 1 of 49 U.S. Representatives are seeking to flip gubernatorial seats in states carried by their party's presidential nominee last year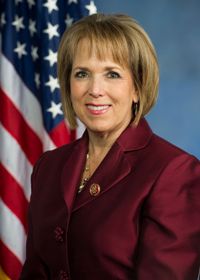 As Smart Politics observed last week, Republican U.S. House members have been curiously shy about taking on any of the 10 Democratic U.S. Senators up for election in 2018 in states carried by Donald Trump. [Only 1 of 73 is doing so].
With 17 open gubernatorial seats this cycle and none thus far in the U.S. Senate, restless members of the U.S. House looking for a big promotion in 2018 have lined up at twice the rate to run for governor as the nation's upper legislative chamber.
Eight U.S. Representatives initially signed up to run for governor across six states – all with exiting officeholders: Democrats Jared Polis and Ed Perlmutter in Colorado, DFLer Tim Walz in Minnesota, Democrat Michelle Lujan Grisham and Republican Steve Pearce in New Mexico, and Republicans Kristi Noem in South Dakota, Raúl Labrador in Idaho, and Jim Renacci in Ohio.
Perlmutter dropped out of the race after a three-month campaign last week.
However, although 2018 could very well be a tumultuous election cycle with Democrats eying several of the 26 states held by Republican governors, U.S. Representatives from both parties have largely been gun-shy to run for governor and try to flip states held by the opposing political party.
In fact, all but one of the eight U.S. Representatives who launched gubernatorial bids this cycle did so in states where their party currently holds the office:
Colorado: Jared Polis (and previously Ed Perlmutter) is running for term-limited John Hickenlooper's seat
Idaho: Raúl Labrador is running for retiring Butch Otter's seat
Minnesota: Tim Walz is running for retiring Mark Dayton's seat
New Mexico: Steve Pearce is running for term-limited Susana Martinez's seat
Ohio: Jim Renacci is running for term-limited John Kasich's seat
South Dakota: Kristi Noem is running for term-limited Dennis Daugaard's seat
The lone exception thus far is Democrat Michelle Lujan Grisham (pictured at top) who is seeking to flip the seat held by exiting Republican Governor Susana Martinez in New Mexico. (And history suggests she will be successful in doing so).
In short, Lujan Grisham is the only Democratic U.S. Representative running for governor in 2018 out of the 83 representing congressional districts in states with a Republican-held seat. Thirty-six of these representatives – including Lujan Grisham – serve in eight states that Hillary Clinton carried in 2016: 11 members from Illinois, one in Maine, seven in Maryland, nine in Massachusetts, three in Nevada, two in New Hampshire, two in New Mexico, and one in Vermont.
[It should be noted that there are no Democratic members in the U.S. House from seven of the 26 GOP-held gubernatorial seats on the ballot in 2018: Arkansas, Idaho, Kansas, Nebraska, Oklahoma, South Dakota, and Wyoming].
On the Republican side, none of the 44 sitting members of the U.S. House have yet suited up to run for governor in any of the nine states with Democratic gubernatorial seats on the ballot next year.
Only one of those states – Pennsylvania, with its 13-member GOP U.S. House delegation – was carried by their presidential nominee last cycle. Democrat Tom Wolfe is up for reelection in the Keystone State.
Fourteen Republicans serve districts in California, four in Colorado, three in Minnesota, nine in New York, and one in Oregon. [There are no Republicans in the U.S. House in three of the nine Democratic-held states with gubernatorial elections in 2018: Connecticut, Hawaii, or Rhode Island].
In total, Lujan Grisham is the lone U.S. Representative running for governor out of the 49 members seated in states currently governed by another party but won by their party's nominee for president last November.
Follow Smart Politics on Twitter.