Evers vs Walker Sets Up Unusual Wisconsin Gubernatorial Election
Only three times in Badger State history have two sitting statewide officials squared off in a race for governor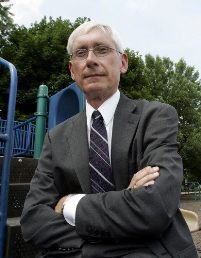 Wisconsin's State Schools Superintendent Tony Evers has filed paperwork to run for governor in 2018 in what could shape up to be an unusual political event next year.
Evers, who holds a non-partisan elected post, is expected to launch his campaign for the Democratic nomination in September.
While other Democrats have already filed for the race, such as State Senator Kathleen Vineout and businessman Andy Gronik, as a three-time statewide electoral winner (and by double-digits in each race) Evers would be expected to be the Democratic frontrunner.
Evers is looking to become the first Superintendent of Public Instruction to serve as governor of the Badger State out of the more than two-dozen men and woman to hold the position since the late 1840s.
If Evers wins the Democratic nomination to take on two-term incumbent Scott Walker, Wisconsin voters will be tasked with the unusual choice of deciding between two sitting statewide officials on the gubernatorial ballot for just the fourth time in state history.
Across the 74 Wisconsin gubernatorial elections conducted since 1848, there have been only three instances in which two sitting statewide officials squared off in a race for governor.
The most recent occurrence took place in 2002, when three-term Democratic Attorney General Jim Doyle challenged Governor Scott McCallum.
McCallum had served four terms as lieutenant governor since 1987 alongside Governor Tommy Thompson and became governor in February 2001 after Thompson became Secretary of Health and Human Services under George W. Bush.
Doyle defeated McCallum by 3.7 points.
The other two instances involved Republican Governor Warren Knowles in back-to-back cycles in the 1960s.
In 1966, Governor Knowles ran for reelection to a second term and was opposed by first-term Democratic Lieutenant Governor Patrick Lucey.
Knowles defeated Lucey by 7.4 points.
Two years later, Knowles ran for a third term and was challenged by another sitting constitutional officeholder – Democratic Attorney General Bronson La Follette.
La Follette was in his second term as state attorney general and coasted to an easy Democratic primary victory.
However, Knowles prevailed by 6.1 points in November.
Overall, there have been 11 gubernatorial elections in Wisconsin history in which two nominees had previously held statewide elected office.
In addition to the three contests mentioned above the remaining eight include:
1869: Republican Governor (and former Secretary of State) Lucius Fairchild defeated former Democratic Secretary of State Charles Robinson by 6.3 points
1892: Democratic Governor George Peck beat former Republican U.S. Senator John Spooner by 2.0 points
1904: Republican Governor Robert La Follette defeated former Democratic Governor George Peck by 11.3 points
1934: Former Republican Governor Philip La Follette ran as a Progressive and beat Democratic Governor Albert Schmedeman 1.4 points
1940: Republican Governor Julius Heil eked out a 0.9-point victory over former Progressive Attorney General Orland Loomis with former Republican Governor Francis McGovern in third place as the Democratic nominee
1942: Former Progressive Attorney General Orland Loomis defeated two-term Republican Governor Julius Heil by 13.2 points
1964: Former Lieutenant Governor Warren Knowles ousted one-term Democratic Governor (and former attorney general) John Reynolds by 1.1 points
1970: Former Democratic Lieutenant Governor Patrick Lucey beat Lieutenant Governor Jack Olson by 9.4 points
Only 13 of Wisconsin's 74 elections for governor did not have at least one candidate with statewide office experience: 1851, 1857, 1881, 1888, 1896, 1900, 1910, 1914, 1928, 1930, 1950, 1982, and 2010.
Evers, unlike other statewide officeholders such as lieutenant governor, secretary of state, treasurer, and attorney general, is not at risk of losing his current position if he runs for governor.
Elections for the superintendent of public instruction are held in the year following presidential elections. Evers was elected to a third term by 39.8 points this April.
Follow Smart Politics on Twitter.