Jacky Rosen's Historic 2018 US Senate Bid
The Nevada lawmaker hopes to become the first female freshman U.S. Representative to win a Senate seat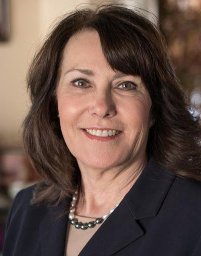 Indiana Republican Luke Messer added his name this week to the small but growing list of U.S. Representatives seeking U.S. Senate seats in 2018 – deciding to risk his safe seat in the House to take on first-term conservative Democrat Joe Donnelly.
Messer is one of only four members of the chamber (excluding Mo Brooks in Alabama's 2017 special election) to seek a U.S. Senate seat thus far this cycle, joining West Virginia Republican Evan Jenkins, Texas Democrat Beto O'Rourke, and Nevada Democrat Jacky Rosen.
Rosen's campaign to unseat Dean Heller is particularly noteworthy not simply because she is the only freshman among this group and not only because she is the lone woman: Rosen is seeking to become the first female freshman in the House to win a U.S. Senate seat in history.
Smart Politics reviewed the more than 600 U.S. Senators who previously served in the U.S. House and found that just 36 of them were sitting freshmen at the time of their election or appointment to the upper legislative chamber – all men.
Three of these 36 members are currently serving in the Senate: Republicans Tim Scott of South Carolina, Tom Cotton of Arkansas, and Steve Daines of Montana.
[Scott had been elected to a second term in 2012 but was appointed to the U.S. Senate before the new Congress convened].
Only 19 sitting House freshmen have been elected or appointed to the U.S. Senate in the direct election era (1913-present), including just eight over the last half-century.
In addition to Scott, Cotton, and Daines, the remaining five are:
Maryland Republican J. Glenn Beall, Jr. (elected 1970)
Connecticut Republican Lowell Weicker (1970)
South Dakota Democrat James Abourezk (1972)
Minnesota Republican Rod Grams (1994)
Kansas Republican Sam Brownback (1996)
Seventeen of these 36 members entered the U.S. Senate prior to the direct election of U.S. Senators with Delaware Federalist Henry Latimer the first to do so in 1795. [Tennessee's Andrew Jackson was the second in 1796].
There have also been more than five-dozen former one-term U.S. Representatives who later were elected (or appointed) to the U.S. Senate following a gap in congressional service.
However, all but seven of these members entered the senate before the direct election era.
Washington Democrat Maria Cantwell is one of the seven. Cantwell served one term in the 103rd Congress but lost her reelection bid in 1994. Six years later, she unseated Senator Slade Gorton and is now seeking a fourth term in 2018.
Only one other former one-term U.S. House member has won a senate seat over the last half-century: Virginia Republican George Allen. Allen served just 14 months in the House from November 1991 to January 1993 and did not seek a second term, choosing instead to run for governor. He was elected to the U.S. Senate in 2000.
While no sitting first-term female U.S. Representative has ever won a U.S. Senate seat, three women were in their second term including Illinois Democrat Tammy Duckworth who defeated Mark Kirk last November.
The two others are Michigan Democrat Debbie Stabenow (elected in 2000) and New York Democrat Kirsten Gillibrand (appointed in 2009).
Overall, a dozen female U.S. Senators had previously served in the House, averaging 4.1 terms.
Olympia Snowe (8 terms), Tammy Baldwin (7), and Shelley Moore Capito (7) had the longest such tenures in the lower chamber.
Rosen is the second female U.S. Representative from Nevada to launch a bid for the upper legislative chamber. Seven-term Democrat Shelley Berkley came up 1.2 points short against Heller in 2012.
Just five of Nevada's 26 U.S. Senators since statehood arrived on the job with prior experience in the U.S. House – the eighth lowest rate in the nation (19.2 percent) trailing only Alaska (0.0 percent), Oregon (8.1 percent), Wyoming (14.3 percent), Florida (14.7 percent), Nebraska (15.8 percent), Minnesota (17.9 percent), and Utah (18.8 percent). The national average is 31 percent.
Of the four sitting Nevada U.S. Representatives to win a Senate seat, none have been freshmen.
Harry Reid was in his second term when he was elected to the chamber in 1986 while at-large Democratic congressmen Francis Newlands (1902) and James Scrugham (1942) were each in their fifth terms.
Dean Heller had begun his third term when he was appointed to the seat vacated by John Ensign in May 2011.
Ensign, the only other Nevada U.S. Senator to serve in the House, was two years removed from his two terms in the House when he won his Senate seat in 2000 after a failed 1998 bid against Reid.
Follow Smart Politics on Twitter.