Yawners: 9 States Without a Close US Senate Race in 30+ Years
Maryland's last close Senate election took place during Nixon's first midterm with four other states also not hosting a competitive contest since the 1970s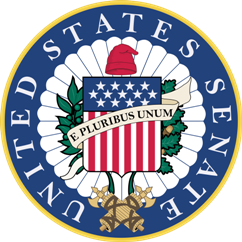 Earlier this month, Smart Politics profiled the states which have hosted the most competitive races for the U.S. Senate over the last quarter-century.
While the average victory margin has been 22.6 points across the country, most states have had at least one fairly competitive contest during this period.
Forty-one states have had one or more races decided by single digits since 1990, with 29 states hosting at least one race with less than a five-point victory margin.
Nine states, however, have failed to deliver any Election Night drama in a single race over the last 30 years, with a few last seeing a competitive race for the office in the early 1970s.
Interestingly, several of these states have seen both political parties win multiple seats during their respective streaks, all without a narrowly decided race.
Below is a listing of the most recent competitive race in each of these nine states (all but three of these – Idaho, Kansas, and Oklahoma – will be holding U.S. Senate races in 2018):
Maryland, 1970
Freshman GOP U.S. Representative J. Glenn Beall, Jr. defeated one-term Democratic Senator Joseph Tydings by 2.6 points. The race marked a battle between sons of former members of the chamber: J. Glenn Beall, Sr. (1953-1965) served two terms before losing his seat to Tydings in 1964 while Democrat Millard Tydings (1927-1951) served four terms.
Since this race, Democrats have won 13 of 15 U.S. Senate races in the state including 12 in a row since 1982. The closest election since 1970 was Democratic Congressman Ben Cardin's 10.0-point open seat win over Lieutenant Governor Michael Steele in 2006.
Delaware, 1972
A young New Castle County Councilman named Joe Biden narrowly ousted two-term Republican Senator J. Caleb Boggs by 1.4 points in November 1972, despite Richard Nixon carrying the First State by 20+ points at the top of the ticket.
Biden would get reelected by double-digit margins for the next six terms. The closest Delaware race in the meantime was an 11.0-point win by GOP Senator William Roth over David Levinson in 1982.
Democrats have won 11 of 15 U.S. Senate contests in Delaware since the Biden vs. Boggs matchup.
Kansas, 1974
Bob Dole is a beloved political figure in his home state of Kansas, but the former five-term U.S. Senator barely held on to win his first reelection bid to the chamber after Watergate. Dole was challenged by two-term Democratic U.S. Representative Bill Roy and prevailed by just 1.7-points.
Republicans have won each of the 15 subsequent elections since 1974 (as well as a nation-best 31 in a row since 1936), with the narrowest victory coming in the state's 1996 special election to replace Dole. Congressman Sam Brownback defeated businesswoman Jill Docking by 10.58 points. [Independent Greg Orman lost to Senator Pat Roberts in 2014 by 10.62 points].
Utah, 1974
Salt Lake City Mayor Jake Garn kept the Beehive State's Class III seat in Republican hands for the fifth consecutive cycle since the end of World War II when he defeated Freshman U.S. Representative Wayne Owens by 5.9 points in 1974.
The Utah GOP secured control of the state's Class I seat two years later when attorney Orrin Hatch unseated three-term Democratic Senator Frank Moss by 12.7 points – the closest to a competitive race the state has seen ever since.
Utah Republicans have won each of the last 14 elections following Garn's 1974 victory.
Texas, 1978
In 1961, John Tower became the first Republican elected to the U.S. Senate since Morgan Hamilton in 1870. At the age of 53 in 1978, Tower eked out a 0.5-point win for a fourth term, barely defeating Congressman Robert Krueger.
[Krueger would later get appointed to the chamber after Lloyd Bentsen resigned to become Treasury Secretary under Bill Clinton in 1993].
Republicans won 11 of the next 13 U.S. Senate elections after Tower's close shave, including nine in a row since 1993's special after Bentsen's resignation. The most competitive race since 1978 came in 1996 when Republican Phil Gramm won his third term by 10.8 points over educator Victor Morales.
Oklahoma, 1980
Republican State Senator Don Nickles became the new boy wonder on Capitol Hill when the 97th Congress convened after the 31 year-old won an open seat race by 9.9 points against former Oklahoma City district attorney Andrew Coats.
The GOP won 12 of the next 14 races to the chamber with the party's closest call coming six years later when Nickles won a second term by 10.4 points against long-serving Congressman James Jones.
West Virginia, 1984
Democrats had won 10 consecutive U.S. Senate races when Governor Jay Rockefeller secured his party's nomination to replace the retiring Jennings Randolph in 1984.
Rockefeller prevailed in the general election by 4.1 points against businessman John Raese while Ronald Reagan carried the state by double-digits for the GOP at the top of the ticket.
West Virginia Democrats would win each of the next 10 elections until Shelley Moore Capito broke the party's winning streak of 21 in a row in 2014.
Raese, who would go on to lose four general election races for the office, came within 10.1 points of victory in the 2010 special won by Joe Manchin following the death of Robert Byrd.
Idaho, 1986
Steve Symms's encore to his 1.0-point victory over four-term Senator Frank Church in 1980 was to defeat another Democratic institution in the state six years later, with a 3.1-point win over Governor John Evans.
Republicans have a perfect 10-0 record ever since, with Democrats coming closest to victory in 1992's open seat race as Boise Mayor Dirk Kempthorne beat Congressman Richard Stallings by 13.1 points.
Wyoming 1988
Two-term Senator Malcolm Wallop nearly became the third incumbent GOPer to lose their seat in 1988, but managed to squeak out a 0.7-point win over Democratic State Senator John Vinich.
Republicans won the next 10 elections in a row (and have claimed 16 straight victories since 1972) with the most competitive matchup coming in 1996's open seat race featuring State Senator Mike Enzi against former Secretary of State Kathy Karpan (Enzi won by 11.9 points).
Of the six states above with elections in 2018 (Delaware, Maryland, Texas, Utah, West Virginia, and Wyoming) only West Virginia has been billed as one to watch. However, incumbent Democrat Joe Manchin has the political skills to negotiate the ever-growing Republican waters and easily prevail in the Mountain State.
Follow Smart Politics on Twitter.