John Delaney Breaks Phil Crane's (Or Pete du Pont's?) Record for Early Bird Presidential Bid
Did Phil Crane or Pete du Pont hold the previous mark for the earliest presidential campaign launch in the modern primary era?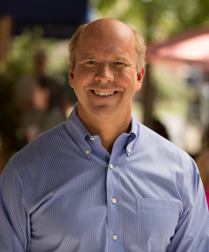 John Delaney's announcement last Friday that he was running for the 2020 Democratic presidential nomination was noteworthy for, among other reasons, the extremely early juncture at which he launched his candidacy.
Announcing his campaign 1,194 days prior to Election Day, the three-term Maryland U.S. Representative shattered the mark for the earliest bid in the modern primary era by a non-fringe candidate.
But just who held the previous record?
FiveThirtyEight says it was former two-term Delaware Governor Pete du Pont in the 1988 cycle:
Going back to 1972, no candidates committed to running earlier than Republican Pete du Pont in the 1988 cycle. He filed with the Federal Election Commission and announced his candidacy to supporters 615 days before the Iowa caucuses.
The FEC received paperwork for the Pete du Pont for President Committee on June 3, 1986, though he did not formally declare his candidacy until three and one-half months later (national media were not even allowed at the June 1986 event in which his intention to run was expressed).
Daily Kos agrees that it was du Pont, but refers to his formal announcement date:
Pierre S. DuPont IV, the Governor of Delaware from 1977 to 1985, announced his candidacy for the 1988 presidential campaign on September 16, 1986. Before the midterm elections. Until Delaney's oped in the Washington Post was published, Governor DuPont's announcement was the earliest presidential announcement in history, 784 days before the 1988 presidential election. No one else even came close.
The question is when does a presidential campaign truly begin? In the eyes of the federal government, it is with the FEC filing which enables the individual to receive contributions and make expenditures or gives consent for another to do so on his or her behalf.
However, while the federal government may have viewed du Pont as a candidate on June 3, 1986, he did not become a candidate in the eyes of the public until his formal, national announcement on September 16th of that year. [In truth, du Pont and several other GOP hopefuls that cycle had been unofficially running for the White House for many months prior to their filings and formal announcements].
As such, looking at formal candidacy announcement dates over the last 12 cycles since 1972, the earliest official presidential campaign launch prior to Delaney was held by Republican Congressman Phil Crane.
Crane was a sitting five-term U.S. Representative from Illinois' 12th CD when he formally announced he would run for president on August 2, 1978 (the same day as his FEC filing) – some 825 days before the 1980 presidential election, or 41 days earlier than du Pont's national announcement in mid-September 1978.
Crane's candidacy was particularly unusual in that, unlike Delaney, he still ran for reelection to his congressional seat even though he announced his run for the White House before the intervening midterm.
Representative Crane was successful in his 1978 U.S. House campaign – winning a sixth term by 59.1 points over Gilbert Bogen, an even bigger margin than his 45.7-point win in 1976.
[Delaney announced he would not seek a fourth term in the chamber in the 2018 midterm election].
Crane entered the battle for the 1980 GOP nomination prior to each of the 10 other political notables who emerged in the race: Ben Fernandez (November 29, 1978), Harold Stassen (December 7, 1978), John Connally (January 24, 1979), Lowell Weicker (March 12, 1979), George H.W. Bush (May 1, 1979), Bob Dole (May 14, 1979), John Anderson (June 8, 1979), Larry Pressler (September 25, 1979), Howard Baker (November 1, 1979), and eventual winner Ronald Reagan (November 13, 1979).
Crane's White House run lasted 625 days, exiting on April 17, 1980, though he ended campaigning a month earlier after a dismal showing in his home state Illinois primary on March 18th, where he won just 2.2 percent.
The du Pont candidacy lasted 521 days until February 18, 1988 – two days after the New Hampshire primary where he placed fourth with 10.1 percent.
As mentioned above, presidential campaigns frequently begin months if not a year or more prior to the official announcement.
For example, in early 1973 – just months after Richard Nixon's blow-out victory over Democrat George McGovern the previous November – then Minnesota U.S. Senator Walter Mondale began laying the groundwork for a 1976 bid.
However, Mondale did not announce he was actively exploring a presidential bid until January 1974. Due to not being able to gain any traction in the polls, he officially withdrew from the race on November 21, 1974 – two days before the second Democrat would officially get in the race (Arizona U.S. Representative Mo Udall).
Follow Smart Politics on Twitter.