Will Luther Strange Lose Alabama's GOP US Senate Nomination?
Only five out of 60 Republican appointed senators seeking to keep their seat over the last 100+ years lost their party's nomination in the next election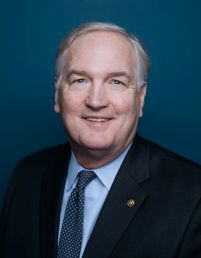 With 10 Republican candidates appearing on Tuesday's ballot – including the incumbent, a U.S. Representative, and a very well-known ex-state supreme court justice – a primary runoff for the GOP U.S. Senate special election in Alabama is all but assured with no candidate expected to capture a majority of the vote.
Senator Luther Strange is hoping Donald Trump's 11th hour endorsement will ensure he is one of the top two candidates headed to the runoff, besting four-term Congressman Mo Brooks with former Alabama Supreme Court Chief Justice Roy Moore expected to emerge with a plurality.
Should Strange fail to make or lose the subsequent September 26th primary runoff, he will become just the second appointed senator since the 1970s to come up short in such a bid.
Overall, slightly less than two-thirds of appointed senators have run to keep their seat the next time it came up on the ballot in the direct election era – 126 of 196 appointees (64.3 percent).
Prior to Strange, the vast majority of appointees who sought their party's nomination were successful – 101 of 125 (80.8 percent), including 84.4 percent over the last half-century (27 of 32). [Note: A few of these 125 appointed senators did not run in the special election for the seat to which they were appointed, but ran instead in the election held simultaneously for the state's other senate seat].
Since 1980, appointees nearly have an unblemished mark with 21 of 22 U.S. Senators receiving their party's nomination, including each of the last 12 aspiring to keep their seat since 1999.
The only lawmaker who failed in such an attempt since 1980 was Kansas Republican Sheila Frahm in 1996. Frahm was appointed to the seat in June 1996 after Bob Dole resigned to focus on his presidential bid. Freshman U.S. Representative Sam Brownback defeated Frahm in the primary three months later by 13.1 points in a three-candidate field.
Since 1967, just five such incumbents failed to win their party's primary election. In addition to Frahm, the other four are:
Democrat David Gambrell (Georgia, 1972): lost in a runoff to state Representative Sam Nunn
Democrat Howard Metzenbaum (Ohio, 1974): lost to famed astronaut John Glenn by 8.7 points
Democrat Paul Hatfield (Montana, 1978): lost to U.S. Representative Max Baucus by 45.9 points
Democrat Maryon Pittman Allen (Alabama, 1978): lost in a runoff to Alabama State Senator Donald Stewart
Of the 24 appointed Senators who failed to win their party's nomination since 1913, more than 40 percent have come from the Southern region: 10 from the South, five each from the Midwest and West, and four from the Northeast.
If Strange fails to emerge as the GOP nominee on Tuesday or in September's runoff, he will become just the sixth Republican U.S. Senator to come up short in the direct election era out of 61 candidacies:
Joseph Grundy (Pennsylvania, 1930): lost to U.S. Labor Secretary James Davis
Frank Partridge (Vermont, 1931): lost to former St. Albans mayor Warren Austin by 10.2 points
Robert Upton (New Hampshire, 1954): lost to U.S. Representative Norris Cotton by 8.2 points
Maurice Murphy (New Hampshire, 1962): lost to U.S. Representative Perkins Bass by 6.9 points
Sheila Frahm (Kansas, 1996): lost to U.S. Representative Sam Brownback by 13.1 points
Overall, there have been far fewer appointed U.S. Senators in recent decades, due in part to fewer members of the chamber dying in office to create an automatic vacancy in the first instance.
During the first half-century of the direct election era, a total of 124 senators died in office including three or more members 23 times: in 1916, 1917, 1918, 1923, 1924, 1925, 1926, 1928, 1929, 1932, 1933, 1935, 1936, 1940, 1941, 1944, 1945, 1946, 1949, 1951, 1953, 1954, and 1962.
Since 1964, only 53 senators passed away while in office with at least three dying in a calendar year just once (Democrats Lee Metcalf of Montana, Hubert Humphrey of Minnesota, and James Allen of Alabama in 1978).
The 50+ month gap since the last death in the U.S. Senate (New Jersey Democrat Frank Lautenberg in June 2013) is the fourth longest stretch without such a vacancy in 200 years.
Follow Smart Politics on Twitter.