Susan Collins Eyes Rare Pathway to Augusta
Only one ex- or sitting Maine U.S. Senator has ever been elected governor of the Pine Tree State, and none in 160 years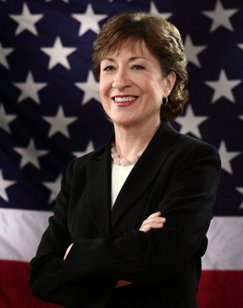 Democrats are seeking to pry back several governorships in 2018 and the State of Maine is one of the party's top-tier targets.
Many Democrats have lined up for Paul Le Page's open seat including Attorney General Janet Mills and former state legislators Mark Eves, James Boyle, and Diane Russell.
However, the floodgates have not yet opened on the Republican side with ex-Maine HHS Commissioner Mary Mayhew awaiting fellow challengers for her party's nomination.
One of those potential candidates is still rumored to be four-term U.S. Senator Susan Collins.
While Collins has demonstrated her ability to win statewide elections, some analysts suggest her reticence in entering the race is the knowledge that she would struggle to get past her party's primary.
Collins achieved that feat more than two decades ago in 1994, becoming the first female gubernatorial nominee in state history, but finished in third place that November behind independent Angus King and former Governor Joseph Brennan.
And now, after 20+ years in the Senate, Collins is contemplating not only another run at becoming the state's first female governor but also the first senator from Maine to win the governorship in more than 150 years.
To date, there have been 10 Mainers who have served as governor and U.S. Senator at some point during their political careers.
Only one, however first served in the nation's upper legislative chamber and was subsequently elected the top state official in Augusta: Democrat-turned-Republican Hannibal Hamlin.
Hamlin served in the U.S. Senate for nine and one-half years from 1848 to 1857 when he resigned to become governor after his 21.7-point victory over Democratic Governor Samuel Wells in 1856. [Hamlin had left the Democratic Party earlier that year due in large part to the slavery issue].
Hamlin's term as governor lasted just a few weeks after being elected back to his old Senate seat. [He would later serve as vice-president under Abraham Lincoln and log in a third, 12-year stint in the chamber beginning in 1869].
The remaining nine individuals first served as governor and then went on to the U.S. Senate, some with a gap in between:
Democratic-Republican Albion Parris: governor (1822-1827) and U.S. Senator (1827-1828)
Democrat John Fairfield : governor (1839-1841; 1842-1843) and U.S. Senator (1843-1847)
Republican Lot Morrill: governor (1858-1861) and U.S. Senator (1861-1869; 1869-1876)
Republican Edwin Burleigh: governor (1889-1893) and U.S. Senator (1913-1916)
Republican Bert Fernald: governor (1909-1911) and U.S. Senator (1916-1926)
Republican Owen Brewster: governor (1925-1929) and U.S. Senator (1941-1952)
Republican Frederick Payne: governor (1949-1953) and U.S. Senator (1953-1959)
Democrat Ed Muskie: governor (1955-1959) and U.S. Senator (1959-1980)
Independent Angus King: governor (1995-2003) and U.S. Senator (2013-present)
Not only have no ex- or sitting U.S. Senators since Hamlin become governor of Maine, but none have even won their party's gubernatorial nomination during this span.
The only other senator to be nominated in a gubernatorial election in state history is Whig Peleg Sprague.
Sprague won election to the U.S. Senate as an Anti-Jacksonian and served one term from 1829 to 1835. In 1834, he was the Whig nominee for governor but lost to Democratic Governor Robert Dunlap by 6.0 points.
But while U.S. Senators have not lined up to run for governor over the decades, many former and sitting U.S. Representatives have done so with several success stories, although only two since the turn of the 20th Century:
Democratic-Republican Enoch Lincoln: U.S. Representative (1821-1826) and governor (1827-1829)
Democrat Edward Kavanagh: U.S. Representative (1831-1835) and governor (1843-1844)
Democrat Hugh Anderson: U.S. Representative (1837-1841) and governor (1844-1847)
Republican Israel Washburn: U.S. Representative (1851-1861) and governor (1861-1863)
Republican Sidney Perham: U.S. Representative (1863-1869) and governor (1871-1874)
Republican-turned-Fusion candidate Harris Plaisted: U.S. Representative (1875-1877) and governor (1881-1883)
Republican Llewellyn Powers: U.S. Representative (1877-1879) and governor (1897-1901). Powers served a second stint in the House after his governorship from 1901-1908.
Republican John McKernan: U.S. Representative (1983-1987) and governor (1987-1995)
Democrat John Baldacci: U.S. Representative (1995-2003) and governor (2003-2011)
[Note: Hamlin had also served two terms in the U.S. House (1843-1847) prior to his first term in the U.S. Senate].
One reason running for governor in Maine may not have enticed its U.S. Senators in the 19th Century is due to the fact they would be trading in a six-year term for just one until the Election of 1880 (and two-year terms until 1962).
Follow Smart Politics on Twitter.