The New GOP US Senate Primary Targets
GOP U.S. Senators who faced bona fide renomination battles over the last four cycles averaged 74 years of age, were 28 years older than their opponent, and had served 24+ years in the chamber; not so in 2018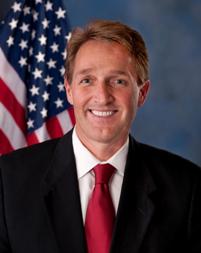 The last four election cycles have produced a number of upsets and close calls for Republican U.S. Senators as they sought renomination.
In 2018, Republicans only have to defend eight seats but two of these incumbents are expected to be given a good fight in their respective primaries: Arizona's Jeff Flake (pictured, from former state Senator Kelli Ward) and Nevada's Dean Heller (from frequent candidate Danny Tarkanian).
The term 'tea party challenger' may no longer be useful in 2018, but both Ward and Tarkanian are decidedly campaigning against Flake and Heller respectively from the right.
While this was also the case in recent election cycles that gave several incumbents scares (and knocked a few out of office), there are a few stark differences about these 2018 primary fights.
For this analysis, Smart Politics examined the 10 fiercest Republican U.S. Senate renomination challenges involving incumbents since 2010:
Alaska, 2010 (Joe Miller vs. Lisa Murkowski): Miller defeated Murkowski in the primary, but lost to her write-in candidacy in the general election
Pennsylvania, 2010 (Pat Toomey vs. Arlen Specter): Five years after losing to Specter by just 1.6 points in the 2004 primary, Toomey's mid-April 2009 announcement that he would seek a rematch caused Specter to bolt from the GOP 15 days later, only to subsequently lose the Democratic nomination the following year to Joe Sestak
Utah, 2010 (Mike Lee vs. Bob Bennett): Bennett placed third at the GOP nominating convention to Lee and Tim Bridgewater, denying the incumbent a fourth term
Indiana, 2012 (Richard Mourdock vs. Dick Lugar): Mourdock defeated Lugar by 21.0 points in the primary
Utah, 2012 (Dan Liljenquist vs. Orrin Hatch): Hatch failed to make it out of the nominating convention with the necessary votes and was forced to defeat the state senator in the primary
Kansas, 2014 (Milton Wolf vs. Pat Roberts): Wolf lost by just 7.3 points with Roberts recording the worst primary performance by a popularly elected Kansas U.S. Senator in state history
Mississippi, 2014 (Chris McDaniel vs. Thad Cochran): Cochran came in second in the initial primary but eked out a 2.0-point win in the runoff against the state legislator
Tennessee, 2014 (Joe Carr vs. Lamar Alexander): Alexander defeated the state legislator by only 9.0 points with less than 50 percent of the vote – the worst primary showing by a Volunteer State Republican U.S. Senator by 35 points
Kentucky, 2014 (Matt Bevin vs. Mitch McConnell): McConnell defeated the future governor by double-digits but his 60.2 percent was the lowest support registered by a sitting Kentucky U.S. Senator from either party since 1938 and the worst ever for a GOPer
Arizona, 2016 (Kelli Ward vs. John McCain): McCain defeated Ward by 12.0 points with just 51.7 percent of the vote – the worst primary performance ever by an Arizona Republican U.S. Senator and the worst by a member of either party since 1940
One distinguishing feature about Heller and Flake and the incumbents listed above is that they are significantly younger.
The average age of the aforementioned 10 Republicans at the time of their primary challenge was 74.6 years.
McCain and Lugar were 80, Specter was 79 (at the time he left the GOP), Hatch and Roberts were 78, Bennett and Cochran were 76, Alexander was 74, McConnell was 72, and Murkowski was 53 (although a legacy officeholder, appointed with controversy by her father who had served in her seat for the previous 22 years).
By contrast, Heller will be 58 and Flake 55 at the time of their 2018 primaries.
Moreover, each of the 10 primary challengers listed above were an average of 28.7 years younger than their respective incumbents and clocked in at just 45.9 years old overall.
Each challenger was at least a decade younger than their opponent:
Liljenquist (37 years old): 41 years younger than Hatch
Lee (38): 38 years younger than Bennett
Wolf (43): 35 years younger than Roberts
McDaniel (41): 35 years younger than Cochran
Ward (47): 33 years younger than McCain
Toomey (47): 32 years younger than Specter
Bevin (47): 25 years younger than McConnell
Mourdock (60): 20 years younger than Lugar
Carr (56): 18 years younger than Alexander
Miller (43): 10 years younger than Murkowski
Tarkanian will be 56 at the time of next year's primary while Ward will be 49 – just two and six years younger than Heller and Flake respectively.
In addition to being quite a bit younger than their predecessors who faced serious challengers in recent cycles Heller and Flake have also served much shorter stints in the chamber.
When Republican voters choose their nominees in 2018, Heller will have served just 7+ years in the Senate with Flake at 5+.
By contrast, the 10 vulnerable incumbents listed above had logged an average of 24.8 years in the chamber: Lugar, Hatch, and Cochran served 35  years, with McConnell and McCain at 29, Specter at 28 when he switched parties, Bennett and Roberts at 17, Alexander at 11, and Murkowski at seven.
Both Flake and Heller had also previously served in the U.S. House (for 12 and 4+ years respectively), but Tarkanian and Ward cannot as easily make the argument that the duo are D.C. fixtures like Lugar, Hatch, Cochran et. al. and will thus more likely craft their campaigns along ideological and policy grounds (with the occasional critique of the senators' lack of support for Trump).
But even though Tarkanian and Ward are not exactly following the playbooks of recent election cycles, they seem to have begun their campaigns racing out of the starting gate – each can already point to early matchup polls that show them with an advantage.
Follow Smart Politics on Twitter.