Dave Reichert: Retirement of the Battleground King
Reichert is one of just two current members of the U.S. House to win elections by single digits in the first four election cycles of his congressional career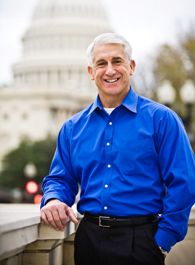 Dave Reichert has been a rumored candidate for higher office in Washington for years, but has continued to serve his state's 8th Congressional District – now in his seventh and final term.
Still, Reichert's announcement this week that he would not seek an eighth term turned heads in D.C. and opens up yet another opportunity for Democrats to pick off a seat in hopes of taking back control of the chamber in 2019. [Hillary Clinton carried the district by 3.0 points in 2016 and Barack Obama won it by 1.6 points in 2012].
Reichert took an unusual pathway to the U.S. House, serving as a police officer for a quarter century and then winning election to Sheriff of King County twice. Reichert also famously played a prominent role as a member of the task force assigned to catch the Green River Killer, who was arrested during his second term.
Reichert first ran for Congress in 2004 for retiring Republican Jennifer Blackburn Dunn's open seat.
For four cycles, Reichert never reached 53 percent of the vote – clinging to modest, single-digit victories in his light blue district, whether facing Democratic headwinds (2006, 2008) or having the chance to ride a Republican wave (2010):
2004: Defeated radio host Dave Ross by 4.8 points, with John Kerry narrowly carrying the district at the top of the ticket
2006: Beat former Microsoft product manager Darcy Burner by 2.9 points
2008: Fought off Burner once again in a rematch by 5.6 points as Obama won the district by 15 points
2010: Defeated Microsoft executive (and future Congresswoman) Suzan DelBene by 4.1 points
After redistricting and reapportionment following the 2010 U.S. Census (and turning his district more conservative, although still with a slight blue tilt), getting reelected became a bit easier for the veteran lawmaker, coasting to victory by double-digits during each of the last three cycles:
2012: Beat professor Karen Porterfield by 19.3 points
2014: Defeated security specialist Jason Ritchie by 26.5 points
2016: Beat former sportscaster Tony Ventrella by 20.4 points
But with four consecutive competitive wins to begin his congressional career, Reichert has the distinction of being one of only two U.S. Representatives in the 115th Congress to claim victory by single-digits during their first four election cycles.
And the other example comes with an asterisk.
Sixteen-term New Jersey Democrat Frank Pallone did win four elections by single-digits to start his career, although two of these contests were held simultaneously.
On Election Day in November 1988, Pallone won both a special election to the state's 3rd CD by 4.7 points over former state legislator Joe Azzolina as well as election to the full term in the 101st Congress by 4.2 points over Azzolina.
Pallone won his next two elections by 2.6 points in 1990 (over Paul Kapalko) and by 7.7 points in the newly drawn 6th CD in 1992 (over State Senator Joseph Kyrillos).
Pallone was victorious by double-digits in each of his next 12 races through 2016, with his closest call coming in 2010 when he notched an 11.0-point win against attorney Anna Little.
New Hampshire 1st CD Democrat Carol Shea Porter has also won each of her four U.S. House races by single digits, but they were not consecutive (2006, 2008, 2012, 2016), with losses suffered to Frank Guinta during the GOP tsunamis of 2010 and 2014.
One other member could join this club in the 116th Congress.
Democrat Ami Bera of California's 7th CD has endured nail-biters during each of the three times he was elected to the U.S. House since 2012.
Bera defeated Congressman Dan Lungren by 3.4 points in 2012, former Congressman Doug Ose by 0.8 points in 2014, and Sacramento County Sheriff Scott Jones by 2.3 points in 2016.
Fourteen-term DFLer Collin Peterson of Minnesota's 7th CD also won by single digits en route to his first three terms: by 7.1 points over Congressman Arlan Stangeland in 1990, by 1.3 points over State Representative Bernie Omann in 1992, and by 2.6 points in a rematch with Omann in 1994.
Some thought Reichert would run for governor in 2016 but his campaign never materialized. If he has designs on higher office, the clocking is ticking on a 2018 U.S. Senate bid against Maria Cantwell. Otherwise the former sheriff would have to wait until 2020 when Washington's constitutional offices are next on the ballot.
Follow Smart Politics on Twitter.